Creating custom v-berth bedding is the key to keeping your stateroom neat and tidy. If you're lucky enough to have an island-style bed, it's not too hard to make that bed up daily. But, if you have a v-berth or any other type of bed with access to only one end or side of the bed, making the bed can be a real chore.
We have a v-berth on our boat and I had enough of fighting the bed making so I resolved to find a solution. My solution worked fabulously on a recent 2 week stay aboard the boat cruising the Bahamas. The solution was to create a "pretty" fitted sheet and a flat sheet and throw blanket that could be tossed to the bow of the boat covered by a couple of throw pillows each morning. The pretty fitted sheet is the made up bed.

Customizing My V-Berth Bedding
Four cushions make up the v-berth on my boat. I bought a king-sized 3″ gel memory foam mattress topper (Amazon) and had it cut to match the size of each cushion. I followed up by having the base cushions and the mattress topper wrapped together in a zippered fabric covering.

Then I had a queen size quilt (should have been a king size) cut to match each cushion. Because it was queen size, I had to add/attach some extra fabric to allow the quilt to wrap around the base of the cushion. The quilted wrap has elastic around the bottom side of the cushion.

The quilted wrap is now my "pretty" bottom/fitted sheet.

I took a queen size flat sheet and elasticized one end to wrap around the pointy end of the cushions at the bow of the boat.  I did the same with a throw blanket.
Each morning, I just 'wad up' the sheet and throw blanket at the bow of the boat and toss a couple of throw pillows in front.  The decorative quilt is now all you see of the bedding.
Watch the video to see how easy it is!
When done traveling just remove the quilt from each cushion, wash and replace.

Helpful Tips
Learn from my lessons.
 Use a larger quilt so the extra fabric is not required.
Use a solid color quilt or a print. That way, you don't have to line up the quilt to match print across cushions.
Cost Breakdown
Costco
Queen Quilt (this should have been king size)
$31.94
Costco
King Size Novaform ComfortGrande 3″ Gel Memory Foam Mattress Topper
$218.32
Joann's Fabrics
Extra fabric to wrap cushions (unnecessary if using king size quilt)
$74.00
Laural's Custom Upholstery
1. Cut Memory Foam to match cushions
2. Fabric wrap cushions & memory foam with zippered wrap (Laural provided fabric for this)
3. Cut quilt to match cushions
4. Cut & attach extra fabric to quilt to wrap cushions with elastized wrap
$360.00
Total
 $684.26
I'd like to really give a big shoutout to Laural! She executed the design and did a fantastic job! It was a difficult job (note that big U cushion and alignment of the printed quilt across the cushions).
With a little help, I was able to create beautiful v-berth cushions that look tidy no matter what.
---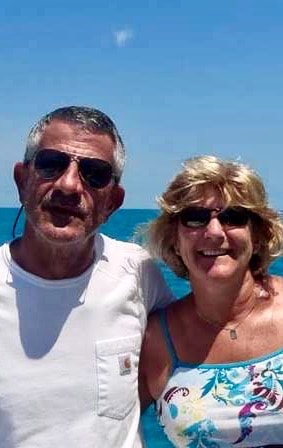 Michelle and her husband, Rick own a Grady White 330 Express named Ghost Rider. They are based in Ft. Myers, FL and have cruised Ghost Rider in the Bahamas and enjoy fishing in the Florida Keys. 
Here's your "Quick Start" to everything you need to know when living on a boat:


Making Boat Life Better
Some links in this article (including all Amazon links) are affiliate links, meaning that we earn from qualifying purchases.