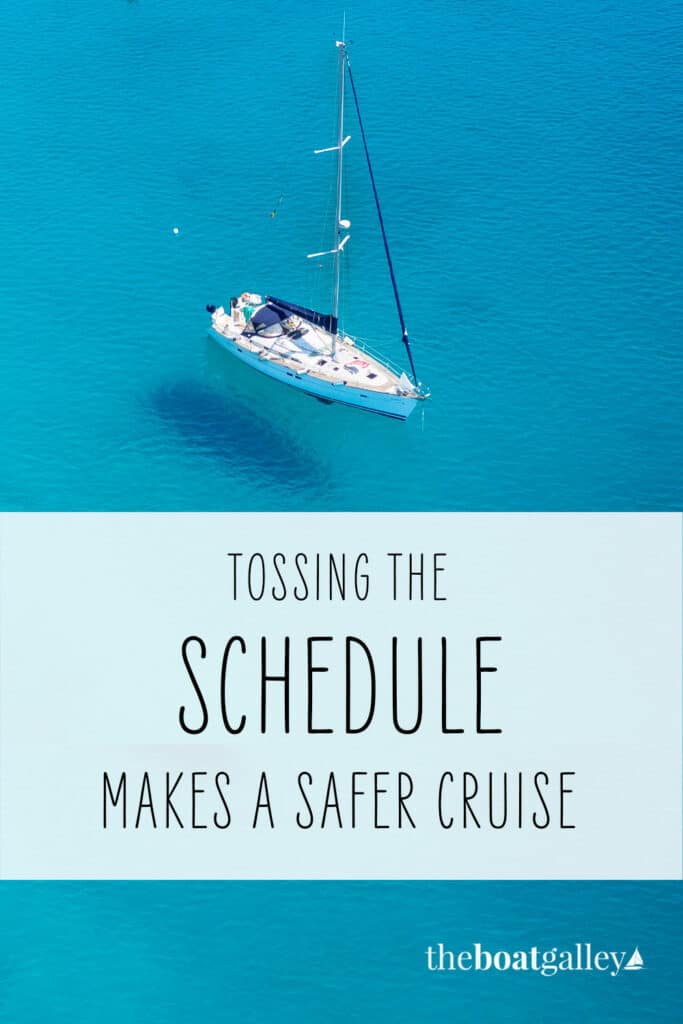 "Schedules are the downfall of cruisers."
I don't really believe that. What I do believe is that an unwillingness to change plans is the downfall of many cruisers.
Sometimes, the universe seems to be sending us a message that it's time to change the plan. And that's what has happened with us.
For several months we've talked about leaving at the end of December to begin our trip north. But a number of things – some personal, some boat-related, some medical, and a few projects for The Boat Galley – have all told us that we'd be better off not leaving so soon. And a whole lot of people whose opinions we respect have told us that even the east coast of Florida is going to be cold in January and February.
The new plan is to leave about March 1. We'd still like to see the cherry blossoms in Washington, DC (trying to get to DC in time for the cherry blossoms was the reason for our early departure) but now we're thinking that we may just put Barefoot Gal into a marina for a few days wherever we may be when the trees bloom, and get a rental car. Not quite my dream, but it'll do.
Not only should the weather be warmer, but we're also likely to have more chances to take offshore jumps as the northers should be more spaced out then. Days will be longer, too.
Both Dave and I were feeling a fair amount of stress as we contemplated leaving in another week to ten days. When we decided to put it off a bit, we both just felt the "whoosh" of stress falling away. I always tell new cruisers that are feeling stressed to slow down; it was time to take my own advice.
On one hand, if we wait until everything is "perfect" and we're totally ready, we'll never go anywhere. But at the same time, it's important to realize when there are legitimate reasons to re-think the plan and revise it.
Go on the schedule that works for you.
---
Be sure to subscribe to The Boat Galley newsletter to keep up with what we're up to and get helpful tips and encouragement from the water.
Give your boat its best chance in hurricane season:


Making Boat Life Better
Some links in this article (including all Amazon links) are affiliate links, meaning that we earn from qualifying purchases.