Collapsible silicone gear just seems perfect for a galley and over the past six months, I've had several questions via e-mail and also on Facebook about how well it works in real life.
In general, the silicone gear works really well.  The main advantages include:
Space-saving — but several people noted that some items didn't save as much space as they had expected to over nesting items, since once collapsed, items just get stacked.  Measuring cups definitely fell in this category — if you only had one, yes it saved space.  But the total space taken by a set of collapsible silicone ones versus a traditional nesting set was about the same.
No noise — silicone doesn't clank like metal bowls can.  In fact, you can stash the silicone items around pans to keep them from clanking.  But if you get items with stainless or plastic handles (see more on this below), there can still be some noise.
Colors — you can color coordinate your items, but two readers advocated using as many different colors as possible so that it was easy to quickly grab what you want!
Easy to hand wash — doesn't take a lot of water and easily cleans up.
Silicone is very heat resistant, so items can be used with boiling water or in the oven if needed.  Handles (if covered in silicone) stay cool.
Items just keep changing, but several things to watch for when you're deciding what particular item(s) you want.  Many are trade-offs and everyone has different priorities:
Handles — watch out how much they add to size.  Small handles, on the other hand, can be a pain to use.
Handle material — in general, people prefer plastic or stainless handles, rims around the top and so on as making the item far less prone to collapse.  But read reviews carefully — in some models, where the silicone and other material join can be very prone to failures; in other models, it's not a problem at all.
Silicone "weight" — in general, thinner silicone will collapse smaller, but is also more prone to collapsing in use.  Thinner can also have more problems with tearing along the "fold lines."  (All things are trade-offs!)
Feet and legs — can make various items easier to use, but take up storage space.  Another trade-off!
Hole size — on things like colanders and drip coffee cones, pay attention in the reviews to comments about the hole size.  Some items are made with small holes that can lengthen drain times; others have such large holes that things like angel hair pasta slide through.
Lid fit — there are some collapsible storage containers.  If you are contemplating these for leftovers, marinating and so on, carefully read reviews for how well the lids stay on.  This is always a problem on boats and some designs simply work better than others.
Three different people have mentioned the Progressive International brand as being very good, and the OXO Good Grips items also get good reviews.  That doesn't mean other brands are bad, just that you should read reviews closely and see if criticisms are items you care about.
Many items are available in collapsible models.  You can check out the "complete assortment" on Amazon (I find very few items in the small town where I live), but I've seen all of the following:
Overall, the collapsible silicone items are a good choice, both for storage and for noise reduction.  Basically, it comes down to personal choice, not that one option is significantly better or worse than another — for example, I use a salad spinner as a bowl and colander in adding to draining and drying all my veggies, so I'm not likely to also buy a collapsible colander.  But you may prefer the colander for your style of cooking.  If you choose the silicone, I think you'll be happy — I haven't yet heard from anyone who isn't!
---
Our FREE Provisioning Spreadsheet
Wondering how much of what foods to take on your next trip? Know just how much to buy of what — all arranged by grocery store aisle — with our handy Provisioning Spreadsheet. Includes detailed instructions to edit it for your favorite foods, how much your family eats, and how long you'll be gone. No spreadsheet skills needed!
It's FREE — get it here.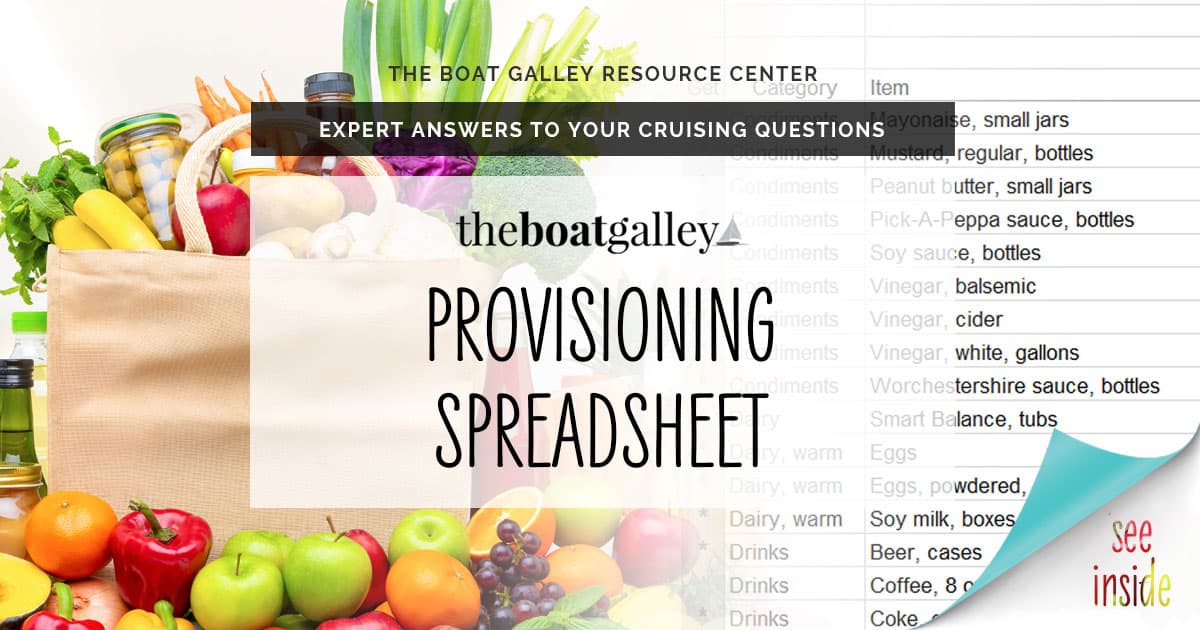 Some links above (including all Amazon links) are affiliate links, meaning that I earn from qualifying purchases. Learn more.