How do cruisers do their bottom cleaning? Do we need to learn how to scuba dive or is it easy to find somebody to do bottom cleaning for you when you cruise?
Great question that I got on Facebook from Eric Ludin.
The answer is "it depends." We've done both — and if you are going to do it yourself, being SCUBA certified and having gear is the way to go. Good bottom paint is your first line of defense, but you'll still probably have to clean the bottom (that is, scrape growth and barnacles off) once a month or so. A clean bottom means a faster boat, both under sail and power, less fuel consumption and less stress on the engines.
Getting ready to cruise? Prepare to Cruise (a FREE mini-course) gives you lots of free resources along with affordable recommended courses and coaching for more in-depth needs.
Eric's question has actually inspired two articles: this one on hiring a diver and another — read it here — on how we do it ourselves.
Availability
In most places where cruisers go, there are dive services that will clean the bottom of your boat. Most often, it's an actual company or individual who cleans full-time but other times it's just a local person who "sometimes" cleans bottoms. Most use hookahs (a special type of air compressor that supplies air from the surface), some use scuba tanks and we've seen a few who free dive with a snorkel.
In most locations, finding a diver is pretty easy — ask other boats in the area or go to a local marina, fuel dock or any other business serving cruisers and ask. If you are only going to be in an area for a few days and want the bottom cleaned while you are there, it needs to be one of the first things you arrange upon arrival. Divers rarely have same-day availability or may charge substantially more for same-day service. Depending on the number of boats and number of divers in an area, we've seen up to a week's wait for a cleaning.
Cost
Costs vary considerably by location. In 2005 in El Salvador, we had the bottom cleaned for a flat $20 for the whole boat. Last summer in the Bahamas, we were quoted $4.50 per foot of length overall (not just waterline length). Some divers also charge by the hour — I've heard anywhere from $75 an hour to $200.
Right now (May 2017) in Boot Key Harbor, Marathon, in the Florida Keys, we are paying $2 per foot for a once-a-month schedule with Obsessive Compulsive Divers (in the photo at the top; photo credit to Anthony Kelhower of Onboard Rigging.
Divers here are starting to price their services depending on whether you are on a monthly schedule (a little less in general) and otherwise on the condition of the bottom (if it's been six months since it was last cleaned and looks like a mini-reef, it's going to cost considerably more per foot or possibly they'll charge by the hour).
Choosing a Diver
If there is more than one diver in an area, you'll have to choose. Months or years of experience is generally a good indicator of expertise. More experienced divers tend to do a better job, removing more gunk while taking less paint off. They also tend to be better at getting in the rudder gaps, through hulls, and so on.
Diving is tough, physical work and many get into the business and get out after a season or even before. Divers with more than a season of experience are generally doing good work and making enough at it that they continue. There are no guarantees,  however — brand new divers can do a great job and years of experience are no guarantee that you won't have paint scraped off.
We tend to stay clear of "bottom cleaners" who free dive unless we get great recommendations from other boaters — in general, you get a better cleaning job when someone can stay underwater easily. "Bottom cleaners" who request you provide cleaning tools such as scrapers are also suspect — if they don't have tools, they probably don't do it very often (that said, we did have a great cleaning job by a team in the Bahamas who didn't have any of their own tools).
Factors that will influence your choice:
Availability — this can be the deciding factor
Services offered — cleaning the waterline, changing zincs, cleaning the dinghy bottom too are all possible
Tools used — do you prefer a plastic scraper (easier on the paint) to a metal one? Use a green scrubby on ablative? Okay to use a chain mail glove on the soft growth? If they clean the waterline, do they scrub (which can be hard on the finish) or use chemicals (which can be toxic to marine life if not chosen carefully)?
How new/good is your paint — if the paint is old and you're repainting soon, it's okay to have a more aggressive cleaner (and quite possibly necessary)
Payment form — many bottom cleaners take cash only, in our experience. We have found a few that will take credit cards or Paypal. If you will be leaving the boat and want it cleaned while you're gone, be sure to iron out the payment arrangements.
The Cleaning Itself
The trick in cleaning the bottom is to get the growth off without taking the paint off. This is harder to do with ablative paint than hard. We have ablative paint and ask our cleaner to go easy on it — we want the majority of growth cleaned off, but we'd rather they don't scrape the paint off. So yes, it may not be perfectly clean. Discuss with your bottom cleaner how aggressive you want them to be and the tools to be used (some of this may be discussed before you book your appointment).
Most bottom cleaners will also change zincs for you, but you need to have them on hand and also provide whatever tools are needed. TIP: If your zinc is held on by a machine screw or bolt, keep several spares on hand. It is very easy to drop one while changing the zinc and it can be almost impossible to find it on the bottom. Also, twice we discovered a missing bolt and zinc on our previous boat — apparently the bolt vibrated loose underway or perhaps it was not fully tightened to begin with. If the bolt is recessed into the zinc, slotting the head with a Dremel will make it much easier to tighten underwater.
To Tip or Not
Tipping your diver is not necessarily expected, but we tend to round up the payment (our boat is 34 feet long and at $2 foot that's $68 — we usually make it $70 and sometimes even $75 or $80 if they cleaned the dinghy bottom; with our drive leg we don't have a zinc for them to change). It's nice to add a bit on if they've done something extra for you — they may throw it in for "free" but we like to acknowledge that they made our life a little easier.
Bottom Line
Keeping a clean bottom is a necessity on a cruising boat. While we have the gear to do it ourselves, hiring it done is a nice luxury — especially when the water is murky or cold!

---
Our FREE Provisioning Spreadsheet
Wondering how much of what foods to take on your next trip? Know just how much to buy of what — all arranged by grocery store aisle — with our handy Provisioning Spreadsheet. Includes detailed instructions to edit it for your favorite foods, how much your family eats, and how long you'll be gone. No spreadsheet skills needed!
It's FREE — get it here.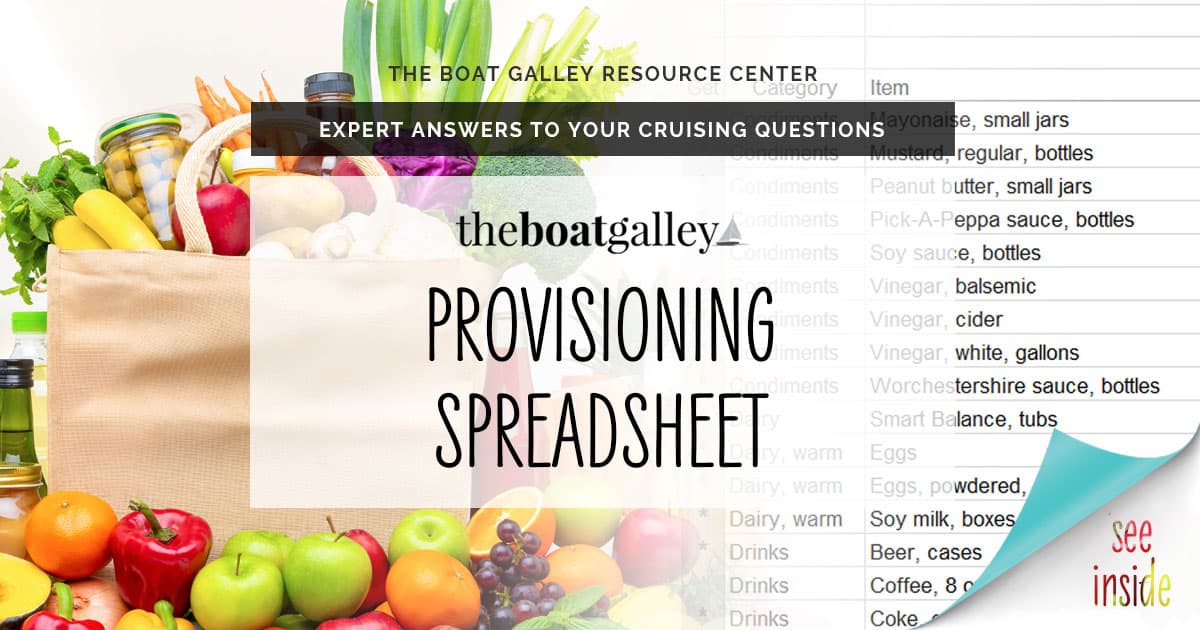 Some links above (including all Amazon links) are affiliate links, meaning that I earn from qualifying purchases. Learn more.