If you're selling your boat — or your house to move aboard the boat — you are probably at least thinking of finding a broker.
And unless you've previously had a great experience with a certain one, or otherwise know one that you think does a superb job, you're probably wondering how to find "the right broker." I've gotten questions from several people about choosing a broker and several more asking why we decided to sell our house ourselves.
Getting ready to cruise? Prepare to Cruise (a FREE mini-course) gives you lots of free resources along with affordable recommended courses and coaching for more in-depth needs.
In my book, the right broker is worth every cent of their commission (typically 6 – 7% for homes and 10% for boats). But a bad broker is worse than useless as your house/boat becomes "dated" on the market and then people start wondering what's wrong with it.
To me, selecting a broker is something that you need to do carefully. You don't want to just pull a name from the Yellow Pages. Selling a boat or house is a big transaction and you want someone who is going to get results. Getting a good price is important, taking care of all the documents correctly is also important, but making it all happen in a reasonable time frame is key. Marketing is paramount.
Although what they're selling is different, how I go about selecting a broker is pretty much the same for either a boat or a house.
Somewhere, you're going to develop a list of possible brokers, from the internet or the Yellow Pages. But don't call them to set up an appointment yet!
What I then do is take a look at some of their listings and see how well presented they are. Are the pictures clear? Did they have the owner remove clutter and clean the place up? Did they choose a sunny day? Do the photos show the features well? Does the write up make the boat/house sound interesting? Highlight important features . . . and tell you why these things are important? Does the ad seem pretty generic? Look at the ads as though you were a potential buyer and see if they would make you want to inquire further.
Most initial searching is done online these days and a poor online listing translates into few inquiries. When we bought Barefoot Gal, I was really disappointed in many of the ads that I looked at. There was obviously wrong information (a catamaran listed as a monohull, for example) and many cases where the details/specifications were only one to two sentences, usually including the phrase "you have to see." Most often, we didn't.

When you've found a few brokers that interest you, my next step is to walk or drive by some of their listings — and not just the high dollar ones. Check out some that are similar in price to what you think your boat or house will go for (you want to see what they do in similar circumstances). Is the signage good? Is there an InfoBox ("Take One")? Does it have anything in it? Grab one and see if it's well done. A nifty feature that I've seen technology-savvy brokers use is to put a QR code (shown at right) on the signs and flyers — scanning this with a smartphone will take the potential buyer right to the full listing so they can get all the info standing right there. (Note: if you're selling yourself, you can get a free QR code for any web address).
I then call and/or email for more info, generally with specific questions. The speed of the response and completeness will tell you a lot! Basically, just think "Is this how I want questions about my boat/house answered?"
I've never gone so far as to view a boat or house as though I were a purchaser while evaluating a potential broker, thinking that I had a good enough feel for someone from the call or email.
After I went through this exercise with the local realtors for our house, Dave and I decided that we weren't impressed with any of them. None stood out as knowing the lake or what was important about buying a lake property. And two friends who had sold their houses on the same lake had all ended up selling it themselves — after having no bites while they were listed with a realtor.
While the initial assumption is that people who are selling a property or boat "by owner" are too cheap to pay a broker, I don't think that's usually the case. It wasn't for us. We simply felt that we could market the house much more effectively ourselves. [Follow up note: we got a great offer just 12 hours after we put it on the market — all the time and effort we put into marketing it paid off.]
I don't want to sound like I'm down on brokers at all. As I said earlier, a good broker will have the contacts and know-how to get your property sold quickly. They are a huge help and will earn their commission. But if the right broker isn't in your area, it may be time to tackle the job yourself.
One quick additional note based on personal experience: don't simply go with the broker that suggests the highest listing price for your boat/house — particularly if it's well above what others suggest and what your gut says you can get — even if they're "confident" they can get that price. Go with the one that you think will actually get it sold!
Any other tips or thoughts on choosing a broker?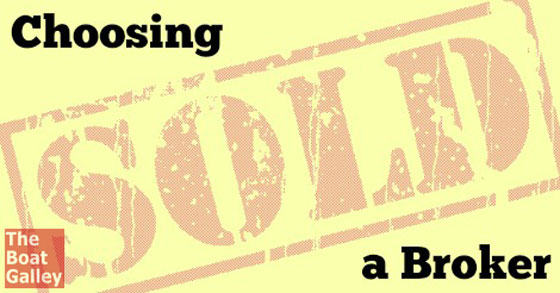 Some links above (including all Amazon links) are affiliate links, meaning that I earn from qualifying purchases. Learn more.