As we put Barefoot Gal into storage last spring, we removed everything that was on deck, including the safety gear. While Dave was occupied with other things, I took the opportunity to check it all over.
I was pretty surprised by what I found.
Learn more about buying and owning a boat, gaining skills, working on your boat, buying stuff for your boat and moving aboard in Prepare to Cruise (free mini-course).
When we purchased the 16-year-old boat, there was Jim Buoy horseshoe buoy (throwable) mounted on the lifeline along with a throw bag of line so that it could be retrieved in the event of a bad throw — or to pull a MOB back to the boat. The throw line is not a requirement, but the Coast Guard highly recommends it. And with the way I throw, it seems like a great idea!
As I removed the Jim Buoy from its mount, I realized that the line was just disintegrating in my hand.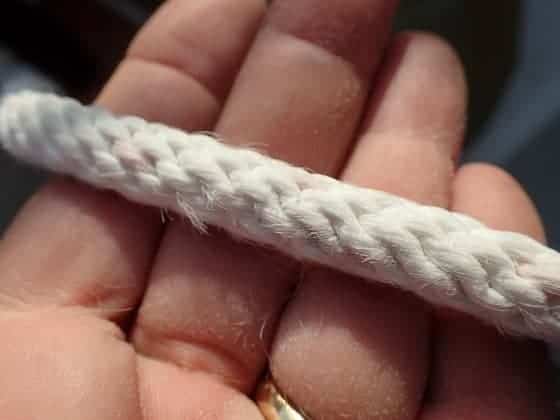 The line was polypropalene, which is good for throwing lines because it floats. But polypro degrades terribly in sunlight — usually you can cut a bit off the ends where it's been outside the bag, but when I started pulling it out, I found the whole length of line to be disintegrating.
So it was obvious that we needed a new throw bag and line (the bag fell into pieces when I pulled the line out). And that got me to looking more at the throwable.
I could see that the cover was damaged from the sun, but what shocked me was when I took the Jim Buoy down to the dock and put it in the water. Slowly, ever so slowly, it sunk.
SUNK??!
It went in the trash, too, with "does not float – SINKS" written on it in permanent marker. I didn't want someone to think they'd found a treasure in the dumpster.
I don't mean to imply that either the throw bag/line or the Jim Buoy were bad products, just that they were old and had been out in the elements for who knows how many years. It was time to replace them.
We'd just been so excited to get out on the new-to-us boat that, probably like a lot of new boat owners, we hadn't really checked over the safety gear beyond making sure it was all there. Big mistake on our part.
We needed to not just make sure it was all there, but that it worked. And we should have checked it out again before heading north from the Keys. Just like periodically checking over the engine, rigging and lifelines, we need to periodically check over all the safety gear.
Let The Boat Galley help you get ready to cruise with a FREE mini course: Prepare to Cruise. Click to learn more and sign up.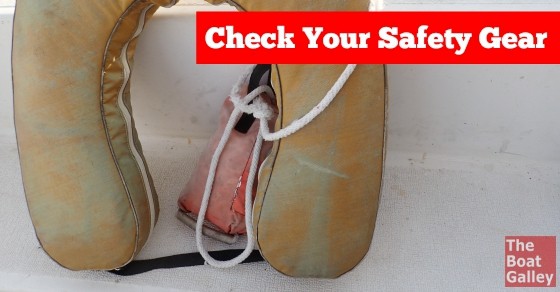 Some links above (including all Amazon links) are affiliate links, meaning that I earn from qualifying purchases. Learn more.