Older dome lights use a lot of power on a boat, typically drawing just under two amps with a 20 watt bulb.
While not the biggest power hog on Barefoot Gal, we knew that switching them over to LEDs would be a quick and easy project. Very bright LED replacement "bulbs" would draw only 0.23 amps!
I got our replacement bulbs from Cruising Solutions, one of TBG's sponsors. They have replacement bulbs for virtually every light fixture. I started by removing the old bulb to see exactly what type it was — both what type of base and the wattage. I knew that if anything, we wanted more light in these areas, not less. Since I was a little confused by all the options, I picked out what I thought we wanted, then called and double-checked before ordering.
On Barefoot Gal, the dome lights are in areas where we wanted bright light, so we chose the 23-LED universal matrix for all of them (you can also get them that have both red and white). Had we wanted softer light, they have smaller arrays that draw even less power (see all their LED replacements here)!
A quick photo tour of installing them:
Start by turning off the circuit breaker to the light you're working on. If you're not the only person aboard, it's a good idea to put a piece of tape over the breaker with something written on it along the lines of "don't turn on; work in progress." I'm usually lazy and just write "NO!" Yeah, I know you shouldn't have to do this to change a bulb, but I just like to have things off when I'm working on them.
Then remove the trim ring and glass from the light fixture. On most brands of lights, the screws are tiny — stick them in a cup so you don't lose them!

If you want to reuse the old halogen bulb (either in a infrequently used light or to sell/give to someone else), use a piece of paper or cloth to remove it. Touching a halogen bulb with bare fingers leaves oil on it, and because of the high heat that halogen bulbs put out, this can damage and bulb and cause it to blow up. If the bulb is a "G4" style, as most dome lights are, you just pull to remove it — two little wires will just slide out. Other bulb styles may require the bulb to be twisted slightly, then pulled out.

Attach the correct adapter to the wiring coming from the LED bulb (the photo is the "G4" style with two wires if you're wondering . . .).

Plug the bulb into the socket. Turn the power on and then the fixture on. Make sure it works before going any further. Then switch it back off.

Route the wire to go down the center section and dry fit the bulb into the fixture. See next photo for how it has to fit.

Then peel the backing off the double-sided tape and stick the bulb to the fixture. Press hard so it will stay in place — it's perfectly OK to touch the LEDs.

Put the lens and trim ring back on with those teeny-tiny screws. For me, this was the hardest part of the job (a computer screwdriver such as this one really helps).

Total time? About 5 minutes per fixture, including washing the glass.
We also changed out the reading lights over the bed and it was even simpler as it was a straight "change bulb" deal with nothing to take apart or adapters to fit. About 30 seconds each for those.
---
Planning a 12V project? Know that you are using the correct size wire for your 12-volt projects with our 6-page quick reference, designed to be kept with your wiring tools so it's fast to check. See it in our store.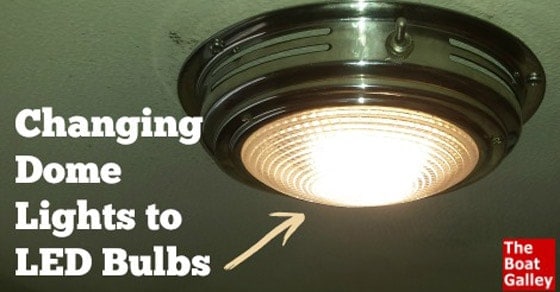 ---
Our FREE Provisioning Spreadsheet
Wondering how much of what foods to take on your next trip? Know just how much to buy of what — all arranged by grocery store aisle — with our handy Provisioning Spreadsheet. Includes detailed instructions to edit it for your favorite foods, how much your family eats, and how long you'll be gone. No spreadsheet skills needed!
It's FREE — get it here.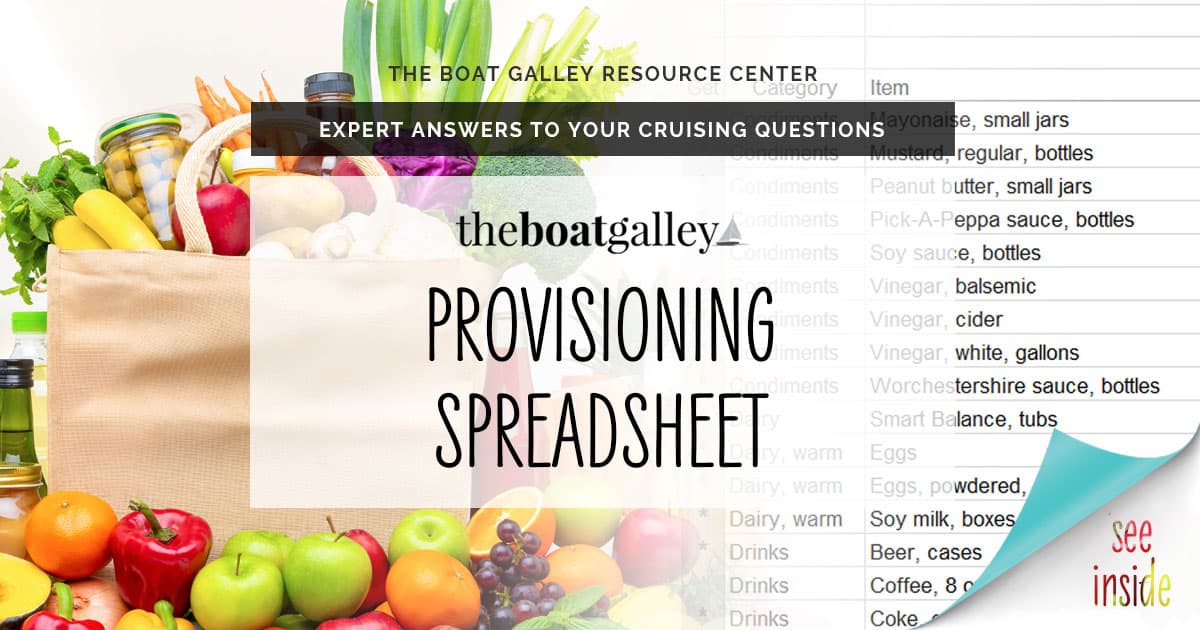 Some links above (including all Amazon links) are affiliate links, meaning that I earn from qualifying purchases. Learn more.