There's a bunch of dog info here on The Boat Galley, mainly because we have a dog — it started with storing their food (yes, a galley connection!) and proceeded from there.  But then, I started getting some questions about cats on boats.  Unfortunately, I have virtually no first-hand knowledge there, since Dave is allergic to cats.
But thanks to Krissy, I can now answer a couple of the most frequently-asked questions — including storing their food (again — a galley connection!).
I'll start by saying that lots and lots of boats have cats aboard.  Perhaps more full-timers than weekenders (since cats are relatively easy to leave home for a weekend), but I'm positive that more of the boats we met in the Sea of Cortez had cats than dogs.  So if you're wondering about the general feasibility of taking your cat on your boat, it's certainly possible.
You obviously know your cat and have a feel for how he/she would do aboard, but in general cats seem to like the life.  If you are heading to foreign countries, be sure to check out the requirements first.  Cats are allowed many places where it's difficult to take dogs (often you can self-quarantine cats whereas you can't with dogs), but make sure you know the regulations and have the paperwork in order.  New Zealand and Australia are, to my knowledge, the hardest countries to bring any animal to — and while it's possible with cats, it's also very expensive.  You can read one cruiser's story of getting their cat into New Zealand here.
So now, on to the two things that Krissy passed on to me.  First is storing dry cat food . . . it needs to be put in airtight plastic containers.  Even the bags that haven't been opened need to be in airtight containers, because of the humidity in a marine environment.  Airtight storage is also important to prevent bugs (and other critters — yuck!) from taking up residence right in the middle of a food source.
And she pointed out an important fact that I'd never thought about (see, I told you I didn't know much about cats . . .).  Litter is designed to absorb moisture very quickly.  And that means that it will pick it up just as quickly in the bag as in the litter box.  So not only does the cat's food need to be in airtight containers, so does the litter.  She added, "This is especially true of wheat, corn, pine or other plant based litters as they are prone to be lovely feeding grounds for bugs."
UPDATE:  Since writing this, I got a recommendation for a good litter box option.

For more info on the realities of having a cat on board, you may want to check out these resources:

And for a huge collection of "Cat Aboard" blog posts on all sorts of sub-topics, check out the links from The Monkey's Fist.
I'm sure there are tons of other good, informative sites for felines on board.  If you know of one, please leave a note in the comments.

---
Our FREE Provisioning Spreadsheet
Wondering how much of what foods to take on your next trip? Know just how much to buy of what — all arranged by grocery store aisle — with our handy Provisioning Spreadsheet. Includes detailed instructions to edit it for your favorite foods, how much your family eats, and how long you'll be gone. No spreadsheet skills needed!
It's FREE — get it here.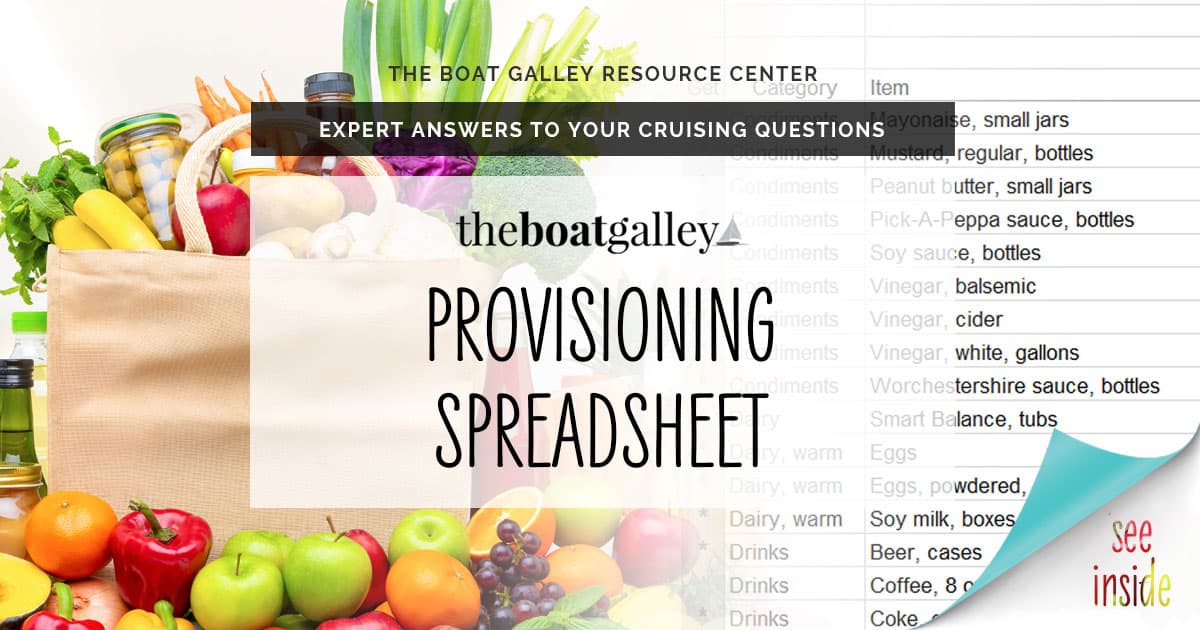 Some links above (including all Amazon links) are affiliate links, meaning that I earn from qualifying purchases. Learn more.