Does your boat have tiny cracks that let water in? Say in teak decks . . . where water eventually can work its way into the deck core? Or around a port hole, again possibly letting water into the core? Hardware stress points can also cause cracks and leaks.
Some can be cured with sealant or butyl tape. But that's not always practical . . . say with cracks in teak or with hairline cracks in fiberglass. Removing and rebedding hardware isn't something that's quick and easy, either.
Enter Capt. Tolley's (formerly called "Captain Tolley's Creeping Crack Cure"). It's a very thin penetrating sealant that pulls itself into cracks by capillary action and cures to form a watertight seal. We used considerable quantities of it on our 30-year-old Tayana 37 (there's a reason they're called "Leaky Teakys") and occasionally on our current boat.
We use it both for temporary and permanent fixes. Sometimes we know that a particular deck fitting, hatch or porthole really needs to be rebedded, but not now: sometimes the weather isn't conducive, other times we're traveling and sometimes we're planning to do a bigger replacement in the future. So we needed something that was quick and could be done right then, in less than five minutes. Other times, such as with hairline cracks in the exterior teak, Capt. Tolley's was our permanent fix.
There's no prep to be done and you don't have to take anything apart. Simply use the dropper bottle and put a few drops into the crack; as it disappears, add a few more drops. Wipe off any excess. It will pull itself laterally as well as follow any gravitational path that water would follow and will cure overnight. It has cured many little drips for us and I think it's helped to keep water out of hidden places.

The big thing to know is that Capt. Tolley's is not for big cracks. It is actually thinner than water and won't "fill" a big crack. The company says that cracks have to be less than 1 mm wide. So — basically it's for hairline cracks and you should not enlarge the crack to fill it. You can see their video at the end of this post.
We buy it from Amazon, rather than marine specialty shops (although most carry it). We find the 2-ounce bottle sufficient for our needs, but it does also come in an 8-ounce size.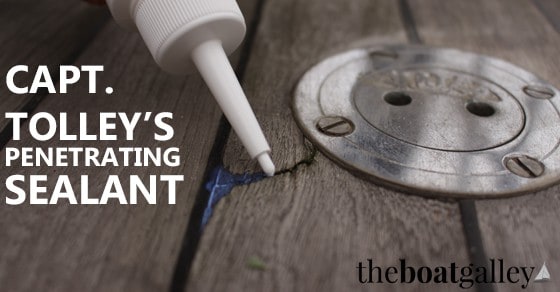 Making Boat Life Better
Some links in this article (including all Amazon links) are affiliate links, meaning that we earn from qualifying purchases.