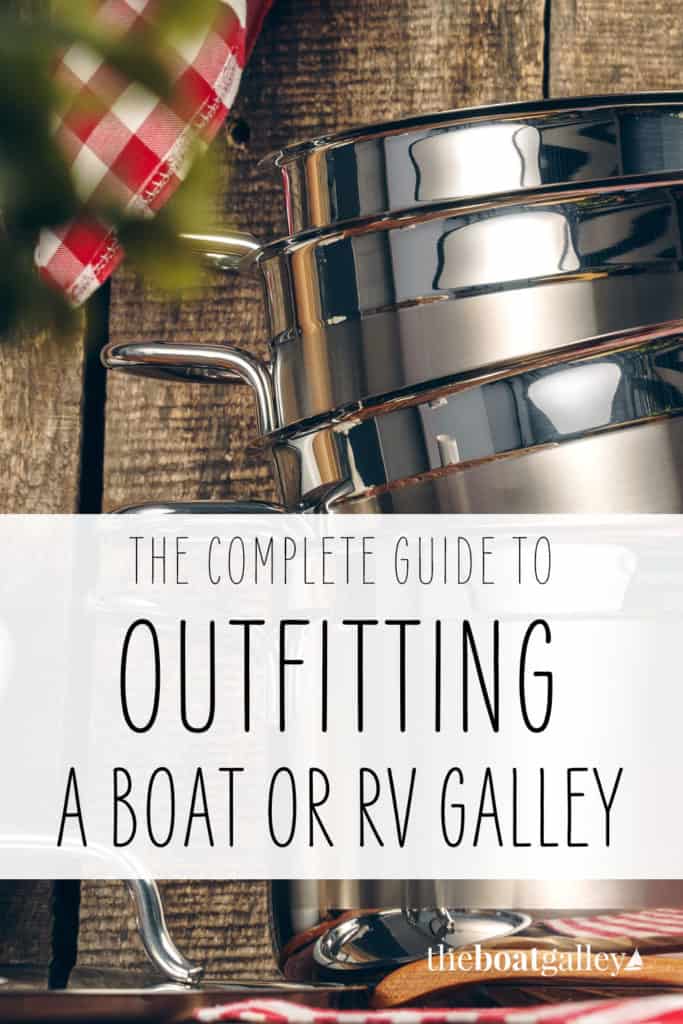 When buying galley equipment, there are at least 13 important points to consider before making a purchase. Here's a buying guide to help sort out what will work best for you:
1. Do I really need it? With limited space aboard all but the largest boats, think about whether you use something often enough to justify the storage space.
2. Can I use it in the space I have available? Workspace and cooking space is generally smaller in a galley than a house kitchen. Counters and drawers aren't as deep, the sink isn't as large, the oven and stovetop are smaller. The cubby for your dishes may not be large enough for some of the "super-size" plates sold. I learned to measure any space before I went to the store!
3. Can I stow it? Everything aboard has to stow securely whenever the boat moves. Will it fit in the locker space available? Will it need anything special to keep from breaking or scratching? Another big issue can be if something is likely to be noisy when stowed and what I can do to keep it quiet, such as padding with pieces of fleece.
4. Will it work when I need it to? Things that don't do what they should are enough of an annoyance when living ashore, but are close to a catastrophe if you're 100 miles or more from a replacement. To me, "working when it needs to" includes things like can openers not breaking as well as food storage containers that don't leak with the motion of the boat.
When I'm buying galley equipment I'm unfamiliar with, I look for items with a number of reviews by real-life users and pay close attention to poor reviews. I want to know why they dislike the product; then I can decide if it will also be a problem for me. Unfortunately, it's hard to find reviews that talk about using kitchen equipment on a boat — and one of my purposes in developing a website with recommendations specifically for boat galleys.
5 – 7. Is it break-resistant? Rust-resistant? Non-slip? These are all important considerations in the marine environment. It's often cheaper in the long run to buy higher quality initially. I don't just blindly purchase (or recommend) the higher cost alternative on the assumption it's better, but look at factors such as scratch and break resistance, rust resistance, tendency to tip over, and the ability to hold onto it as the boat moves.
8. What's it made of? In a lot of ways, this is related to the questions above.
High quality, heavy stainless steel is always a favorite of mine for galley equipment. It is highly rust-resistant and won't break unless you really abuse it. In pans, the heavier the stainless the better — it's less likely to warp as it heats and cools, and it will also conduct heat more evenly.
Soft (not brittle) plastic is also a good choice for mixing bowls and serving dishes, although markings (such as on measuring cups and spoons) wear off quickly. I greatly prefer stainless measuring cups and measuring spoons with markings etched or stamped in.
Glass can break, and I generally avoid it onboard since I'm always barefoot. If you do have glass aboard (it's hard to totally avoid it), choose thicker pieces over thinner. They may cost more initially, but you'll have far less breakage. This is particularly important if you decide to use real glass drinkware and especially for stemware — delicate stems look beautiful but have no place on a boat.
Polycarbonate plastic (Lexan) is a popular alternative to glass. However, while it is quite shatter-resistant, it scratches easily. In just a year, glasses will start looking worn — but they're still serviceable. Even with polycarbonate, you need to pay attention to sturdiness, as I've had the stems of several polycarbonate wine glasses snap at their narrowest point.
Break-resistant dishware has been around for years. I'm not a big fan of melamine dishes if you're living aboard and using them daily, as my experience has been that they quickly show wear. They are great for occasional use, however, as they're lightweight (always a plus on the boat), heat and shatter-resistant and come in all sorts of wonderful designs. They can't be put in the microwave, though — something I read on the back of my dishes only after I burned one to a crisp. For daily liveaboard use, my preference is Corelle — it's hard to break, looks and feels like "real dishes," comes in lots of designs and can be used in the oven and microwave — or tempered glass dishes, which are similar to Corelle except they have less of a tendency to shatter.
10 – 12. Will it help me conserve power? water? storage space? No boat, it seems, has enough electricity. Therefore, I favor manual tools and non-electric options. Ease of cleaning plays a big part in water conservation: nonstick pans and items that don't have little cracks and grooves that are hard to wash by hand are best. Nesting pans, bowls and storage containers conserve space.
13. Affordability. I don't blindly purchase the most expensive choice, figuring that it must be the "best," nor do I always go for the cheapest on the grounds that it's all I can afford. To me, affordability is more of a long term consideration: what will be the least expensive in the long run? Will the item last? Will it do what I want it to?
Read Next
Here's your "Quick Start" to everything you need to know when living on a boat:


Making Boat Life Better
Some links in this article (including all Amazon links) are affiliate links, meaning that we earn from qualifying purchases.