If you're like most cruisers in hot climates, you wear a swim suit most of the time.  Maybe a t-shirt thrown over it.  The problem is, that doesn't provide much protection from annoying little burns in the galley.
I've written other articles about using stove gimbals and pot restraints to keep pans from sloshing or sliding off the burners and onto the cook.  But you can get lots of little burns from browning foods and so on when you're, uh, scantily dressed.  Stomach and thighs are the most likely places to get little spatters.  And while not life-threatening, the baby burns are annoying . . . and can be painful if you go swimming in salt water!
Cooking on a boat is different, with a much smaller workspace and often no convenient stores. Make the transition easier with my FREE online course, Cooking for Adventures.
I also got annoyed at getting little grease stains on my swimsuit — particularly my white one where they really showed up.
When we had moved aboard, I hadn't brought an apron, figuring that space was at a premium and I could do without.  In just the first few months, I found out that I needed an apron more on the boat than I ever had ashore! The combination of the boat moving — even just gently rocking at anchor — and not having as much clothing for protection meant that I picked up far more annoying little spatters.
After several weeks aboard, I broke down and bought an apron and hung it on a hook where it was easy to grab.  Any time I was doing something at the stove, I made sure to put it on.  Voila!  No more of those annoying little spatter burns on top of my thighs.  And wearing it when fixing beets kept all those little pink spots off my t-shirt.  And so on . . .
Two things to note —
best aprons are fairly heavy fabric, so that grease spatters don't just go right through AND
always tie an apron behind you, not in front of you, so that the tails aren't likely to fall into a burner and catch on fire.
Who ever would have guessed that an apron would be part of staying safe on a boat??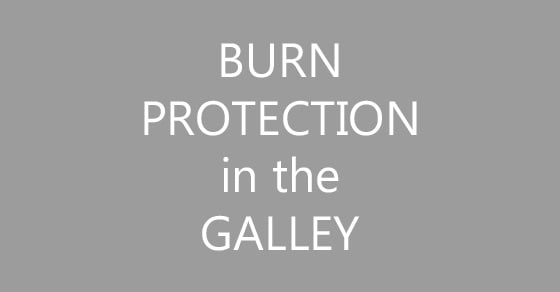 Some links above (including all Amazon links) are affiliate links, meaning that I earn from qualifying purchases. Learn more.