I think it was 2006 when I met Bruce Balan. He and his then-girlfriend (now wife) Alene were cruising the Sea of Cortez on their big red tri, Migration, and just happened to have a nifty computer projector aboard that I could use for my talk on hurricane prep at LoretoFest that year. We crossed paths with Bruce, Alene and Migration a few more times that summer and then headed our separate ways as they headed off across the Pacific (they're now in Thailand).
But in the time we spent together, I learned that Bruce had written a number of children's books — quite good ones, in fact. One of them, Buoy: Home at Sea, particularly appeals to cruisers . . . and not just the kids. We've kept in touch over the years and I recently learned that Bruce re-released Buoy as an ebook. He kindly gave me a review copy as I hadn't read it before — I mean, we don't have kids at home, so why would I have read it?
I was captivated. Yes, technically it is a children's book, but it's one that adults will enjoy too. Sort of like the A.A. Milne (author of Winnie the Pooh and others) books or Jonathon Livingston Seagull, it's a story simple enough for kids yet complex enough — and charming enough — to intrigue adults. It's won a number of awards, but more than that, it's just a perfect book for boating kids and those who are intrigued by grandparents' (or other relatives') lives afloat.
Buoy: Home at Sea is the story of a sea buoy and his life at sea — guiding the ships away from danger, a visit from a sailboat, a green flash and more. And Buoy has friends — a seagull and a seal — as anyone who's passed one knows.
I see it as a great read-aloud book — 54 pages in 16 chapters that are each little slices of Buoy's life with his friends in the sea. A couple of chapters each night under the stars, sitting in the cockpit, making a perfect end to a day afloat. Okay, I'll admit it, after reading it myself, I read it a chapter at a time to Dave as we sat under the stars. He was captivated, too. Can't wait to repeat it when the grandkids come to visit!
You can get a copy in print or ebook in a number of places (I'm sure I'm leaving many out):

---
Our FREE Provisioning Spreadsheet
Wondering how much of what foods to take on your next trip? Know just how much to buy of what — all arranged by grocery store aisle — with our handy Provisioning Spreadsheet. Includes detailed instructions to edit it for your favorite foods, how much your family eats, and how long you'll be gone. No spreadsheet skills needed!
It's FREE — get it here.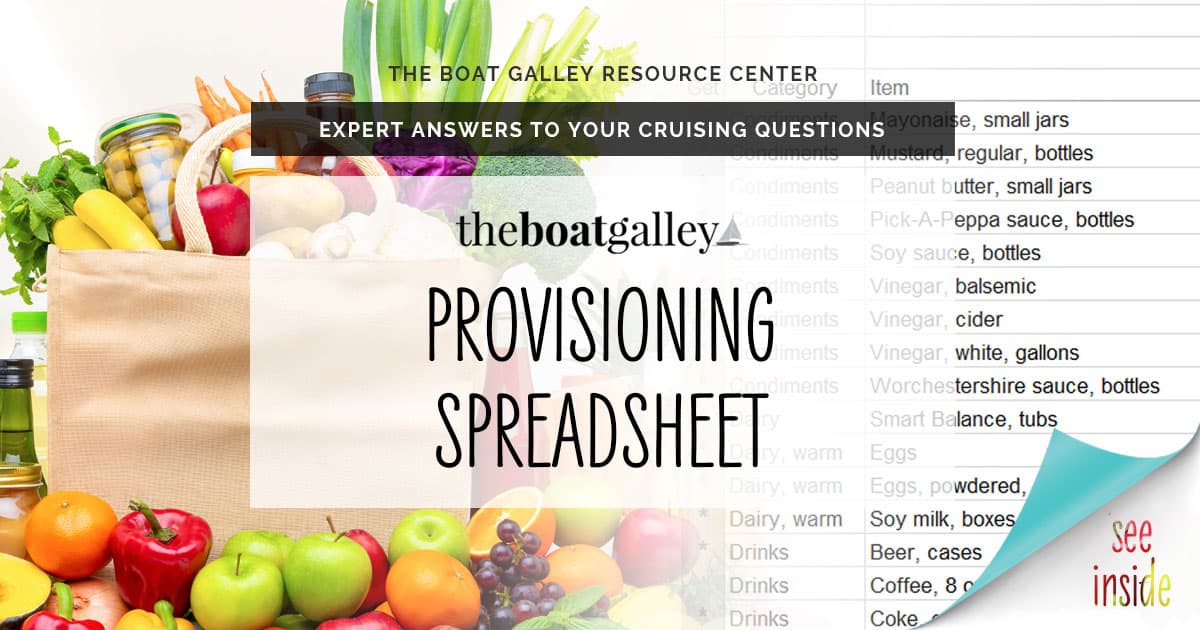 Some links above (including all Amazon links) are affiliate links, meaning that I earn from qualifying purchases. Learn more.