Davis Mega-Lights are nifty lights that can be used in the cockpit or as an anchor light in most places. We used one for years on our previous boat.
Davis Mega Lights plug into a cigarette lighter with a 15-foot cord, operate on a photo cell (that is, they turn on automatically at dusk and turn off automatically at dawn) and are low draw — the incandescent ones we used on Que Tal drew less than an amp.
Getting ready to cruise? Prepare to Cruise (a FREE mini-course) gives you lots of free resources along with affordable recommended courses and coaching for more in-depth needs.
When we first began cruising aboard Barefoot Gal, we were surprised to find that our masthead anchor light drew almost 3 amps. Multiply that by 13 or 14 hours a day that it's on and it's a huge power hog! Plus we had to remember to turn it on. And off.
The previous owner, however, had left an old Davis Mega Light on board — one with incandescent bulbs. We put it into use almost immediately and saw a major reduction in the power used. We simply clip it onto our lazyjacks with a stainless carabiner and take it off when sailing.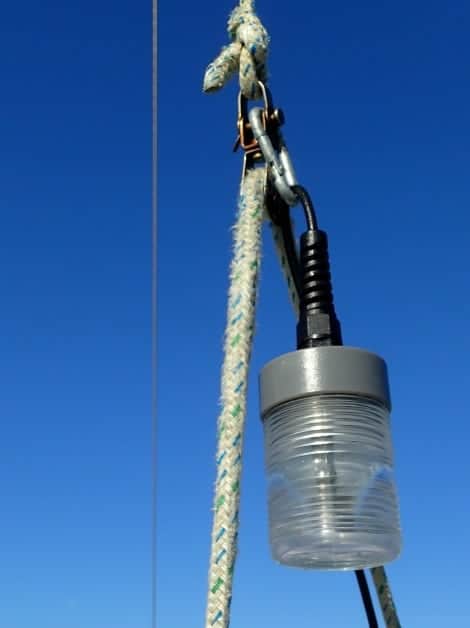 Then a friend clued us in to an even bigger power savings: a Davis light with a bright LED bulb. He was in the process of selling his boat and gave us an LED bulb from Cruising Solutions that he'd never used.
WOW! The light is much brighter and draws only 0.04 amp (not a typo — less than 1/10 amp). The bulb is very simple to change and contains 6 LEDs. It is visible well over 2 miles, meeting the standard for anchor lights.
Now I see that Cruising Solutions has an even brighter 15-LED bulb for the Davis Mega Light. This draws 0.1 amp (one-tenth of an amp). The boat behind us here at Boot Key Harbor has one of these and it is easy to pick out in the "starfield" of anchor lights. Of course, our LED will never burn out so it's unlikely I'll have to buy another, but yes, if I do, I'll get the brighter one.
NOTE: These are not the "LED Davis Lights" or the LED replacement bulbs that are packaged by Davis. A friend couldn't figure out why their LED Davis Light was nowhere near as bright as ours — turns out his had just one LED in the bulb, yet it drew over 1/10 amp. It just wasn't bright enough to use as an anchor light despite what the company might say.
If you have an old Davis Mega Light that works, you can upgrade it to the 6- or 15-LED bulb. They're sold in both Cool White and Warm White — the cool white is brighter than the warm white for the same number of LEDs.
15-LED bulb for Davis Mega Light at Cruising Solutions
6-LED bulb for Davis Mega Light at Cruising Solutions
August 2017: Cruising Solutions has switched and now sells a 12-LED bulb for the Davis Lights. Get it here.
If you're looking to buy a new Davis Mega Light, I'd get it from Cruising Solutions rather than Amazon, West Marine or other retailers, as Cruising Solutions sells them with the better LED bulbs already installed, so you don't have to buy the bulb separately (and the whole thing is cheaper than what many retailers charge for just the light without the good LED bulb).
A couple of notes about the Davis Mega Lights:
Even if you have a masthead LED anchor light, they're good to have on hand in case the masthead one has a problem that can't be fixed immediately. I know a number of people that keep one "just in case."
They're good lights and pretty weatherproof. But they won't last forever. We've found that the photocell is usually what goes first, and then the light just won't turn on. They typically last us about three years (but no guarantees).
Do you have an insulated backstay for an SSB or ham radio antenna? Do you hang your Davis Light off it? Yeah, we did. Until once we transmitted when the light was on and basically fried its innards. Don't do it.
They are not "certified" to be anchor lights, as the Coast Guard certifies only whole light assemblies (fixture and bulb together). But you are not required to have a "certified" anchor light, only to have a white all-around light that meets the visibility standards. We've been in the Florida Keys for three months now, in a harbor where anchor lights are required. The Coast Guard regularly patrols for anchor light violations (and boats have been cited). No boat with a Davis Mega Light — incandescent or LED — has been cited for an improper anchor light as far as I know.
At a recent Q&A with the FWC here in Boot Key Harbor, the captain for this area said that he prefers boats in the harbor have a light that is NOT at the masthead, since most people aren't looking at the sky. He really liked the Davis lights as most people hang them at a lower level that's easier to see.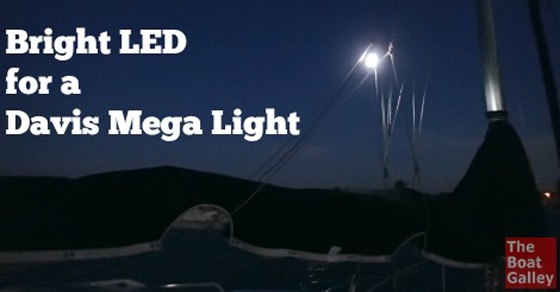 ---
Our FREE Provisioning Spreadsheet
Wondering how much of what foods to take on your next trip? Know just how much to buy of what — all arranged by grocery store aisle — with our handy Provisioning Spreadsheet. Includes detailed instructions to edit it for your favorite foods, how much your family eats, and how long you'll be gone. No spreadsheet skills needed!
It's FREE — get it here.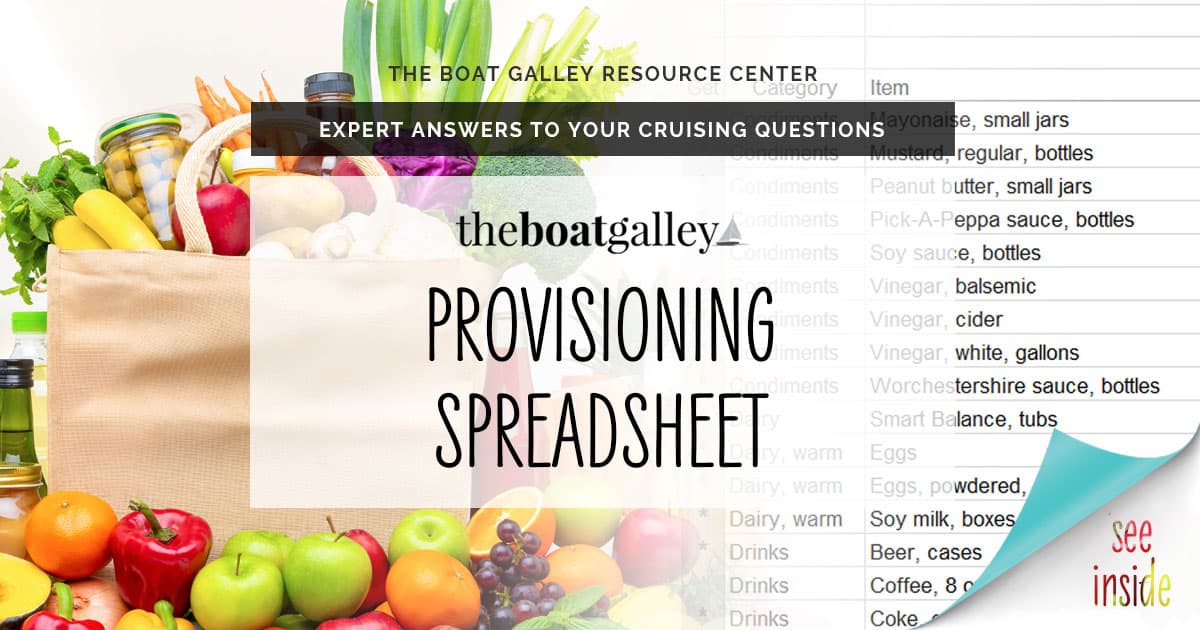 Some links above (including all Amazon links) are affiliate links, meaning that I earn from qualifying purchases. Learn more.