So, what's the best hair style for boat life?
What a question! But hey, I'll give my thoughts . . . add yours in the comments. For me, the two big goals are (a) to be cool and (b) not to have hair in my eyes when I'm outside, snorkeling or doing boat chores.
Getting ready to cruise? Prepare to Cruise (a FREE mini-course) gives you lots of free resources along with affordable recommended courses and coaching for more in-depth needs.
I've had short, I've had long, and I've had in-between.
In-between is awful. It's that length where it's too short to put into a ponytail, but long enough that even a whiff of a breeze will blow it straight into your eyes. Equally awful are cuts billed as "long" but actually layered . . . with some layers too short to go into that ponytail.
To me, "long" is any length that can be pulled into a ponytail (with or without bangs) and short is any cut where none of it can get into your eyes. So which is better? It's really personal preference. Having had both, though, I can say what I think the pros and cons of both are:
Short Hair
Pros
Easy, easy, easy — run a comb through it and you're good to go
Less water to wash (but not as much less as you'd think)
No tangles; rarely any split ends
Never in your eyes and about as cool as you can get
Less hair to clog drains — or on the floor and potentially clogging a bilge pump
Cons
Have to find someone to cut it every month or so
Time spent getting it cut (when we'd be in a town for just one day, a hair cut took up a disproportionate amount of time)
Since it's always a new stylist, the cut is never the same — and some won't be what you want (not a problem if you're based in one place and can find a stylist you like)
It can quickly grow into the hated "in-between" length
Long Hair
Pros
No urgency to get hair cut — you can trim bangs yourself if need be
Almost never get a bad cut
Pretty much always looks good
Can always put on a ball cap and pull it through the "hole"
Cons
Curly hair can be prone to tangles in the wind (see below for a couple of products that Dave swears by)
Sun and wind can damage hair — worse if you color hair
A few wisps of hair always escape from hair tie and get in eyes
Hot if you wear it down
Watch out for hair clogging drains and bilge pumps
I had short hair when we began cruising and grew it out after about a year (I did most of the growing out while we were based at a marina for the winter). I simply got sick of finding someone to cut it and getting a different cut every time — it got so it was nowhere near the style I wanted. But, I'll admit, it was incredibly easy!
Dave also has long hair — but it's very curly. Two products that he's discovered in the past year that have made it so much easier to deal with on the boat. The two together took his 20-minute combing ritual and made it less than a minute.
Tangle Teezer brush — it doesn't look that different, but it is. Just glides through his hair and takes the tangles out.
Mane & Tail Detangler — spray it on and even a regular comb goes through much easier.
My hair is pretty straight and I don't need either of the above. But I often like to clip my hair up instead of putting it in a pony tail, and I've found this clip to work a lot better than the straight ones or banana clips (both of which tend to fall out of my hair easily, especially if there's any breeze).
And finally, you need a good vacuum or brush/broom to keep hair out of the bilge and then clogging the bilge pump.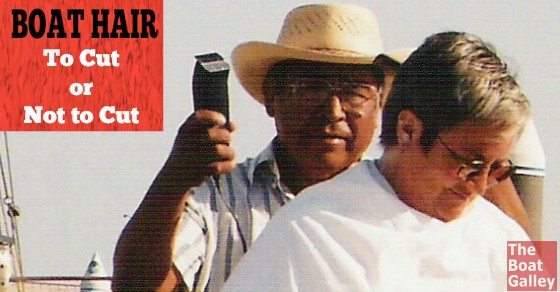 Some links above (including all Amazon links) are affiliate links, meaning that I earn from qualifying purchases. Learn more.