Ten months ago, I was diagnosed with Type 2 diabetes. I now eat very low carb (LCHF), which is actually even more restrictive than keto. No longer can I eat the grain-based homemade breads that I've always loved.
"Keto" breads are still a treat for me, not an everyday occurrence. But most recipes I found either made a big loaf (bad temptation!) or were for "keto mug bread" baked in a microwave. I didn't want a big loaf and I don't have a microwave. So I started experimenting.
This recipe makes just two "slices" — one for Dave and one for me, although I split each one in half again, like you would a biscuit, so that we each get two pieces. It's far less "eggy" than many recipes, holds together well and bakes in the oven.
It's keto-friendly, LCHF (making it suitable for diabetics as an occasional treat) and gluten-free. Add in boat-friendly and you probably wonder if it can possibly taste any good. You bet! Dave doesn't have any of my dietary restrictions and yet this is one of his favorite breads.
I use a mini loaf pan — 5-3/4″ by 3″. You can also bake it in a 4″ by 4″ square pan and split the resulting "loaf" horizontally for a more typical-size slice of bread.
If you're not used to keto/LCHF baking, some of the ingredients are going to be unusual. Almond flour can be found in most US grocery stores; I don't know about other locations. Psyllium husk powder is a fiber, and it adds immensely to the texture of the bread. Xanthan gum keeps the bread from crumbling — it only takes a tiny bit! Coconut oil is healthy and adds a nice subtle taste. It can often be found in grocery stores. By the way, the ingredients are also gluten-free if you use a gluten-free baking powder (most are, but check).
Psyllium fiber and xanthan gum are generally not sold in grocery stores, but are available on Amazon:
I've also included links to these in the recipe itself.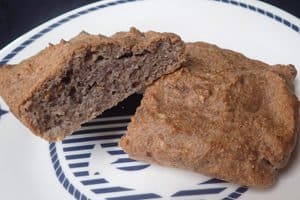 Keto/LCHF/Gluten-Free Bread
Delicious non-eggy bread that holds together and bakes in an oven, not a microwave. Makes two slices. Gluten-free, keto and diabetic friendly (as a special treat) — but "regular folks" will love it too!
Print Recipe
Pin Recipe
Instructions
Preheat oven to 350 degrees F. (175 C.).

In a small cup or bowl, mix the almond flour, psyllium husk powder, xanthan gum, baking powder and salt. Mix well as the xanthan gum will form lumps if not well mixed in.

Mix together the egg, coconut oil and water in another cup.

Add the wet ingredients to the dry ingredients and stir to mix well. Dough will be thick.

Bake at 350 degrees F. (175 C.) for 25 minutes. Test for doneness with toothpick inserted in center — it should come out clean.

Cut and serve immediately. I cut loaf in half, then cut each piece horizontally (like a biscuit) to make two "slices."
Notes
May be baked in a 4″ x 4″ square pan or a 5″ round pan.
Psyllium husk fiber may be omitted and almond flour increased to 3 tablespoons. The texture is not as good but the carb count goes down to 2.
This bread is fairly dense. Add another tablespoon of water for a lighter bread. Baking time is the same.
Nutrition Facts
Keto/LCHF/Gluten-Free Bread
Amount Per Serving
Calories 121
Calories from Fat 90
% Daily Value*
Fat 10g15%
Cholesterol 81mg27%
Sodium 43mg2%
Potassium 131mg4%
Carbohydrates 3g1%
Protein 3g6%
Vitamin A 120IU2%
Calcium 63mg6%
Iron 0.5mg3%
* Percent Daily Values are based on a 2000 calorie diet.
Want over 800 boat-friendly recipes, over 100 substitutions, and tons of tips for cooking on a boat?


Some links in this article (including all Amazon links) are affiliate links, meaning that we earn from qualifying purchases.