Many boats have built-in buoyancy tanks. Our 1999 Gemini catamaran has one in the bow and stern of each hull. Theoretically, they contain enough air to keep the boat at least awash if the hull was holed.
There are two possible problems, though:
the manufacturer won't guarantee that they're 100% airtight (that is, water could seep in)
what if the hole or crack extends into the buoyancy tank area (or if the deck-to-hull joint is compromised in the tank area)
We decided that we wanted our tanks to be positively buoyant so that the amount of water that could get into each tank was limited. I don't think that this is a frivolous quest, as we know of two Geminis that have sunk when water entered the boat. Of course, no one knows that water filled the buoyancy tanks but it's definite that the tanks didn't keep either of those boats afloat; one is known to have gone down by the bow and the owner thinks that the tank was breached. Another friend credits watertight bulkheads on his larger catamaran to keeping his boat afloat (and letting them reach safety) when they crashed into an unlit weather buoy off the East Coast of the US.
Basically, creating positive floatation means filling the tank with something that is lighter than water and which can't be infiltrated by water.
Some people have used plastic water and soda bottles. The disadvantage is that they are hard to pack tightly enough to keep them from making noise underway. But what to use instead?
One hot day as we readied ourselves to jump in the water to lounge and cool off, it hit us that we were holding the solution to the buoyancy problem in our hands. Swim noodles!
Most swim noodles that you find have a hole in the center, but you can buy ones with a solid core that are much better for this purpose. I did a lot of looking online and found the best deal on eBay. I started with 4 cases of 20 each, which exhausted their supply. I then found smaller quantities on Amazon that were slightly more expensive per each but still better than anything else I could find. (Note: I could find cheaper noodles with holes in the center, but since they have about 15% less flotation as a result, didn't want to use those.)  Links to both of these below.

When we started, we really didn't know how many noodles it would take to fill the four tanks. Measurements were guesstimates at best as the tank shapes were higher irregular. Just because of shipping, we ended up with each of the four original cases coming on consecutive days (and the extras from Amazon being ordered when we saw we still needed more) — and I'm glad they did! Getting them into the dinghy, aboard Barefoot Gal, unboxed and then into position took more time than we had realized. And, because of the strangely shaped tanks, we had to cut over half the noodles (pro tip: a serrated bread knife does this easily). It certainly didn't qualify as a difficult job, it was just more time-consuming than expected. And, of course, required some boat yoga.
I hope we never find out how well this works to keep the boat afloat. My calculations say that a single 2-5/8″ by 60″ solid core noodle has about 11.5 pounds of floatation. We used a total of 108 noodles, adding over 1,200 pounds of flotation.
Sources:
---
Our FREE Provisioning Spreadsheet
Wondering how much of what foods to take on your next trip? Know just how much to buy of what — all arranged by grocery store aisle — with our handy Provisioning Spreadsheet. Includes detailed instructions to edit it for your favorite foods, how much your family eats, and how long you'll be gone. No spreadsheet skills needed!
It's FREE — get it here.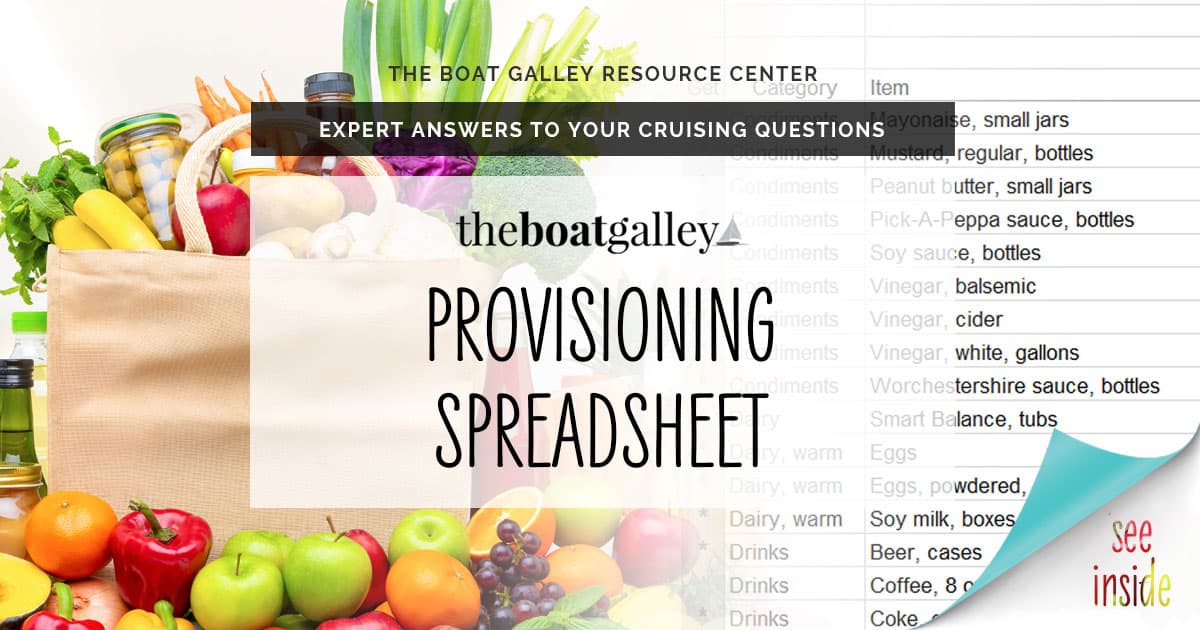 Some links above (including all Amazon links) are affiliate links, meaning that I earn from qualifying purchases. Learn more.