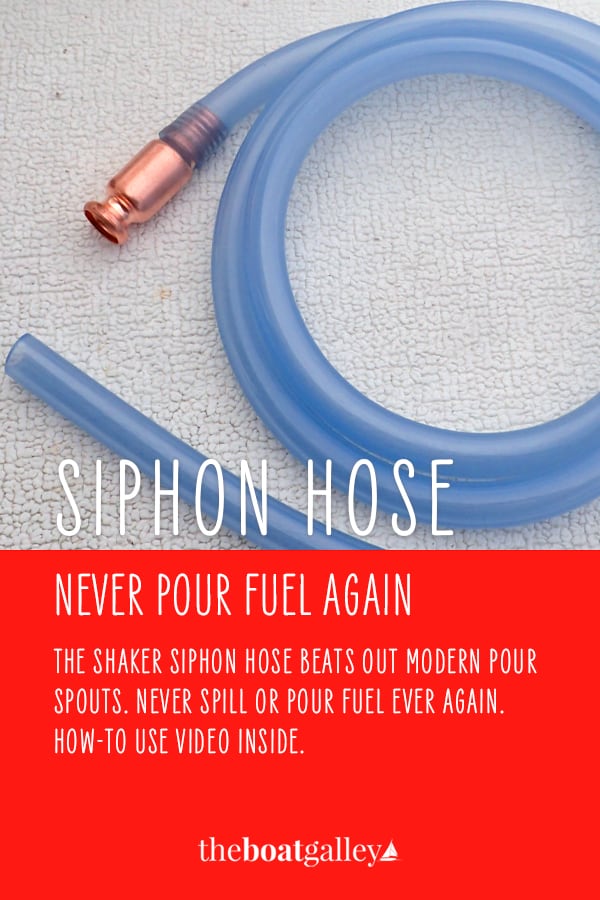 When Dave and I bought Que Tal, our first cruising boat, it came with a shaker siphon. We'd never seen one before and wondered if we'd ever use. We've come to believe that was one of the best pieces of gear that was just thrown in on the sale!
Believe it or not, Dave and I have never filled either of our cruising boats at a fuel dock. Nope, every bit of fuel has gone into a jerry jug and then through a Baja filter* and into the tank.
And we jerry jug the gas for the dinghy.
At roughly 40 pounds apiece, those 5-gallon jugs get heavy to hold up and pour in. But since we learned about these nifty little shaker siphons, we don't pour them. And we don't get fuel in our mouth starting the siphon, either. BONUS: They don't spill like some of the "environmental" spouts do!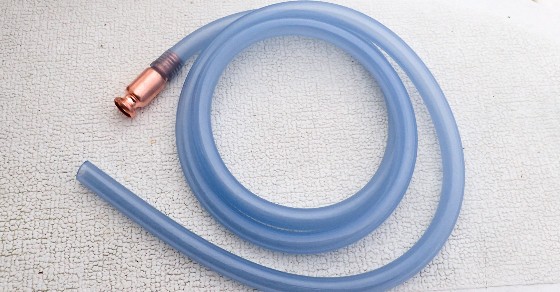 The metal end is a check valve — the fluid can go into the tube through it, but not back through the valve. Start with the container you're transferring from higher than where it's going (the bigger the height difference, the faster the flow will be). Put the end with the check valve into the container you're transferring from, the other end where you want it to go, and then jiggle the check-valve end up and down a few times (each time, more liquid will come into the tube) until it finally gets running downhill and the flow continues on its own.
Since it's easier to show than explain, here's Holly Scott.
This is one of those things that just makes life aboard so much easier. I'm amazed that everyone doesn't already have a shaker siphon. I think Dave gave 4 or 5 of them to friends at our old lake house for fueling their boats, too! They also work well for transferring water from jerry cans into your water tanks
Where to get your own shaker siphon? You can get them at most auto parts stores such as NAPA, and also from Amazon. If you want to use one for both fuel and water, be sure to get two and label them both.
One final note: don't try to use these to siphon gas out of a car. Car gas tanks have some sort of anti-siphon device in them to defeat thieves. They defeat owners, too.
*A Baja filter is a three-stage filter that gets out particles and water. Unfortunately, the original Baja filters are no longer being made. These Mr. Funnel filters are the closest thing I've been able to find.
Read Next
---
Our FREE Provisioning Spreadsheet
Wondering how much of what foods to take on your next trip? Know just how much to buy of what — all arranged by grocery store aisle — with our handy Provisioning Spreadsheet. Includes detailed instructions to edit it for your favorite foods, how much your family eats, and how long you'll be gone. No spreadsheet skills needed!
It's FREE — get it here.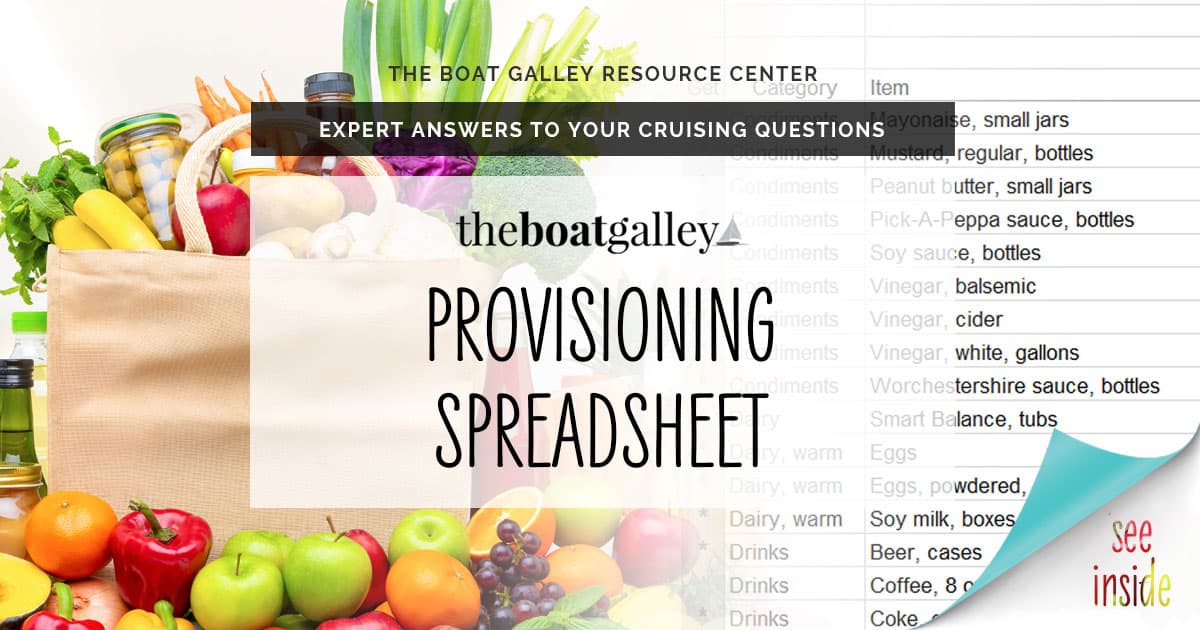 Feel like you don't have a clue where to start when the outboard won't run? This guide is for you! A great resource to keep in the dinghy — Outboard Troubleshooting for Non-Mechanics. Know exactly what to try when your outboard won't start! Waterproof and fuel-proof, easy to use. See it in our store.


Some links above (including all Amazon links) are affiliate links, meaning that I earn from qualifying purchases. Learn more.