Most of us don't wash our cans when living ashore, so why wash them on the boat?
A couple of reasons:
On the boat, you are likely to buy foods at stores with less turnover, particularly if you're cruising in more out of the way spots. Cans on shelves — even for just a week — can get a little dirty.
You don't want to bring dirt — along with any insect eggs or excrement — onto the boat in general. And you really don't want to open a can and have a dirty lid fall into the food in the can!
If you are cruising in less developed countries, warehouses and stockrooms of stores are more likely to have "critters" — both bugs and rodents. This makes eggs and excrement even more likely . . . yuck!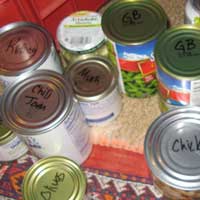 I use a bleach solution to wipe off cans that look at all dirty when I bring them aboard — theoretically it's 2 tablespoons of plain unscented laundry bleach per 1-1/8 cups of water, but I admit to usually putting some water in a small bowl without measuring it exactly and then adding a good "glug" of bleach. I use either a rag or sponge to wipe off the cans . . . and no, I don't bother to take labels off unless they're falling off or look dirty. But since my lockers are all top-opening, I do label the tops of cans to make it easy to find what I want.
Be sure that cans are dry — either air-dried or wiped off — before placing them in lockers.
When I use cans, I wipe the tops off again with a bit of bleach solution. Far more than in "home" cupboards, cans tend to pick up dirt in lockers. I think it's the motion of the boat that tends to put dust in motion — and maybe shake some loose from the locker interiors.
I keep bleach solution in a spray bottle so that it's easy to use (read more about it here) — I spray the top of the can and then wipe it off with a cloth, taking extra care to get the groove where the lid meets the lip and dirt tends to accumulate. While even using water will get any dust and dirt off, using a bleach solution will help to disinfect the lid so that if it falls into the can contents in won't contaminate the food. This is particularly important with foods that won't be cooked before being eaten, as heat won't kill germs.
Some links above (including all Amazon links) are affiliate links, meaning that I earn from qualifying purchases. Learn more.