Last week, I posted a photo of our new portable air conditioner on Instagram and Facebook.
Two friends that we had cruised with during summers in the Sea of Cortez almost immediately asked if we were getting soft in our old age and then asked in a more serious vein why we'd done it now when we hadn't in the Sea of Cortez.
Good question. Temperatures there were almost always in the mid-90's in the summer, occasionally over 100. And we cruised the full summer there.
It's not that we weren't hot in those places — we were. But we could cope with fans, wind scoops, and cold drinks. And swimming.
Now, we're in a boat yard along the Okeechobee Waterway in southern Florida, right on the northern edge of the Everglades.

While the official temperatures have been around 95º F. every day, we are consistently seeing over 100 on the thermometer in our cockpit (in the shade). Humidity is over 80% most of the time; occasionally over 90%.
So, what are the differences that led us to buy a portable air conditioner and install it temporarily?
The boat is out of the water. In the Sea of Cortez, the boat was in the water, which kept it cooler. Here, that hot air surrounds every bit of the boat; our exposed black bottom paint just soaks up the heat and passes it right into the boat.
There's nowhere to swim. We'd swim multiple times a day in the Sea of Cortez, which definitely helped us stay cool. Unfortunately, there are gators in the Okeechobee, so swimming is out of the question!
Rain was infrequent in the Sea of Cortez, which meant that we could leave the boat wide open all day. Here, rain or the threat of rain is an everyday occurence. The boat would have to be closed up part of every day, and anytime we left the boat. I can't imagine being in a closed boat without AC in this climate!
It's a lot more humid here (Baja is a desert), making the heat index much higher. The humidity also means that mold and mildew are a much bigger problem, and the air conditioner also helps with this.
Bugs were an infrequent problem in the Sea of Cortez, meaning that we could take the screens out most of the time, improving air flow, and could leave the boat open at night. Here, the no-see-ums are relentless. No-see-um screens allow little air to pass through and the little devils always manage to find some tiny holes. The boat just has to be closed after dark!
We plan to be in the boatyard for several months. We have several projects that we want to do before re-launching the boat and she's in a good location in the event of a hurricane. By contrast, we never had a long haulout during summer in the Sea of Cortez (in fact, only once did we haul during the summer and it was for only a few days).
Neither Dave nor I had ever spent a summer in southern Florida. We're both quite heat tolerant but it is just brutally hot here, particularly with the boat out of the water. If we were doing a quick haul and then returning to a place where we could swim frequently, it'd be one thing — we could survive a week or so without air conditioning. But considering how long we're planning to be here, we can't imagine being without AC. And so we got a portable unit — more coming on this and how we have it set up.
Yeah, I feel a bit of a wimp. I've written lots of articles before on coping with hot weather and never felt the need for AC when we were in the Sea of Cortez. What can I say? It's just different here.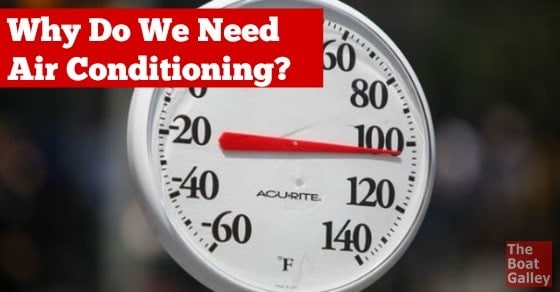 Some links above (including all Amazon links) are affiliate links, meaning that I earn from qualifying purchases. Learn more.