Having a hard time finding chocolate chips where you are? I've never had a problem in the US or Canada, but in Mexico and South America, it has seemed more like a scavenger hunt!
I've learned that in Latin American countries, chocolate chips usually are not found with baking items. Instead, they are almost always with candy — sometimes in the candy aisle of the grocery store and sometimes in candy stores. It usually takes a bit of digging as I've almost always found them under or behind something else!
Cooking on a boat is different, with a much smaller workspace and often no convenient stores. Make the transition easier with my FREE online course, Cooking for Adventures.
Don't despair even if you don't find them. I've never been anywhere that I couldn't get plain chocolate bars and simply chop them up with a knife. While it can be hard to get semi-sweet chocolate bars (which is the type of chocolate used in chocolate chips), I've found that both milk chocolate and dark chocolate substitute well.
Yes, the taste is a little different, but the resulting treat is still good. After all, is there really such a thing as bad chocolate?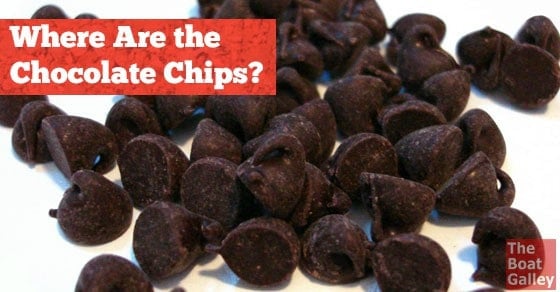 Some links above (including all Amazon links) are affiliate links, meaning that I earn from qualifying purchases. Learn more.