So, last summer I wrote about our tentative plans for this winter. A big part of what I wrote was about taking baby steps – adding one layer of complexity at a time until we were comfortable with how things were going, then adding another and so on. At the time, our plan was to spend just a couple of weeks in the boat yard, then go to Ft. Myers for a month or so at a marina, then maybe some time on a mooring there, and then finally head down to the Keys.
We didn't do that. We ended up spending over two months in the boat yard, re-doing the bottom. It started getting cold, and marinas in Ft. Myers were filling up for Christmas. All our friends were heading to the Keys . . . and a great weather window opened just as we left the boat yard.
So off we went.
On one hand, we'd been living aboard the boat for two months, so we knew how most of the "living" systems worked – that had been one of things we thought we'd want time at the marina for. But we didn't have much experience with the boat underway. We had originally thought we'd use the time at the marina to do some daysails and so on, but once we looked more closely at the charts, we realized that wasn't really going to happen as it was about 20 miles from the Ft. Myers marinas to water that wasn't just a channel. The only way to start getting that experience was just to go (am I rationalizing here?).
Did we have some problems? Of course . . .
The first night out of Ft. Myers, our batteries died. We tested living without shore power for four days while in the boat yard, so we're not sure what suddenly happened. We used our Honda generator to recharge enough to start the engine, then pulled in to the next town, had the batteries tested, found that actually only one was bad, and replaced it. While a single night at a marina was expensive, we needed a dock to be able to get the batteries in and out of the boat.
Then we had some problems with bad fuel. Dave had changed a fuel filter in Ft. Myers and all seemed well . . . until several days later, just out of Little Shark River, when the engine RPMs started bogging down on occasion. (We'd motored over 30 hours since Ft. Myers.) We went back to Little Shark and Dave changed both the Racor and the on-engine filter. We left again and things were great – in fact, the engine was running so well that we thought we might be able to make the Keys yet that day. Four hours later, we diverted to our alternate anchorage – an open roadstead at the tip of the Florida mainland – when the engine started bogging down again. While the engine would run, we had a light breeze and so sailed in and anchored under sail. The Racor was full of water; Dave dumped it and we ran the engine after to make sure there was no air in the system. Only 26 miles to the 7 Mile Bridge and Marathon!
The next morning, the engine wouldn't start. Our initial assumption was that the batteries were down and so we ran the generator as we sailed off the anchor, figuring we'd get a few miles in under sail and then we'd be able to start the engine as the early morning breeze died. It quickly became apparent that the batteries were not the problem and that we were simply an engineless sailboat. It also became apparent that the winds were too light for us to make the 7 Mile Bridge during daylight . . . and neither of us wanted to go through in the dark without an engine. When the winds totally died, we put the outboard motor (6HP) on the emergency bracket on the stern and putt-putted slowly to a spot we'd picked out as being the safest "anchorage" where we could spend the night. Once again, we used the early morning breeze to sail the remaining 3 miles to the bridge, used the outboard to help going through (winds and currents both swirl there) and then as the wind died again, putt-putted into Boot Key Harbor at Marathon.
Would we have been better off if we'd spent more time in Ft. Myers? I doubt it. We would have been connected to shore power, so probably would not have discovered the battery problem. And we wouldn't have discovered the fuel or engine problems, as we wouldn't have been using the engine (note: so far, it does NOT seem that the problems are related – when we got to the limit of our troubleshooting ability, we brought in a highly recommended diesel mechanic. His testing says it's a serious compression problem that may require a complete teardown or warranty work, so he has referred us to another mechanic.)
In our favor when leaving Ft. Myers:
A huge weather window – the entire 10-day forecast was winds 5 – 15 from the northern quadrant (we were heading south) and generally sunny (no squalls, thunderstorms or even rain in the forecast).
It's a sailboat and we both know how to sail. We may not be experienced in crossing oceans or sailing through hurricanes, but I've been sailing since I was 12 (that's 42 years) and Dave since he was 15 (that's 61 years for him). We feel pretty confident in our ability to get the boat where we want to under sail if need be.
Seven years of previous cruising experience. Different boat, but we've been in gales, squalls and done multi-day passages. None were forecast or planned, but we knew we could cope with them if need be.
No expectation that things would go perfectly smoothly. In fact, we figured they wouldn't . . . we just didn't know what problems we might encounter.
In addition to the main chartplotter, we have a backup handheld GPS and GPS/charting functions on two tablets and a smartphone. And numerous ways to charge all these – alternator, solar and Honda generator as well as good old AA batteries for the handheld GPS. Oh yeah – plenty of paper charts as well!
Spare diesel fuel in jerry cans so that if we had a real problem with contaminated fuel, we could run fresh fuel from the jerry can to the engine, bypassing the tank.
An almost-new outboard and an emergency bracket on the stern, along with plenty of gas for it so we'd have some propulsion if worse came to worse (yeah, it did). (If you don't have an emergency bracket, side-tying the dinghy also works.)
Plenty of food and water for more than two weeks – when the planned trip was 5 days.
Lots of other boat traffic in the area along with the Coast Guard and various towing services. If worse came to worse, we weren't alone.
Actually, it was these preparations that stood us in good stead – particularly the weather window, sailing knowledge, and food/water stock, not to mention not expecting things to go perfectly smoothly. And while we didn't exactly follow our "baby steps" plan, we definitely did a big shake down. We fixed a number of things along the way – particularly running rigging for the sails – and have a page-long list of things to fix, replace or buy spares for.
So, we were wrong to change our plan? Overall, I think that we were better off leaving with less time spent aboard and a huge weather window than waiting to have more time aboard getting to know the boat and getting an iffier weather window (winter northers can build up nasty waves in the shallow waters here; we wanted to avoid them at all costs).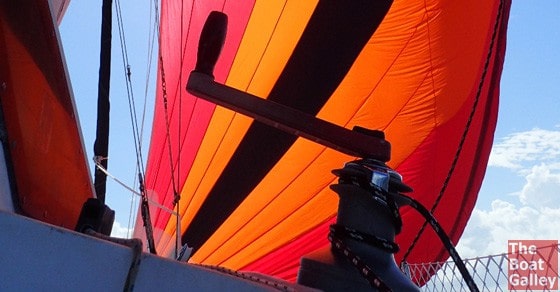 Some links above (including all Amazon links) are affiliate links, meaning that I earn from qualifying purchases. Learn more.