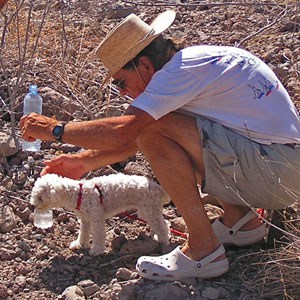 Dogs need water bottles for hikes and shore excursions, too! Now, you can buy a variety of water bottles that have a built in "bowl" to carry with you, but it's actually quite easy to make one. And it costs almost nothing!
Admittedly, this won't work for larger dogs that need more water and a larger bowl. But if you have a small dog, Dave's quick improvisation makes a great water bottle that's easy to carry in the pocket of your pants. And since it's so easy to pull out and give Rover a drink, you'll do it more often — we found that in tropical conditions, Paz wanted to drink about twice as often as we did.
Oh yeah, one more thing about having a "free" bottle. If you're at all like us, it's entirely possible that you'll forget to pick up the bowl and bottle when you leave some restaurant where you've been sitting and talking with friends. And by the time you discover it, it'll be long gone, whether in the trash or off to a different doggie. While we had to make a new one, at least we weren't out any money!
Basically, Dave's bottle and bowl uses two plastic water bottles, one with a slightly smaller diameter than the other. Cut the larger one in two to make a drinking bowl. Fill the smaller bottle with water and slip the "bowl" over the bottom and stick the whole thing in the pocket of you shorts. Generally, bottles that are 12 to 16 ounces (half liter or slightly less) are about perfect.
Only a few times did we find two bottles that were perfectly sized so that the "bowl" didn't fall off the bottom of the bottle. But never fear — we have plenty of the cruiser's friend, duct tape!
We'd wrap a few layers of duct tape around the bottom of the bottle — but only until it was still a loose fit. Then add a few more "vertical" pieces in a "U" shape, going under the bottom, until it's a nice snug fit. If you only wrap tape around the bottle until it's snug, the bowl will catch the edge of the tape this first time you use and just roll it up. Not good. A vertical layer or two eliminates the problem.
Since a picture is worth a thousand words . . .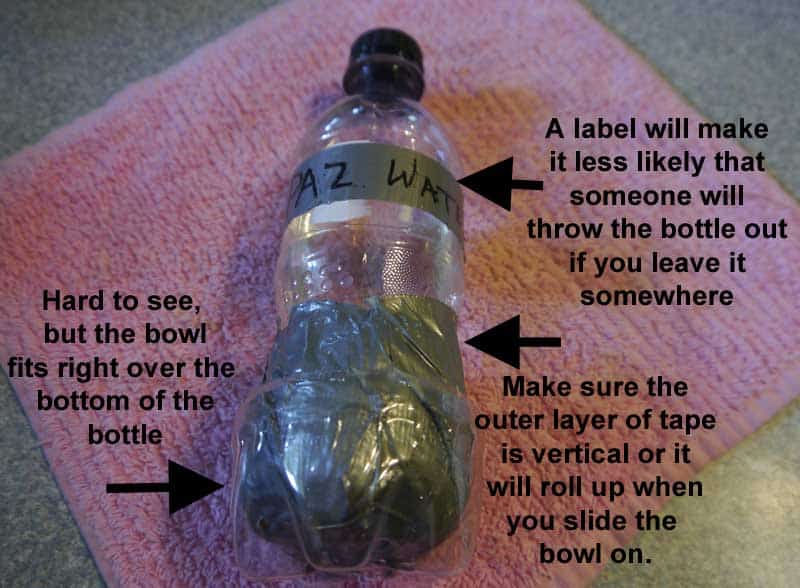 Don't forget a water bottle for yourself — see my favorite here (alas, it's not free . . . ) Any great tips for larger dogs??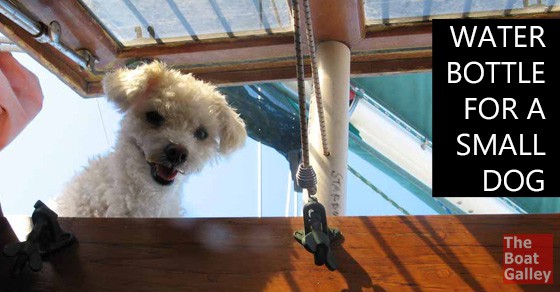 Some links above (including all Amazon links) are affiliate links, meaning that I earn from qualifying purchases. Learn more.