For years, Dave and I have used microfiber towels on the boat and when camping. They're great, large enough to cover me yet store in a small space and dry quickly. I've been perfectly happy with them, and I even wrote about them here.
Then at the Annapolis Boat Show, I saw the Marmara Imports Turkish towels. I can only describe them as sinfully luxurious. No two ways about it, they cost considerably more than the microfiber towels. But they feel soooo good.
Dave bought me one as a special present (they are cheaper than the last roses he got me) and I smile again every time I step out of the shower and use it. I also bought him one.
They make several styles and come in two basic weaves. All are 100% cotton flat-weave so they take up almost no space and dry quickly – and they get softer and softer with use! They are hand loomed in Turkey and gorgeous, too. No special washing required, either, and the bright colors have not faded or run.
It's impossible to convey in a blog post the feel of these towels; I just don't have words. The one that Dave got for me is the slightly thicker and heavier weave (currently selling for $60) and I can only say that it reminds me of the softness of cashmere.
Dave chose the slightly thinner and even faster drying weave for himself ($50). It is not quite as soft as mine, but has softened considerably with use to the point where it's darn close.
We not only use them as towels but also as lightweight throws over our legs when it's slightly chilly in the evening but we just don't want to put on long pants.
Marmara Imports sells at some of the boat shows and their products are in some brick-and-mortar stores. There are two online sources (that I know of) – Sea Dog Boating Solutions and Marmara Imports itself; both are supporters of The Boat Galley and their prices are the same. I highly recommend both as having excellent customer service.
I know that these aren't going to be for everyone; they're definitely a luxury item. But if you're living aboard a boat (or for my readers who are RVers), there aren't too many "little luxury" items in our daily lives. This is one possibility and can be a really nice gift – super useful, doesn't take up much space and will be greatly appreciated.
See and order towels at:
Marmara Imports – note: you don't click on the towel images to get to the "buy" page . . . instead, above all the little images of the towels, you'll see "CHOOSE" in blue and then the basic design options for the style). Click on one of these to get to the "buy" page.
DISCLOSURE: While I'm friends with the owners of both Marmara Imports and Sea Dog Boating Solutions and both support The Boat Galley, I don't get anything for recommending these towels. I just love them and want to let others know of another more luxurious option for wonderful boat towels.
---
Our FREE Provisioning Spreadsheet
Wondering how much of what foods to take on your next trip? Know just how much to buy of what — all arranged by grocery store aisle — with our handy Provisioning Spreadsheet. Includes detailed instructions to edit it for your favorite foods, how much your family eats, and how long you'll be gone. No spreadsheet skills needed!
It's FREE — get it here.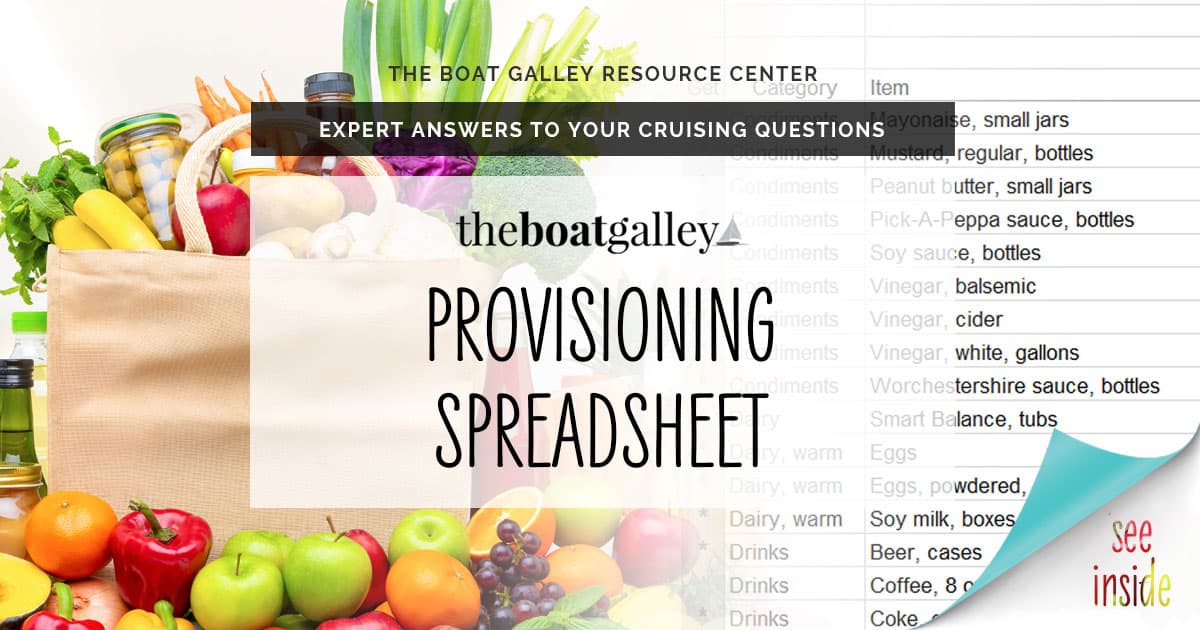 Some links above (including all Amazon links) are affiliate links, meaning that I earn from qualifying purchases. Learn more.