While I've always found a timer essential for baking, I found I used one even more often — and for lots more — aboard a boat.
It seems there's always something interesting going on, taking me away from what's on the stove.  So when I'm boiling pasta and Dave calls me to watch the sunset, the ding of the timer reminds me that the spaghetti is done!
Without it, we'd be doomed to burnt food (see my other tips for avoiding burnt food).
Depending on your style, I've got a couple of options for you.
I wear a watch (if you totally refuse to consider wearing a watch, read below for a conventional timer I like).  It's not just a watch, though.  And before you say "never!" let me explain a bit.
Timex Expedition Watch
First off, I like a timer on a watch as it's always with me.  That means I'll hear it — even if I jump on the dock to grab dock lines for the boat next to us.  Yes, I'm forgetful about things.
Second, the one on my Timex can be set to "repeat" — meaning that when it gets to zero and beeps, it starts counting down again.  Very useful when you're simmering something (say soup or spaghetti sauce) that just needs to be checked every 15 minutes.  And it's great on watch to remind you to do a full 360° look around every 10 minutes.

Third, the Timex I wear has THREE alarms on it.  I use two of them to remind me of the morning and evening VHF/SSB/ham nets (I actually set the alarm 5 minutes before each begins).  That's how we get our weather information and I don't want to miss them!
My Timex is also water resistant to 100 meters.  So I can wear it all the time — even snorkeling and diving (if I'm deeper than 100 meters, I've got other worries . . .).
I've worn basically this same watch for about 15 years.  I end up having to replace it about every 2 to 3 years, usually because the water resistance has failed over time.  And I'll be the first to admit that I'm not very "nice" to my watch and I've banged it on all sorts of things.  A word of warning:  don't use bug spray with DEET near it — DEET will totally fog the plastic (FYI, don't use DEET near anything plastic — compass, GPS, chartplotter, laptop . . .  read more about DEET on plastic here).
And I do what lots of other active women do:  I wear a men's watch because the numbers are large enough that I can see them at a glance.  Maybe that's something about being over 40.
Men's Timex Expedition (the watch is the same as what I'm wearing; I prefer this band but it was out of stock when I bought mine)
Timer
I'll start by saying that no timer gets universally great reviews.  My experience is that ones with fewer functions tend to last better and plan to periodically replace anything that runs on batteries in a marine environment — the contacts are likely to corrode over time in humidity.

While most timers either have a stand or a magnetic back, neither are very useful on a boat.  I've always just used some Velcro to stick it where I want.  If it's lightweight, you may be able to use "poster putty" (pretty much the same thing as "earthquake putty" in California and other quake-prone areas) to hold it in place.
The timer I like best:
Cook-Rite 60-Minute Quartz Timer (shown at the top of this article) — I like this because it runs on AA batteries (which you can find everywhere) and it has an escalating buzzer that goes on for 60 seconds — so you'll hopefully hear it even if you're on deck.  While it looks like a wind-up model, it runs on a battery so it has a long buzz.
I have not used this timer since I do wear a watch.  But after reading close to 100 product descriptions and reviews (Amazon as well as other cooking sites), this is the one I'd try.
If anyone has a timer that has worked particularly well, please leave a note in the comments.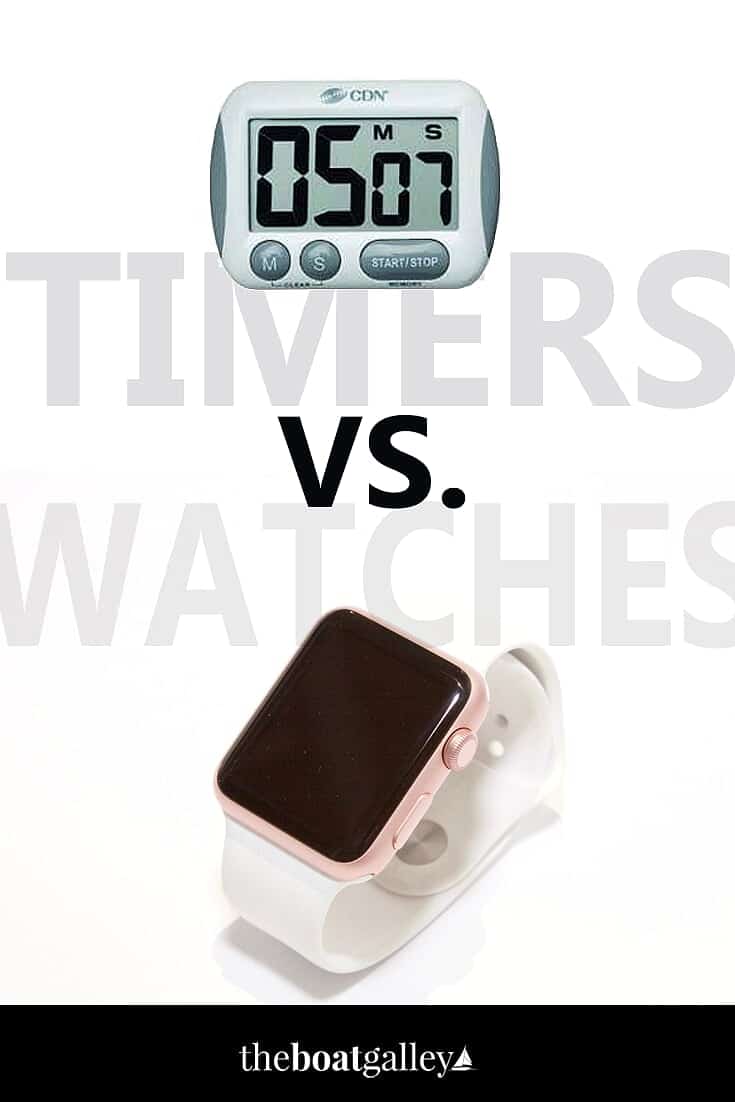 Some links above (including all Amazon links) are affiliate links, meaning that I earn from qualifying purchases. Learn more.