On a boat, particularly if you're cruising outside the US, substitutions become a way of life. Whether it's because the last store you were at didn't stock an item, you didn't think you'd need it, or you're out and just don't feel like making a trip to the store, the end result is the same: you need a substitute.
I'll freely admit that I'm not remotely a gourmet cook. I simply want to put something tasty and nutritious on the table for my family and friends. Mom taught me that substitutions fall into 3 categories:
critical ingredients;
role-players; and
optional ingredients
Critical Ingredients
Critical ingredients are those that are essential to a dish: for example, yeast for bread, baking powder for biscuits, eggs for omelets and marshmallows for s'mores. For these, you need an "exact" substitute, such as those listed in my article on baking powder substitutes. Lacking an exact substitute for critical ingredients, you really can't make the dish. Instead, you need to find a recipe for something else that doesn't require the missing ingredient.
Role-Players
Role-players probably make up the bulk of ingredients in recipes, particularly in things other than baked goods. Role players are ingredients that fulfill a specific purpose, but the exact item isn't critical to the dish being "successful." Some examples of role players would be ingredients that serve to add:
crunch or other textures
thickening
sweetening
spiciness
tartness
bulk
a base to serve something else over
amongst many others. These are the ingredients where you can be creative if you don't have something. The dish you create won't be identical to the original, but that's not the object: you're trying to make something that's good to eat, not an exact copy. The key here is to think about what purpose a particular ingredient has in a recipe and to find something that you do have that will serve the same purpose.
Example: Chili
To take a dish that almost everyone is familiar with, I'll use chili as an example. A typical recipe might call for (I'm keeping this very basic):
ground beef
diced onion
oil to brown the ground beef and onions in
chopped green peppers
canned diced tomatoes
kidney beans
chili powder
salt
The ground beef is protein and it also provides some of the flavor. You can easily substitute ground turkey, and add a bit of beef bouillon powder instead of the salt. Or you could use a can of roast beef, cut into bite sized pieces. Or if you have some beef stew meat, you could brown that and use it. I've even made chili using chicken — either canned or fresh.
The diced onion adds flavor — you could use green onion, dried onion or onion powder . . . or even a spoonful of onion soup mix!
Oil to brown the meat — if you're using ground beef, you can use a little salt in the pan, which will draw the fat out of the meat to cook it in. Otherwise, you can use non-stick cooking spray, butter or margarine — or a different type of oil.
Green peppers provide flavor and also a different texture. You could use a can of chopped green chilies or even a small can of mushrooms or corn in its place — the flavor won't be identical, but they'll add texture and color.
Canned diced tomatoes can be very hard to find in places, but there are plenty of substitutes and I've always found at least one to be available: diced fresh tomatoes, some other style of canned tomatoes, or tomato sauce. All provide tomato flavor, but the tomato sauce will lack the texture of diced tomatoes, so you'll need to be sure to use other ingredients that do provide texture.
Kidney beans add bulk and fiber. Other types of beans substitute easily, such as black beans or pinto beans. Another option would be to make Cincinnati-style chili and add some pasta (spaghetti is traditional, but almost any type will work).
Chili powder gives the chili its spice — but you don't have to specifically use "chili powder." You can use some hot sauce, minced hot peppers, canned green chilis, salsa or even a package of taco seasoning.
With all of these substitutions, the finished product won't be exactly the same as the original recipe. And if you had your heart set on chili "just like Mom made" you'll be disappointed. But if you're looking for a hot, spicy bowl of something for dinner, you might just create a new family favorite.
Optional Ingredients
Sometimes, optional ingredients are listed as such; other times, you have to figure it out. To continue the chili example, let's say the recipe also calls for shredded cheddar cheese — and as you read the recipe, you realize that the cheddar is for a garnish over the top. It sounds wonderful, but it's clear that it isn't necessary and doesn't have to be replaced.
Using the Framework
A particular ingredient doesn't always fall into the same category when it comes to substitutions. Flour is a good example.
For bread, flour is a critical ingredient — you may be able to substitute another type of flour, but you're going to need flour.
In gravy, flour is a role-player, thickening the meat juice. Cornstarch or arrowroot will work.
A box mix that calls for greasing and flouring a pan can be made without the flour — the cake may be easier to remove from the pan with the flour, but it's not necessary.
If you haven't done a lot of cooking from scratch, the whole idea of substituting can be a little daunting at first — what ingredients are absolutely essential?  What role does a particular item play?  But it's really not that hard when you give it a few minutes of thought. Most "reference" type cookbooks contain a list of substitutes, but my experience is that they generally only list the "exact" substitutions, leaving you clueless about other items. With this framework, you can create your own substitutes for those other items with what you have available — or quickly conclude that maybe you'd be better off making something else. As long as you don't expect the finished product to taste identical, "substitutions" don't have to mean "inferior."  Instead, it's your chance to innovate and discover new favorites!
---
Our FREE Provisioning Spreadsheet
Wondering how much of what foods to take on your next trip? Know just how much to buy of what — all arranged by grocery store aisle — with our handy Provisioning Spreadsheet. Includes detailed instructions to edit it for your favorite foods, how much your family eats, and how long you'll be gone. No spreadsheet skills needed!
It's FREE — get it here.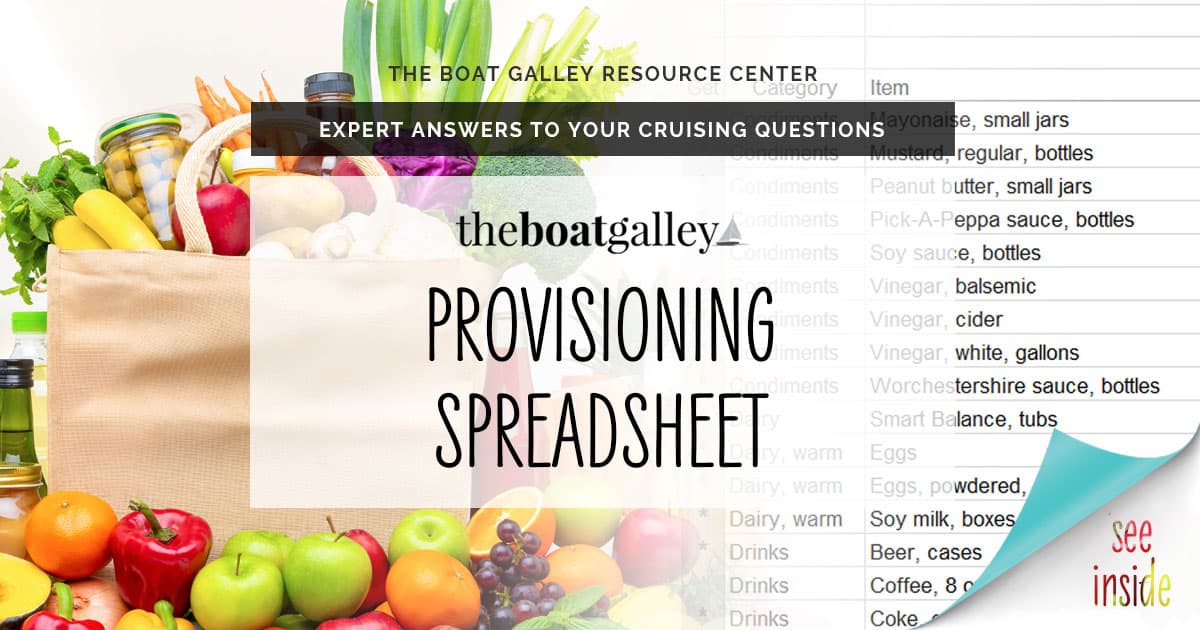 Some links above (including all Amazon links) are affiliate links, meaning that I earn from qualifying purchases. Learn more.