We had a serious problem with our cockpit cushions. They slipped when we stepped on them!
The Problem
The cushions are made of Phifertex Plus, a woven plastic material. They came with the boat — white is a horrible choice for keeping clean, by the way — and had twist-buttons to keep them in place. Unfortunately, there was just enough play in the tabs going to the fasteners that the cushions would often slip a few inches as we stepped on them to go on deck.
It was bad enough at anchor, but underway the slipping was a real safety hazard. Dave and I knew that with time, one of us would fall and seriously injure ourselves.
Yes, one solution would be to not use our cushions underway . . . but that gets uncomfortable on the tush.
The Solution
Instead, we turned to industrial-strength Velcro — one side on the gelcoat or nonskid and one side on the cushion.
The sticky-back industrial strength is designed to adhere to rough surfaces such as brick, and so far has held well on both smooth gelcoat and our non-skid.
The package says that the sticky-back is not designed for use on fabric, but in a fit of lazyness, I decided to try it on the cushions. It initially held well, but it did come off the one cushion that Dave removed several times. Basically, the Velcro bond to the other piece was stronger than the sticky-back bond to the cushion. I ended up getting sew-on style hook and loop tape for the cushion side and that has worked well.
Unfortunately, "industrial strength" only comes in black. I put it back about an inch from the edge so that it's not visible.
How To
Start by figuring out exactly where you want the cushions to sit — on our boat, they are a few inches shorter than the seating area and we knew that we preferred them to be snug against the aft corners where we sat.
Two of our cushions — ones that we don't step on very often, luckily — have to be moved several times a day to get into lockers under them. We decided not to Velcro these.
I used six Velcro areas — three on the front edge and three on the back — with 6″ Velcro for 6-foot long cushions. This has worked well and the cushions don't slip; I don't know if I could have gotten by using less.
I marked the areas on the gelcoat and cushions, cleaned the gelcoat with alcohol and then measured and pressed on the Velcro.
You have to press it on firmly straight down. The best way I found to do this was to put the other piece of Velcro on top, and then I could run my hand or a roller down it without messing up either the hooks or loops — when I tried to press without the second piece, the hooks and loops would flatten out. One you've firmly pressed it all, just leave it for 24 hours to allow the sticky to fully adhere — do NOT pull the top Velcro off before it has, as it will undo all the pressing you just did!
Then sew matching Velcro pieces onto the cushions. I did it with my trusty old Singer — taking the padding out of the cushions, pinning the Velcro in place and fiddling with the machine to sew where I needed to (hint: don't put Velcro all the way into corners and it'll be a lot easier). I really wondered if it would be faster and easier to just hand sew it on the outside without removing the foam fill.
Once the sticky Velcro has fully adhered put the cushions in place and press down hard. We don't move them except to periodically clean.
We've been very happy at how the cushions just stay put now. An added bonus is that we didn't realize that when sitting on them underway, we had always been unconsciously bracing ourselves to keep from slipping — and don't now.
Buy the Materials
I bought my first small batch of Velcro at Home Depot to test the idea. Then I bought the rest from Amazon at a much better price.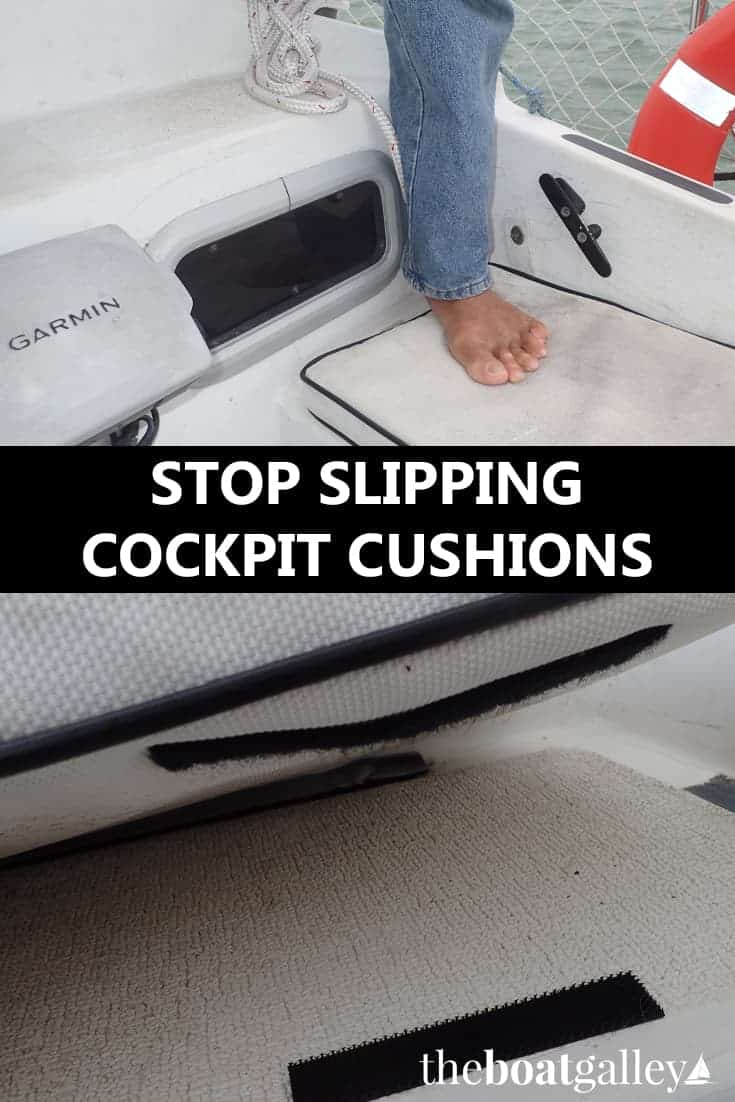 Some links above (including all Amazon links) are affiliate links, meaning that I earn from qualifying purchases. Learn more.