I had originally published a positive review of these dishes in May 2014 after buying them for our boat and using them for several weeks.
UPDATE 3/27/16: After using these dishes every day for 15 months (October 2014 to April 2015 and July 2015 to March 2016), I'm disappointed in how they are showing wear. They are made of soft plastic and the company warns of being careful in using knives on them — but the reality is that it's sort of hard to eat without knives! Even the bowls have a lot of marks on them just from spoons. While I love the way they stack and are unbreakable, not to mention lightweight, I no longer recommend them. If you're looking for some good boat dishes, take a look at the Galleyware Tempered Glass Dishes — they are performing much better.
Even the small bowls are showing substantial marks from our breakfast spoons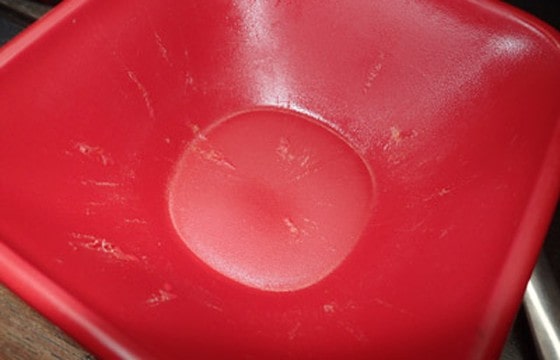 Although we've tried to be careful in using knives on the plates, there are numerous cut marks after about 18 months of use.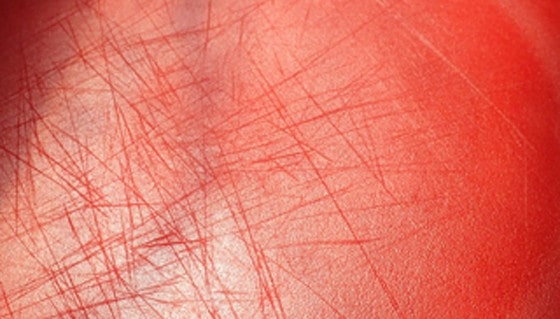 When I first saw the Starboard Collection at the Annapolis Boat Show in 2013, I loved them. And I ordered a set when we bought Barefoot Gal. I initially wrote a review about how nice they were — and I did like them. Space-saving design, lightweight, non-skid and a nice lip to keep food from falling off. And they looked really nice!
Over the first year of owning them, they gradually showed a little wear. Occasionally, the nonslip rings would fall out.
After about a year of full-time use, they started really showing wear, despite our trying to be careful. And the nonslip rings don't stay in place.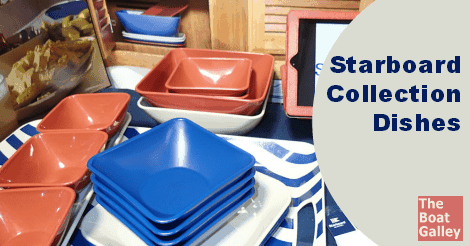 Some links above (including all Amazon links) are affiliate links, meaning that I earn from qualifying purchases. Learn more.