For some time, I've had the Misto Sprayer on my list of topics to write about.  My cookbook co-author, Jan, uses hers all the time and a couple of other readers have mentioned theirs.
The Misto Sprayer (link to see it on Amazon) is a nice spray bottle, designed for you to put your own oil in and then spray pans as an alternative to using Pam or something similar.  It holds 1/3 cup of oil and you have to pump it up, then you can spray for 10 seconds.
I 've always liked the general concept of not using sprays such as Pam (or generic equivalents) that have added chemicals, but I was never 100% sold on the Misto, either.
The nice thing about the Misto is that it's sleek and relatively small at 7-1/2″ high by 2″ diameter.  It also produces a very fine spray.
The downside is that it's one more thing to find a place to store, it can be prone to clogging, and some people say it's hard to clean.
As I thought about it some more, I wondered why I couldn't use a regular spray bottle.  I can almost always find them at the dollar store (sometimes even 2 for $1) and in a variety of sizes.
And so for the past month or so I've been experimenting.  And I've discovered that the spray top works well for many things, not just oils.  So far, I've used it with:
olive oil and canola oil
vinegar
soy sauce
Worcestershire sauce
melted butter
teriyaki sauce
marinades
butter/spice mix for Chex Mix
some hot sauces
I find it's great when you just want a little bit of extra flavor and want it evenly distributed.  I don't like getting a mouth full of hot sauce, but have never before figured out how to get it evenly distributed so that I didn't have some bites with no sauce and some with too much.  The even distribution factor is also big in making Chex Mix!
With thicker sauces, such as the Chex Mix topping or hot sauces, you have to set the spray pattern to the coarsest possible, and make sure that all the solids are well mixed in and not forming a layer of sludge at the bottom of the container.  The spray tube picks up from the bottom and if there is a thick layer there, it will quickly clog the sprayer.
Now, while you've probably got some spray bottles that came with cleaning supplies — glass cleaner, degreaser, whatever — I wouldn't try to reuse those for food.  Buy new!
The only down side to using a regular spray bottle instead of the Misto that I can see is that if you leave the spray top on a bottle in the cupboard, there is a chance it could break off in rough weather (however, I had many spray tops amongst my cleaning supplies on Que Tal and none ever broke).  I will admit that the Misto is prettier, too.
Depending on what you're doing, you can use the sprayer in any of three ways:
If the sizes and threads match, you can just screw the spray top onto the container of whatever you want to spray.  For me, this worked with a couple of types of vinegar, olive oil and soy sauce.
You can fill the bottle the came with the sprayer — I did then when I knew I was going to be doing a lot of Christmas baking and spraying pans.
You can just stick the sprayer down in the bottle or cup of whatever even if they won't screw together and use one hand to hold the bottle and one to spray.  Perfect if you just need a little of something — I've done it numerous times with soy sauce and marinades as meat was cooking or a squirt as I was serving.
If you use a sprayer for oil, be sure to read how to avoid a nasty fall in Safe Spraying.
The easiest way to clean a spray bottle is to fill it halfway with water (very warm if oil was in it) and a drop or two of soap.  Put the top on, shake it up well and then spray the soapy water.  This will clean the whole sprayer mechanism.  Pour out any remaining soapy water, rinse the bottle and partially fill with clean water, then spray that to rinse the sprayer.
Don't leave anything in the spray bottle that could go bad (or be sure to refrigerate it) and if you leave something like oil in it "all the time" be sure to wash the sprayer and bottle whenever it's time to refill it.  Otherwise, the oil will clog over time.
In addition to using a spray bottle for cooking, I have one filled with white vinegar for cleaning and one with a bleach solution for disinfecting (read more).

---
Our FREE Provisioning Spreadsheet
Wondering how much of what foods to take on your next trip? Know just how much to buy of what — all arranged by grocery store aisle — with our handy Provisioning Spreadsheet. Includes detailed instructions to edit it for your favorite foods, how much your family eats, and how long you'll be gone. No spreadsheet skills needed!
It's FREE — get it here.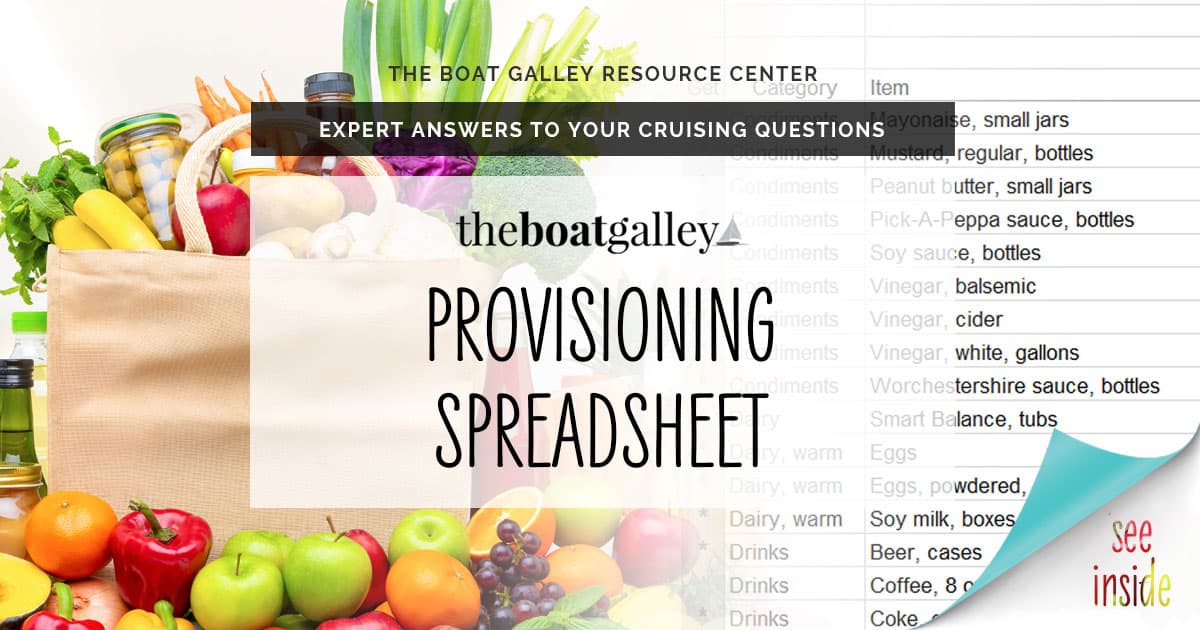 Some links above (including all Amazon links) are affiliate links, meaning that I earn from qualifying purchases. Learn more.