Let me start by saying that there are several good "new style" anchors out there. I'm not saying anything against any of the others. Our experience is with a Spade and we are convinced that it saved our boat on two occasions when nearby boats were lost on the rocks in storms. [UPDATE: On our new boat, we use a Mantus anchor and love it equally, if not more.]
To backtrack a bit, we rode out Hurricane Marty on a 44-pound Bruce. We didn't really have any problems, but seeing other boats drag past us and onto the rocks, and their subsequent (generally unsuccessful) battles with insurance companies made us decide to make a big change.
We paid off the remaining bit on the purchase loan on the boat (an advantage of buying a less expensive 20-year-old boat) and then cancelled our insurance (we had to pay off the loan to cancel the insurance). We only carried liability insurance, required by most marinas, after that.
We decided that given friends' experience with insurance companies, our best "insurance" was the best possible ground tackle and good decision-making. Now, I want to make it clear that the anchor is only one part of your ground tackle — there's also the chain, the bow rollers, the snubbers, the way the snubbers attach to the boat, and all the connections. It's a system that has to work together. And you have to have a windlass and electrical system capable of handling it. I wrote my first "major cruising article" on the ground tackle that people used during Marty and their experiences. Read Ground Tackle for a Hurricane and the Supplement for complete details, if you wish.
As we researched our "perfect" ground tackle system, we concluded that we had a really good system in place . . . except for the anchor. While it had held us during Marty, it was marginal if we had to ride out any worse weather or in an anchorage with poorer holding. For our own peace of mind, we needed an anchor upgrade. But what to get? More research, on the very slow internet at the grocery store nearby.
This was back in 2003 and the tests that were coming in on the Spade were really impressive (other great anchors have come out since then). They were new enough that none of the boats that had ridden out Marty with us had one, so we couldn't talk to someone with one. But we decided that out of the anchors that we could get shipped to us, and that would fit into our bow roller, the Spade was the anchor for us. We took part of our first year savings from the insurance and bought an oversized Spade — a 66 pounder.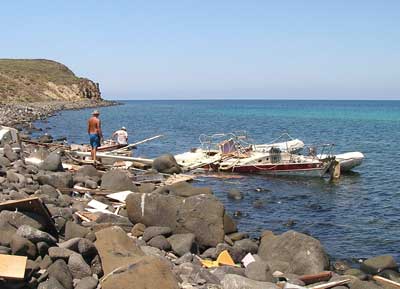 Over the next five years, we got caught in some pretty severe storms — and two in particular were in an open roadstead with sustained winds over 50 knots with a lee shore 200 yards behind us. Steep cliffs made for confused seas with waves over 5 feet high. (Yes, we should have gotten out of there before the storm hit; we would have been FAR better off in open seas. We made the classic mistake — both times! — of thinking the storm would miss us until it was too late. We hadn't done so well on the "good decision making" part of the equation, but our ground tackle saved us.)
In the middle of one of the storms we heard a Mayday call from the next cove over — Water Witch had drug onto the rocks and was lost. Neither we nor the boat next to us (also with a Spade) could do anything to help right then, other than to say that we'd be there at first light to rescue the people aboard and help them salvage who they could. The photo at right shows the destruction we found.
The other time, the boat that had drug was further away and had "only" damaged its rudder and keel.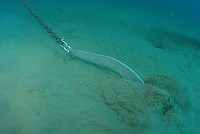 In five years, we never, ever dragged with our Spade. Diving on it, it was always buried deep. I didn't take the photo at right (never occured to me I'd need one; this one is off the Spade web site but looks identical to what I saw every time). In contrast, the Bruce had usually only been partially dug in — or was just lying on the bottom. Spade puts a LOT of lead in the tip — half the weight of the anchor is concentrated there. It digs in, and the shape causes it to just dig deeper as there is more pull on it. It doesn't pull out even when the wind switches 180° — we tested that several times as a thunderstorm passed overhead with winds over 50 knots.
Because of the way it digs in, in retrospect, we didn't need such an oversized anchor with the Spade design — when we had sized it, we were comparing it to the Bruce and CQR anchors where weight is an important factor in holding power. Less weight on the bow would have helped the sailing and the overall motion of the boat. The Spade now comes in steel, aluminum and stainless steel — and there is now a refinishing kit that you can use on the steel ones (you can't just regalvanize it because of the lead in the tip).
Spade anchors are sold in the US through Sea Tech & Fun USA as well as several other dealers (also in Canada and Europe).
If you're considering a new anchor, there's a ton of info on the Sea Tech & Fun USA web site. But just remember that the anchor is part of the entire ground tackle system, and make sure that all the parts will do their job.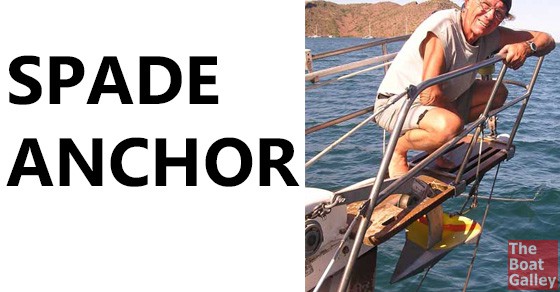 Some links above (including all Amazon links) are affiliate links, meaning that I earn from qualifying purchases. Learn more.