Do you have nasty smelling dish rags?
A short while ago, a reader told me about a non-absorbent dish rag that just doesn't get stinky, and I love them as they do what they say they will!
But I still use a terry cloth rag to wipe things up and, well, it still gets stinky — although not nearly so quickly or so badly since I'm not using it for everything. I highly recommend the non-absorbent dish rags (they're not expensive) but realize that you can't use them for everything.
In talking to other cruisers, it seems that almost everyone has this problem. The good news is that you can do something about it.
Thinking about it, I would have guessed that I'd have the biggest problem with my dish rags smelling nasty when it's hot out. But no, it seems to be in cooler temperatures that it's worst. Not only do my cloths and sponges smell nasty, but that smell transfers to my hands when I pick them up. YUCK!
When it's hot out, even with the higher humidity, the rags dry quickly. And it seems that they never dry once it turns cooler. And never drying out is part of the problem.
What I learned was that I had to follow all six of the following steps. Skipping any of them will still left me with stinky dish rags and sponges.
Step 1: Rinse the Rag After Every Use
When you're trying to conserve water, it's sometimes hard to bring yourself to rinse your rag every time. But if you don't bacteria will grow on the food particles that are in the cloth, and the food itself will start to smell as well.
Ideally, you'd use a bunch of fresh water every time you rinsed the rag. This just isn't feasible aboard most boats unless you're at a dock or in the tropical rainy season where you can fill your tanks with 30 gallons of water in a 10-minute squall (we once collected over 50 gallons in less than 10 minutes in El Salvador).
So I kept a bowl with about a quart of water in it tucked into the sink and swished the rag around in it when I needed to rinse it. I found that if I added a couple of tablespoons (a "glug") of ammonia or white vinegar to the water, it worked even better. You don't have to rinse the vinegar or ammonia out, they just help to kill anything that would cause an odor. Unless I was doing heavy cleaning, I usually changed this rinse water just once a day, in late afternoon and then threw it out at night.
NOTE: Don't use ammonia and vinegar together — the ammonia is a mild base while the vinegar is a mild acid and they'll cancel each other out. I'm not sure if the mixture puts off any bad gases, some sources say yes and some say no, but I'm not testing it!
Step 2: Wring the Rags As Dry As You Can
The more water you wring out, the less has to evaporate.
Step 3: Don't Leave Rags Wadded Up
Air has to be able to get to the rag to dry it. My sweetie and I had more than a few discussions about this one, as he'd just plunk it down on the counter.
Step 4: Hang the Dish Rag for the Best Air Flow
Basically, you need to hang rags flat, not by a corner where they drape down. Air needs to get to the whole cloth. And don't hang it behind doors or inside a cupboard. I found that the safety bar in front of the stove was the best place on our boat. Others hang them over the kitchen faucet. If there's a place in front of an open port hole or fan, that's perfect!
For sponges, the best thing you can do is stand them upright on an edge. Again, the goal is to expose as much of the surface as possible.
Step 5: Use Extra Ammonia or Vinegar at Night
Right before going to bed, add a little extra ammonia or vinegar to the rinse water and rinse the rag out one final time, wring it out and hang it to dry. If it sits all night without being clean first, it will definitely smell in the morning!
Step 6: Start Fresh Every Morning
If yesterday's cloth isn't totally, 100% dry in the morning, get out a different dish rag for the day. Let yesterday's cloth continue to dry. When it is completely dry, you can either put it in the laundry bag or set it aside for use tomorrow.
Somehow, letting dish cloths dry totally before using them again seems to really help. And I resisted it for a long time, figuring that if it was okay to use it again after it dried, why not if it was still a little damp. But it does make a difference.
With the limitations on storage space on a 37′ boat, I didn't have the luxury of using a totally fresh cloth every day. I tried to get 2 or even 3 days' usage out of each one, and using these tips I never felt that I was using a "nasty" rag. My hands didn't stink, either.
A big side benefit to keeping the dish cloths smelling sweeter and drying them thoroughly before putting them in the laundry bag was that the laundry didn't stink. And considering that we kept it in a cubby under the head of the bed, this was important.
One final tip should someone (not you!) leave a rag wadded up on the counter overnight and you get stinky hands taking care of it: rub a lemon or lime over your hands, or rinse your hands in vinegar or ammonia water. This does a far better job than soap at getting rid of the odor.
Want more help for setting up your galley, buying and storing food, and cooking aboard? Sign up for Cooking for Adventures, a FREE mini-course.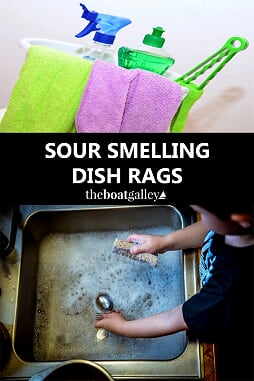 Some links above (including all Amazon links) are affiliate links, meaning that I earn from qualifying purchases. Learn more.