There is nothing as frustrating as having a bag of groceries break as you're going down the dock or — worse — handing things aboard from the dinghy.
One of the very first lessons we learned in provisioning was on our first charter when we picked up a few extra treats at the last minute. The bag broke just as I handed it over the "gap" between the dock and boat and my chocolate bar quickly sank out of sight.
We learned to never, ever trust a plastic grocery bag.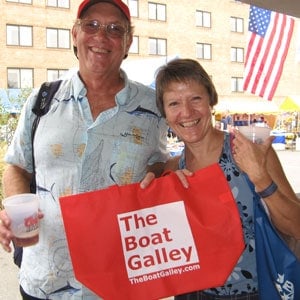 And so, when we moved aboard Que Tal, we began collecting shopping bags. Actually, the previous owners had left one nice canvas bag on the boat, but I quickly learned that I needed more.
I ended up with a half dozen, which I kept stuffed into a day pack that I took on my shopping trips. I'd put the heaviest items into the day pack and canvas bag for easier carrying, then would try to distribute the load somewhat evenly between the other bags.
When we were anchored out and making a provisioning run, I also used a bunch of dry bags to get things that could be ruined by water (flour, sugar, toilet paper, etc.) safely to the boat (read about provisioning by dinghy). Other things went into the shopping bags so that I didn't have to contend with plastic bags breaking anywhere along the line — from the store to the dock, down the dock to the dinghy, handing them into the dinghy, out of the dinghy, into the cockpit and then down the companionway.
Heavy duty canvas bags are nice and will last forever, but they're expensive. I only have a couple and I save them for the heavier items. Most of my bags are the inexpensive type sold at the grocery store for $1 or so.
Two notes:
It's a good idea to tie the handles together to keep stuff from spilling out — particularly if it's being loaded into the dinghy.
If the bag gets wet or even just damp, be sure to hang it to dry completely before putting it away. If you put it away damp, it will develop mildew and mildewed fabric doesn't just look and smell nasty, it's more likely to tear.
Some links above (including all Amazon links) are affiliate links, meaning that I earn from qualifying purchases. Learn more.