Every so often I come upon an improved version of a product.  When I wrote in my article on Spaghetti Scrubbers that I'd never really liked the stainless steel scrubbers that I'd bought, several people commented and wrote me about ones I should try.  One even went so far as to contact the son of a friend of hers and got him to send me some of the Amway Scrub Buds that she loved!*
That's the ScrubBud on the right in the photo above.  On the left is the 3M Stainless Scrubber that several people encouraged me to try.  I've tried to use them about equally over the last two weeks to see how I liked them in general, and in comparison to one another.  Was there really any difference?
Turns out that there is.  Let me start by saying that the 3M scrubbers were definitely better than the generic "stainless scrubbers" that I'd tried (and didn't like) in the past.  But the ScrubBud is even better.
We'll start with the fact that the ScrubBud is smaller.  For me, that's a plus (it might not be for you) as it fits in my hand better.  It also gets into corners more easily and isn't as obnoxiously large sitting on the sink surround.
Second, the little stainless coils have stayed coiled, while the 3M pad's are becoming loose and while it's hard to see in the photo, there are lots of loose ends.  Not only does that feel rougher on my hand, but it's put a few small scratches on my pans.  I mean, I need to get the gunk off, but I don't want to scratch the finish doing it . . .
Third, food and gunk is easier to rinse out of the ScrubBud.  I think that is probably related to the coils staying intact.
And fourth, the 3M pad is starting to sort of come apart.   I couldn't figure out how to show it in a photo, but as I scrub with the pad, I find the pad breaking down where my fingers are pressing — sort of making a hole, so that I had to get a new grip, trying to grab it all back together.  The Scrub Bud is still just as thick and "staying together" as when I first used it.
A 4-pack of the Scrub Buds goes for $5 — about two dollars more than what I paid at the grocery for a 3-pack of the the 3M ones.  The problem comes if you just buy one pack of the Scrub Buds — regardless of weight, there's a flat $6.75 shipping fee on orders under $50.  Which brings me to the second product that Jason sent me . . .
Legacy of Clean Dish Drops (Concentrated):  I've tried a few biodegradable dish soaps through the years and never liked them.  I wanted to like them and use them to protect the sea/ground water (depending on where we were), but I also wanted clean dishes.  Again, the Dish Drops are different.  First off, the Amway site doesn't specifically say that it's biodegradable.  But here's a photo of the back of the bottle:

So I think it's a lot more earth-friendly than a lot of the dish soaps out there.
And I blatantly disregarded the use directions since I never fill a sink or dishpan with water (shocking, I know).  The bottle has a pretty large hole and I found it hard to get just a couple of drops into a small bowl or pan, so I transferred the soap into an old mustard bottle that worked perfectly.
My first impression was that it didn't do much in the way of suds . . . and I was prepared for it not to do much cleaning, either.  Surprise!  Turns out you don't need tons of suds to get clean dishes.
To talk about some typical "problem areas" of washing dishes:  glasses were clean with no obvious streaks or greasy handprints that didn't come off.  Plates and silverware — even stuff that had dried on (a part of a scientific test, mind you, not because someone forgot to rinse something) came off easily and completely.  Pans cleaned up nicely, including a nasty roast chicken pan with both stuck-on gunk and grease (used the Scrub Bud, too).
My plastic salad bowl was the shocker.  I'd made a Greek Salad with olive oil.  In my experience, Dawn was the only thing that would really get the oil out without leaving any residue on the plastic.  Even though there were no suds — and I'd already washed a number of other items — it cleaned up every bit as well with the Dish Drops.
And one final point about fewer suds:  I found it was a lot easier to rinse dishes and I didn't use as much water.  An added bonus!
A one-liter bottle of the Dish Drops (Concentrated) sells for just under $10.  Amway says it'll do 222 loads of dishes, but I'm positive that I use a lot less per "load" than they think I need to.
Bottom line:  After using the Scrub Buds and the Dish Drops for two weeks, I totally recommend both.  Use the links for each product to go to Jason's store (Update: Jason's store no longer appears to be active; the link goes to the general Amway site).
*Full disclosure:  Jason Genther gave me a package of the Scrub Buds and the Legacy of Clean Dish Drops (concentrated) that I tested.  I told him that I'd try them and write a review — but I also made it clear that my review would be honest.  The links in this article go to the general Amway store; I have no affiliation with Amway or Jason's store (Update: which does not appear to be active) and do not get any referral fees.

---
Our FREE Provisioning Spreadsheet
Wondering how much of what foods to take on your next trip? Know just how much to buy of what — all arranged by grocery store aisle — with our handy Provisioning Spreadsheet. Includes detailed instructions to edit it for your favorite foods, how much your family eats, and how long you'll be gone. No spreadsheet skills needed!
It's FREE — get it here.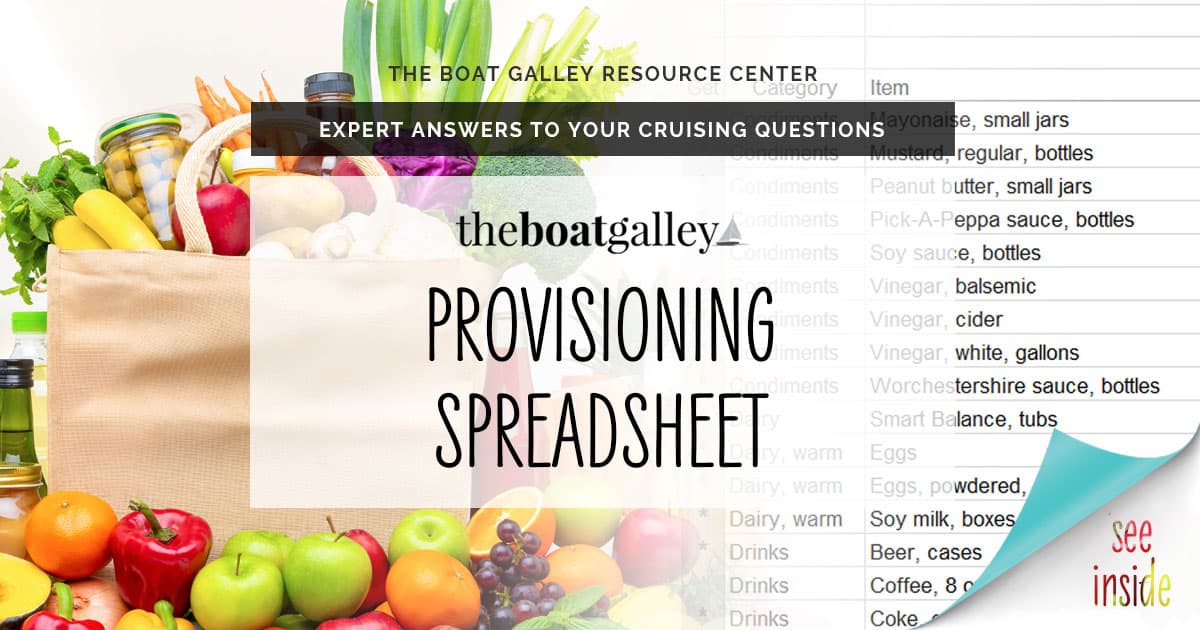 Some links above (including all Amazon links) are affiliate links, meaning that I earn from qualifying purchases. Learn more.