Barefoot Gal has a mishmash of old fenders. Two were even rescued from a dumpster — once upon a time they were white but someone got paint and other gunk on them, then threw them out. Perfectly good otherwise and the right size for Barefoot Gal, we cleaned them up as best we could. They were still ugly.
Last fall, I'd spent several days buffing out the sides of the hulls while we were in the yard. Three passes with a buffer over my head — deoxidizing, polishing and waxing — made me rather protective of that shine. I didn't like the idea of our grubby fenders leaving marks on the hulls.
Fender covers were the answer to both problems. I intended to make some as I didn't really like the ones I saw at West Marine and Defender. I wanted better ones. But other things kept coming up and fender covers never got made — one reason probably being that I knew I'd have to design them by trial and error.
Enter Liz at Sailbay.co. She sent us two of her Polartec 300 fender covers to use and review. Not only do they look great, but the Polatec 300 fleece (the thick heavy good fleece) is nice and soft on our hull. We love them!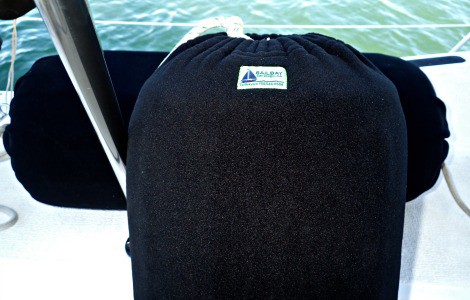 Yes, there are cheaper fender covers available. Or you could make your own. But I like these better for several reasons:
The heavyweight Polartec — not an inexpensive knockoff — is going to last a lot longer than most of the other options. I've had real Polartec fleece jackets and cheap imitation ones, and I can tell you which one is still going strong. But real Polartec 300 isn't cheap . . . fenders are bigger than you think!
The thinner inexpensive covers tear themselves up quickly on many docks and pilings. That's why I didn't buy them — I'd seen them in marinas after a bit of surge.
Polartec will wash up beautifully without shrinking.
These come all the way up to the rope that goes through the fender so that the cover doesn't tend to slip off (a problem with some on our previous boat that had been left by a prior owner). Added benefit for us: no one sees even a portion of that ugly fender inside.
They are sized perfectly for our fenders with no trial and error on my part.
The sewing is beautifully done — they look great — and I didn't have to do it!
Liz says that over time in the sun, the covers will fade a bit but will still protect the hull from fender abrasion.
She recommended that we slightly deflate our fenders, pull the covers on and then reinflate them. It's much easier than getting in a tug of war with the fender!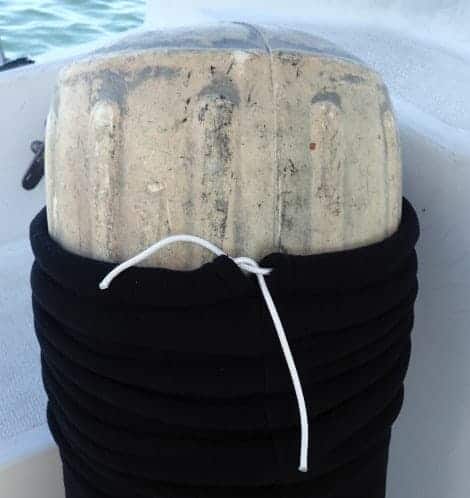 And to make it easy to remove the covers to wash them, she suggested that we simply tie them with the double bow (like you'd tie sneakers), then tuck the string under the cover. It worked perfectly. (Update: we've washed the covers twice now — they still look great and the fabric shows no sign of wear. And with the knots tied this, they've been easy to remove.)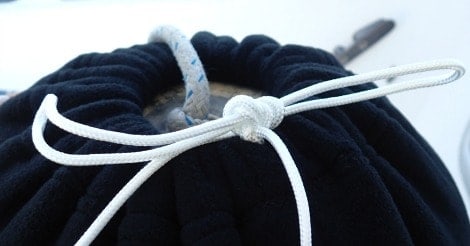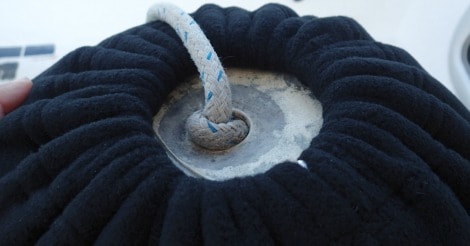 The black covers look fantastic on our boat with its black canvas!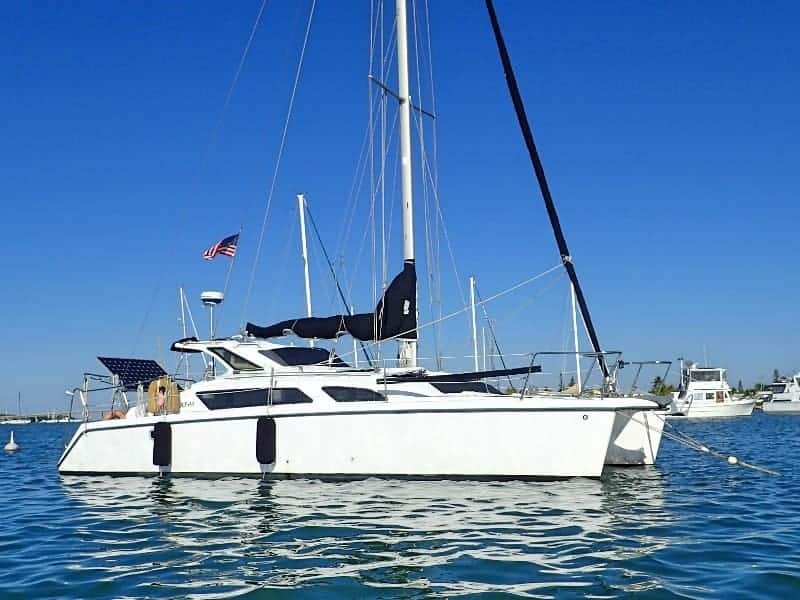 Sailbay has black and navy covers to fit all the popular fender brands and sizes. Liz will also custom make covers for other sizes — and in other colors.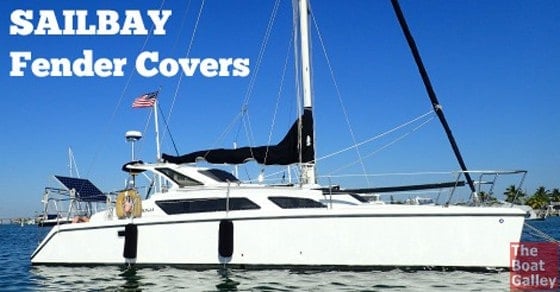 Some links above (including all Amazon links) are affiliate links, meaning that I earn from qualifying purchases. Learn more.