A (non-cruising) friend's post of a nasty slip and fall reminded me of a basic safety precaution that's even more important on a boat:
Always spray non-stick spray (Pam, etc.) or oil over the sink
Overspray on the floor, in particular, can be dangerous. Just as foods will easily slide out of the pan, you can easily go sliding across the floor! The motion of the boat just adds to the risk.
Spray that gets on counter tops can also be a problem if you put a hand down to steady yourself when the boat moves or if you lay something on the counter and it suddenly slides as the boat rolls. And spray that gets on the stove can cause a small grease fire.
Most long-term cruisers that I've talked to say that their most serious injuries came from what could be called "stupid little stuff," often galley injuries. In dangerous conditions, we tend to be cautious and think about our movements. But when doing everyday stuff on a fairly calm day, we tend not to be so careful.
Spraying a pan? Yeah, I tend to not really think about safety as I'm doing it. But over the years, I've had a couple of "oops" moments . . . and now I'm pretty good at taking that one extra step to the sink and holding the pan so that any overspray goes into the sink and not anywhere that it could cause a problem.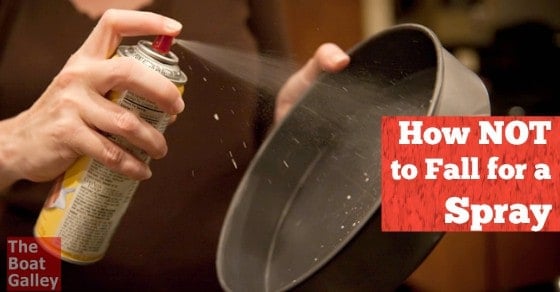 Some links above (including all Amazon links) are affiliate links, meaning that I earn from qualifying purchases. Learn more.