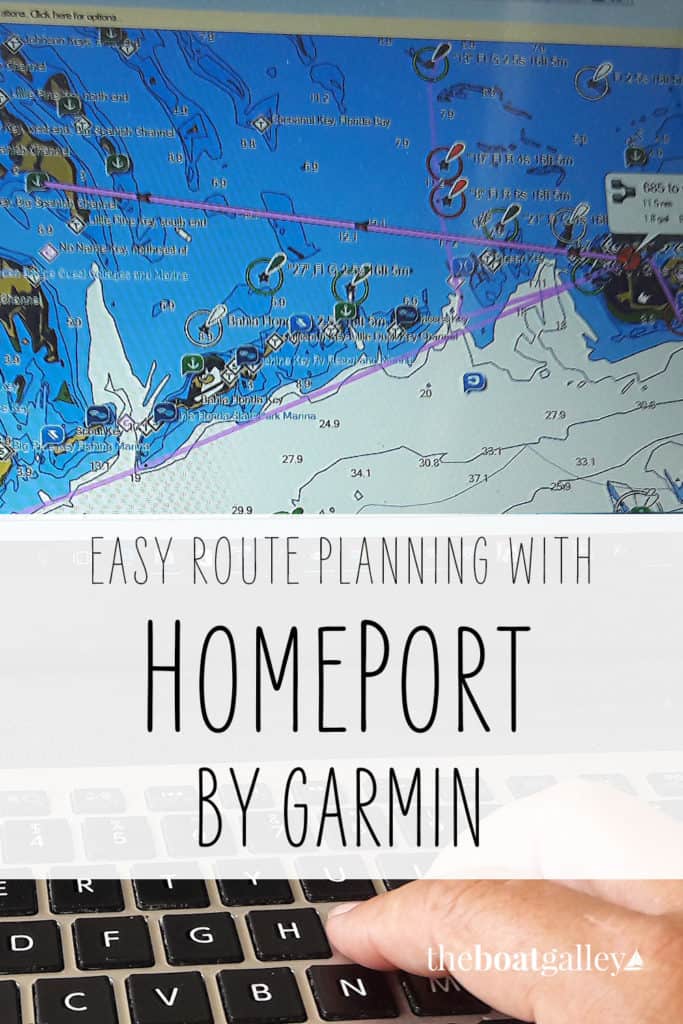 Garmin HomePort is a much easier way to create routes than trying to do so directly on a Garmin chartplotter. HomePort is a free app that works on Windows and Mac laptops and desktops, using your existing Garmin charts. It then lets you create a route using your mouse on the larger screen, zooming in and out to see the overall picture and also details of hazards.
If your chartplotter is wifi enabled (and you have it set up on a network with the laptop), you can transfer the route to your chartplotter via wifi following the instructions in your owner's manual. Our old chartplotter wasn't wifi enabled, so I used an SD card to "sneaker net" the data transfer and will give directions how to do this as it took a bit of trial and error. You can also save the route (as a .gpx) to use with backup navigation programs that you might have on a tablet or phone.
HOW TO INSTALL AND SET UP GARMIN HOMEPORT
Copy charts to use on your computer:

You will need a blank 16GB SD card. My old chartplotter used a full-size SD card; newer Garmin chartplotters use a micro SD card that must be used with an adapter in most laptops to make it fit a slot for a full-size SD card. Charts generally take over 8GB, plus you need space to store the routes. If you don't have one on hand, you can buy them at most big-box stores, computer stores, even some grocery stores and pharmacies (they're the same data cards that most digital cameras use) or you can get one for less than $6 on Amazon: 16GB micro SD card with adapter. I recommend having a card that you use just for HomePort, it makes life much simpler.
Put the SD card into the chartplotter and turn the chartplotter on. On ours — and all Garmin models seem to be pretty similar, but perhaps not exactly — the menu sequence is as follows, starting from the "Home" screen: Information > User Data > Data Transfer > Card > Copy Built-In Map. Select and wait for it to copy the maps (takes a minute or so). When complete, you can remove the SD card and turn the chartplotter off.
Put the SD card in your computer's SD card slot. You have to use the card every time — there is no way to copy the charts to the hard drive and have HomePort read them from there.

Open Garmin HomePort on the computer and choose the correct chart. What is listed as "Global Map" is very low res; don't use it. If there is more than one other chart (for some reason there are two others on mine), try each to see which is the higher resolution. The higher resolution will NOT show up until the scale is less than 10 miles (the scale is shown in the bottom right corner) — use your mouse wheel to change the scale if necessary.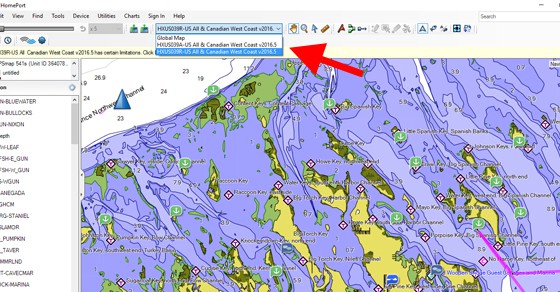 HOW TO CREATE A ROUTE
This is how I create a route — the process is not exactly intuitive and I never found a good how-to. I am sure that there are other ways to create a route. I find it extremely helpful to have a mouse with a scroll wheel.
Click on the hand symbol in the toolbar (Pan) that's just above the red arrow in the screenshot above. Then use a combination of your mouse wheel to zoom in and out and click and drag to reposition the map so that both the start and end points of your trip are on the screen. It does not matter if you can see the exact detail of the start and end point now.
Click on the three connected green boxes (New Route); your mouse pointer will turn into a pencil. Now click near your starting point (it doesn't have to be exact — just get close-ish), then click near your destination (again, just get near). You'll have a straight pink line going from your approximate start to finish.
Now zoom in on your starting point, using the mouse wheel and dragging the map (using Pan) as needed. Click on "Move Point" (three to the right of New Route). Click on where you put your start point and drag it to the actual starting point, then release the mouse. Do the same for the destination.
Go back to the start area, and now click on "Insert" (one to the left of Move). Click on the pink line, then click where the first waypoint (after the starting point) should be. Click, don't try to drag. Keep going along your whole route.
Use the Pan to move around as needed. You can click on Active Captain notes to read local knowledge or reviews of anchorages and marinas. If you need to move a waypoint, use Move Point and drag it to the correct position. There's also an erase feature (looks like an eraser in the toolbar) — click it, then click on the waypoint you want to erase.
Double and triple-check your route for hazards while zoomed in.
As you hold your mouse over the route, a little box will appear with the route distance and a time estimate (this is only as accurate as your boat details that are entered in Utilities > Manage Boat Profiles in HomePort).
You'll notice that your route has a "name" that is just waypoint numbers, such as 701-710. This is absolutely horrible when you are trying to find the correct route on the chartplotter! In the route list on the left side of the screen, right-click on the route and then click on rename. Give your route a more descriptive name, keeping in mind how many characters your chartplotter will show (anything more than that will just be chopped off).
TRANSFER ROUTE TO CHARTPLOTTER WITHOUT WIFI
By default, the HomePort route is saved on the hard drive of your computer, not on the SD card. To get it onto the SD card:
Right-click on the route name on the left side of the screen.
Select Send To
Select the "Untitled" folder in the SD card in the popup window. Give it a few seconds to actually transfer. If you look quickly, on the left side of the screen you'll see a window above the route name with the SD card and the "Untitled" folder and you'll see a progress bar as it's transferring (but it's fast, then disappears).
Remove the SD card from the computer.
Turn on the chartplotter.
Put the SD card in the chartplotter.
From Home, select Information > User Data > Data Transfer >Card and then either Merge from Card or Replace from Card.

Merge from Card takes the routes from the card and adds them to whatever routes are already in the chartplotter. Any duplicates will be copied and given a number at the end. Pro: never lose a route; Con: eats up the number of routes that can be stored if you have a lot of duplicates (until I realized this and took old routes off the card, I discovered that I had 20 copies of my first route!)
Replace from Card deletes any routes that were already on the chartplotter and installs the ones on the card. Pro: no duplicate routes taking up space; Con: can lose a route you still need (it should still be on the computer and you can re-copy it).

Check that the route did transfer by activating it.
EXPORTING/IMPORTING TO BACKUP NAV PROGRAMS FROM GARMIN HOMEPORT
Having a backup navigational program is critical. Unfortunately, HomePort cannot serve as a backup as it doesn't allow for a GPS connection (I've tried — my laptop does have GPS) or route following.
Ideally, a backup program should run on a separate device with a separate GPS that is not connected to ship's power. In other words, the systems should be totally independent so that if one piece of equipment goes down, it won't take the backup down as well. I used to think that I had to create a separate route in that device. Then I discovered that I could export a .gpx route from Garmin HomePort.
There are two basic methods to get a route to another device — you can email it to yourself as an attachment or you can store it on a shared drive (Google Drive, Microsoft OneDrive, Dropbox or others) and import it on the other device.
Exporting the Route
The first step in either method is to export the route from HomePort in .gpx format. Click on the route that you want to export, then click File at the upper left of the screen. Select Export, then choose Export Selection (trying to export "My Collection" put all routes into one large file that I couldn't do anything with). Save in whatever location you like — it's good to create one folder to use for nothing but routes, but it can be either local or cloud-based.
Importing the Route
To access the route from a shared drive:
From your tablet, find the folder with the route.
On most tablets, long press the route until a box comes up asking what app to open the file with.
Choose your navigation program and follow prompts from there.
To transfer to a nav app an iPad by email:
Send an email to an address that is on the iPad and attach the route file. (It's okay for the send and receive address to be the same if you only have one email account.)
Open the email on the iPad.
Tap on the attachment to open it. It will come up as a bunch of gobbledygook. In the upper right corner, tap on the little box with an up arrow.
A new box will open. Select Copy to whatever nav program you're using.
The nav app will open.
A box will appear asking if you want to import the file. Select OK.
Benefits of Backup Navigation Devices
The obvious benefit of having a backup navigation device is in case your primary device has a problem. I'll be honest: when I used to have to create a route from scratch in the backup device, I didn't always do it. And I certainly didn't do alternate routes on the backup device very often. Exporting from HomePort makes it easy, so I do it. Only once have we needed it — when an electrical blip turned off our primary chart plotter just as we entered a tricky area — and I was certainly glad to have our route already available to watch on the iPad!
Additionally, whichever of us is not actively "at the helm" has come to love being able to follow along on the iPad and not interfere with the display at the helm. Dave particularly likes being able to look ahead to see turns and prepare for different wind angles and sail trim without bothering me as I'm steering a twisty path through shoals.
Related Information
You may also be interested in my new favorite iPad navigation app:
And how to connect a VHF AIS receiver to your Garmin chartplotter:
This post was originally posted in July 2017. It was last updated in February 2020 for changes in Garmin HomePort, accuracy and completeness.
Read Next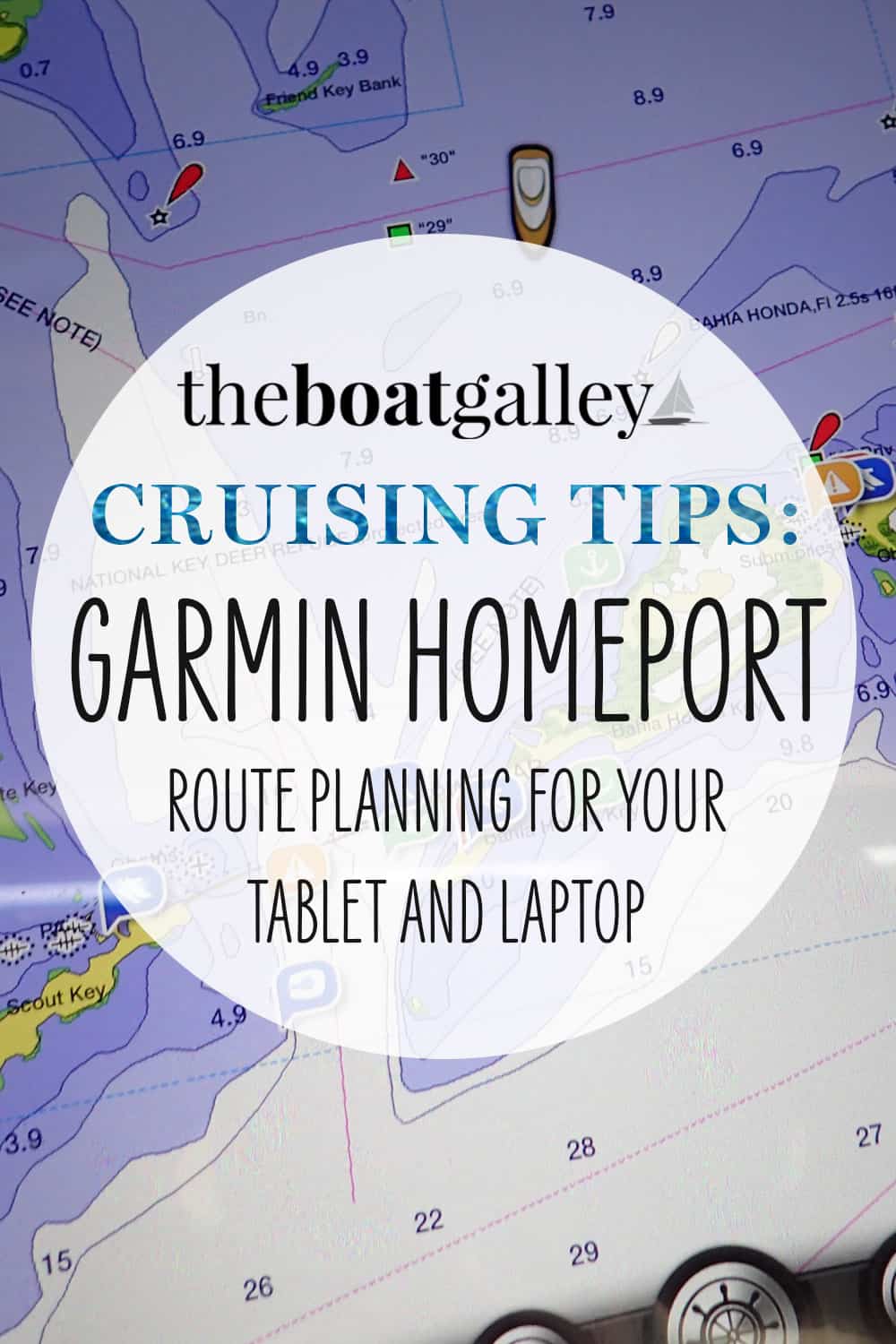 ---
Our FREE Provisioning Spreadsheet
Wondering how much of what foods to take on your next trip? Know just how much to buy of what — all arranged by grocery store aisle — with our handy Provisioning Spreadsheet. Includes detailed instructions to edit it for your favorite foods, how much your family eats, and how long you'll be gone. No spreadsheet skills needed!
It's FREE — get it here.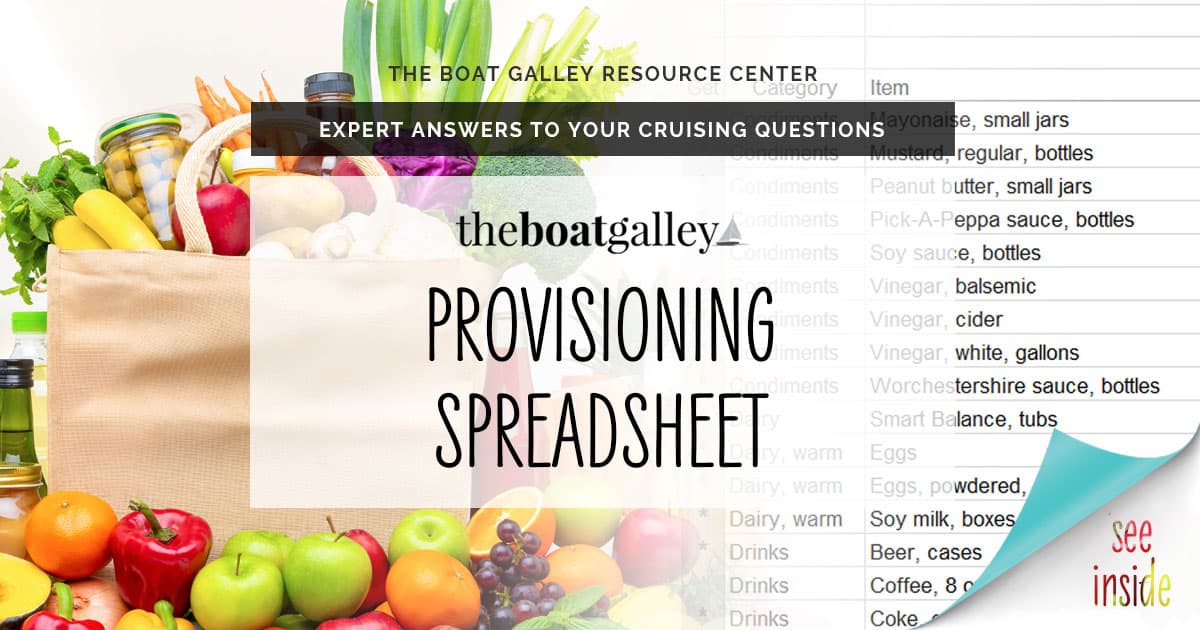 Some links above (including all Amazon links) are affiliate links, meaning that I earn from qualifying purchases. Learn more.