Do you have droopy celery?  Rubbery carrots?  Squishy potatoes?  Think you need to throw them out?  Don't!  You can revive them.
I'm embarrassed to let you see my celery in the photo above (but scroll down to see that same celery after it was revived).  That's some celery I had before I learned to store it tightly wrapped in foil.
The good news is that I had learned how to rejuvenate soft celery, carrots and potatoes a while back, so I didn't have to throw it out.
As a kid, my mom had taught me to put limp veggies in ice water — or in water in the refrigerator — and they'd revive.  And she was right.
The problem was that this doesn't always work on a boat.  I never had ice on board.  And some boats don't have a refrigerator.  Or they have a small refrigerator and no extra space to chill a container of water and veggies.
I never like to throw food out.  I particularly don't like to when I'm on a boat, away from town and can't immediately get more.  So I decided that I needed to figure out how to revive my carrots, celery and potatoes without ice . . . and preferably without needing space in my refrigerator.
With a little experimenting, I learned that you can revive limp celery, carrots and even soft potatoes in room temperature water.
Celery:  cut a bit off the bottom end before putting in the water.  Place bottom down in the water.
Carrots:  cut a bit off the top end before putting in the water.  Place top (fat end) down in the water.
Potatoes:  Peel and cover with water.
Left whole, it will take 2 to 3 hours to make these veggies crisp again. That celery in the photo at the right is the same celery as at the top of this article, after 2 hours in the glass of water.
Note that if you cut the veggies into strips or 1″ pieces and totally cover them with water, it will take as little as 30 minutes.
Drain the water and use the veggies as you regularly would.
Don't throw the water out once the veggies have been revived — you can use it in other cooking.
SCIENCE PROJECT FOR BOATS WITH KIDS: If you have some wilted celery, put some food coloring (red works best — easiest to see) in the water, and make sure the celery stalks are partially out of the water (it's even better if there are some leaves on the part out of the water).   Watch as the color moves up the stalk and into the leaves.  For more ideas on observations to make with this, see this science experiment.
---
Our FREE Provisioning Spreadsheet
Wondering how much of what foods to take on your next trip? Know just how much to buy of what — all arranged by grocery store aisle — with our handy Provisioning Spreadsheet. Includes detailed instructions to edit it for your favorite foods, how much your family eats, and how long you'll be gone. No spreadsheet skills needed!
It's FREE — get it here.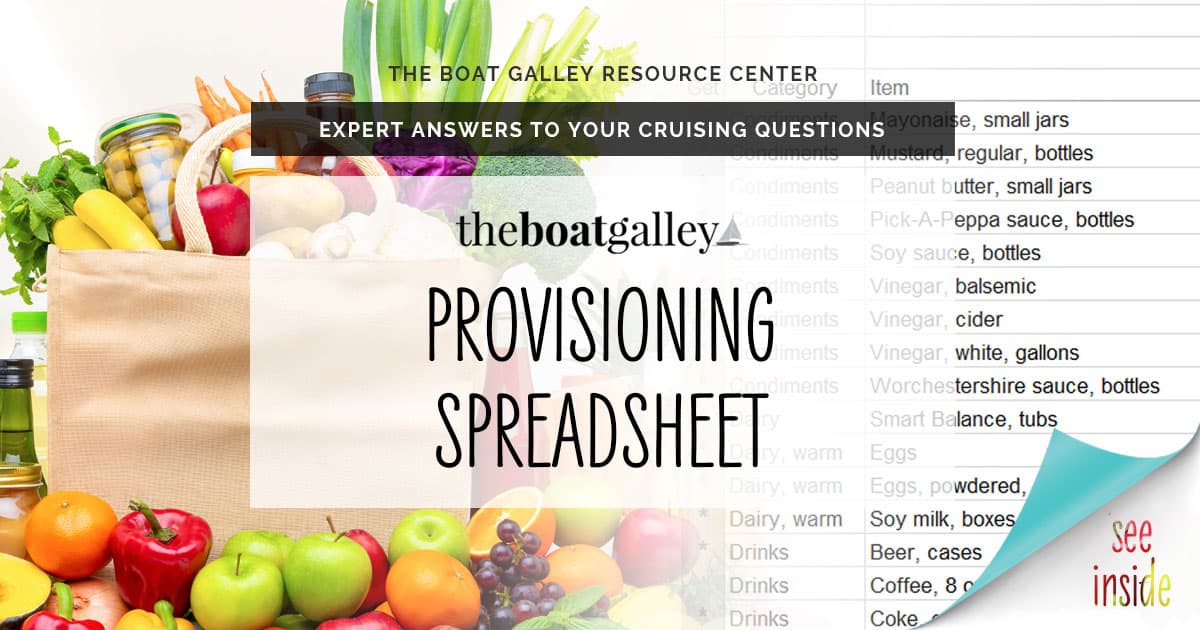 Some links above (including all Amazon links) are affiliate links, meaning that I earn from qualifying purchases. Learn more.