On June 13, Chris Burton of SeaTask Group came down to Boot Key Harbor to demonstrate the Rainman portable watermaker system. He then left one of the units with us to use for a month in order to do a full review on it.
The Rainman system has two components: the pump unit and the membrane unit. Both come in carrying cases and do not require installation. You can, to a large extent, mix and match the components: there's an AC, DC and gas-powered pump unit. The membranes come in two sizes: one that makes 13 to 18 GPH and one that produces 26 to 37 GPH.

We are using the AC unit (US – 115 volt) running off a Honda 2000i generator, and using the higher capacity membrane system. Our boats have always had a watermaker — our Tayana 37 had an older HRO system, running on DC, that made about 5 GPH. Barefoot Gal, our current boat, came with a Katadyn 80E that makes 3½ GPH.
We've had the Rainman unit for about ten days now and I wanted to give a "first impressions" report. I've gotten a lot of questions by email and on Facebook and wanted to answer a number of those.
Portability. The Rainman system is designed so that it does not have to be installed. It is ready to go right out of the box. We were making water within about 10 minutes of when we brought it on board.
But just how portable is it? The pump unit weighs just over 60 pounds and the larger membrane unit about 30. So no, you're not going to want to carry it all over; you may not want to get it out of a deep lazarette on a regular basis. However, it's designed so that it can easily be mounted inside your boat (the pump unit and the membranes can go in separate locations, virtually any distance apart), still in its case, so that it can be removed for things such as:
Moving onto a new boat or selling separately if you sell the boat
Hurricane evacuation (it's nice when you can take expensive gear off the boat)
Repair work
Loaning to a friend for a trip or in an emergency
Those are all positives, to be weighed against the fact that the pump unit does take up more space in one place than a system with component parts that can be installed separately.
Our initial feeling is that we'd want to semi-install the system belowdecks so that we didn't have to deal with securing it on deck (or in the lazarette) underway. We very much like the idea that it could be removed in the event of a hurricane or if/when we ever sell Barefoot Gal. And I really liked not having to figure out installation of all the various components and making sure it all worked together. It just did.
With the unit on deck, and the Honda generator stored in a sail locker, it takes one person less than ten minutes to go from "let's make water" to producing potable water. This includes getting the generator out, opening/uncovering the Rainman units, plugging in the pump unit, attaching the hoses, bringing the system up to pressure and testing the output. Another ten minutes max at the end to put everything away. (We usually do both set up and put-away in less than 10, but that's the ballpark.) Were it installed, the time would be slightly less as the units wouldn't be covered and the hoses already attached.
No Need for a Through Hull. Whether installed or used on deck, there is no need for a through hull. That means that you can buy the unit and start using it without a haul out, without putting another hole in the boat or even T-ing off an existing through-hull (T's often have the problem of not supplying enough water).
On deck, the intake hose is simply thrown overboard along with the brine discharge hose. If the pump unit is installed, the intake and brine discharge hoses can simply be led out a porthole and dropped into the water.
If you want, you certainly can use a through hull and the company says that it's easier to make water underway using a through hull as the intake hose will rise as the boat moves and that in turn can cause it to suck in air, which is not good for the membrane.
High Capacity. Okay, I've always wished that our watermaker made a little more water than they have but managed to live perfectly well with 3½ to 5 GPH. I always thought that 8 to 10 GPH would be great.
Ten days with one that's making about 30 GPH and I'm hooked. I still don't waste water, but my life is better with more water:
We don't have to run the watermaker every day and run it for far less time when we do.
I use a little more water in cleaning and doing dishes.
We do a better job of rinsing salt water and sand off us (and the dog!) after a beach or swimming excursion.
Using fresh water to clean the deck — no salt getting tracked in.
Showers. I used to go ashore for a shower when feasible to lessen the need for fresh water aboard. But that adds time to the end-of-day cleanup after a project, when I would love to take a short break before starting dinner. Grabbing a quick shower aboard (I still don't take a long one) is a wonderful luxury to me.
Projects. I'm in the middle of refinishing all the interior teak on Barefoot Gal. It involves using a teak cleaner to remove years of accumulated teak oil and the mildew that has grown on it. And that, in turn, requires water to rinse off. I'm able to clean far more teak per day since I don't have to limit myself to only using one gallon of water. It's making a huge difference in how many days I'll be working on this project.
If we were cruising somewhere where I wanted to wash laundry aboard, the extra water would be a godsend. I'd still hand wash, but simply having the water to do more than one or two items at a time would be really nice.
Freshwater Flush. Most watermakers come with a freshwater flush system so that you can rinse off the membrane after use. That way, you don't have to use the unit every day. Different manufacturers have different recommendations, but with a freshwater flush, you can generally go up to a week without using the unit before you need to pickle it.
Our Katadyn system doesn't have a freshwater flush and the company says not to. So we have to use it every day or else pickle it. That makes it tough if we want to do a shore excursion for more than a day . . . or on those days when things just get out of control and making water is the last thing you want to do.
Until we had the Katadyn (which came with our boat; we did not choose it), I didn't know that there were watermakers without a method to do a freshwater flush. I'd never again have one without it.
No Electronics. The Rainman unit doesn't have any electronics to automatically test the output water quality or automatically do a freshwater flush every so many days or anything else. There is an "ON/OFF" button and a valve to turn to bring the pressure up — and you read the pressure on a simple dial. You check water quality by running some into a clean cup and using a TDS meter.
Maybe a trifle more complex to use than "simplified" systems that are more automated (perhaps coming up to pressure on their own but turning that pressure valve is pretty easy to do), but there is far less to fail. In 10+ years of cruising, I've come to solidly believe that simpler is better; I want systems that work when I'm in the middle of nowhere. Simple systems are also much easier to troubleshoot.
Off-the-Shelf Parts. Off-the-shelf vs. proprietary parts have become a big issue in watermakers. Ten or more years ago, pretty much every watermaker company used proprietary parts and charged a hefty premium when you needed anything. But the price wasn't the worst part: ever try getting these parts in many of the great cruising grounds of the world? No local dealers and very expensive to get things shipped in — not to mention the time involved and multiple trips to the customs office and so on.
We've had this issue with both our HRO system and now the Katadyn. It's probably one of the worst problems in owning certain brands of watermakers. We all know that at some point, we're going to need a part or repair. And this is critical gear that we don't want to have wait to repair a month or two from now — or make a passage without.
Rainman (and some other companies) do a better job by their customers: they use off-the-shelf parts that you can find in any reasonably-sized town in almost any country. And they've designed their system for the average cruiser to work on themselves. Lots of troubleshooting info, repair instructions, and videos. We haven't needed these, so I can't speak to how good they are, but just seeing that they are there gives me a good feeling.
AC vs. DC. Both of the watermakers in our boats have run on 12-volt DC current. We've always thought that was good, as we could use any method to charge the batteries, giving us a little more flexibility. On a sunny day, our solar panels provided ample power. If we were motoring, the alternator. And when all else failed, the generator.
We're using the Rainman AC unit (they also have DC and gasoline versions). I do know of a couple of boats that run AC watermakers with large battery banks (and/or lithium batteries) and a 2000-watt inverter, but they're unusual. We're opting to simply run the Honda 2000 generator. I'd rather be able to power our watermaking via solar, but the fact of the matter is that even with the smaller 12v Katadyn watermaker we often had to run the generator when it was less than a full sun day. We're actually running the generator fewer hours a week with the Rainman.
The Rainman takes 1250 watts of power. The question is then can you also charge batteries at the same time with the Honda 2000 generator. Yes, IF you have a 25-amp shore charger or less. Anything larger will put the combined load over the Honda's running capacity (1600 watts continuous). Our shore charger is 75 amp, so for us the answer is no unless the batteries are full enough that they won't take over 25 amps.
Intake Lower. One of the questions that came up in the demo was running the Rainman in harbors and/or after disasters such as Hurricane Irma. The basic problem is that any petroleum in the water can damage the membrane. Chris noted that the Rainman hoses go further below the water surface than where most through-hulls are located, and thus petroleum is far less likely to be sucked in (he also suggested putting a small weight on the hose in such conditions to make sure the intake went straight down). He also noted that many of the Rainman units (particularly the gas-powered ones) are sold specifically to be used in disaster circumstances. There is, of course, no guarantee of no petroleum contamination, but the risk is far lower.
As a side note, we've used our other watermakers — which have had through-hull intakes — in many harbors where we've cruised and it does not seem to have shortened the life of our membranes at all. And should a membrane have to be replaced, the standard ones that Rainman uses are far less expensive than the proprietary ones we had to buy for the HRO and Katadyn systems.
Stay Tuned. I'll be writing up a full review on the Rainman after our full time using it. In the meantime, for more information:
Or call SeaTask to discuss their systems further: 305 965 8775

---
Our FREE Provisioning Spreadsheet
Wondering how much of what foods to take on your next trip? Know just how much to buy of what — all arranged by grocery store aisle — with our handy Provisioning Spreadsheet. Includes detailed instructions to edit it for your favorite foods, how much your family eats, and how long you'll be gone. No spreadsheet skills needed!
It's FREE — get it here.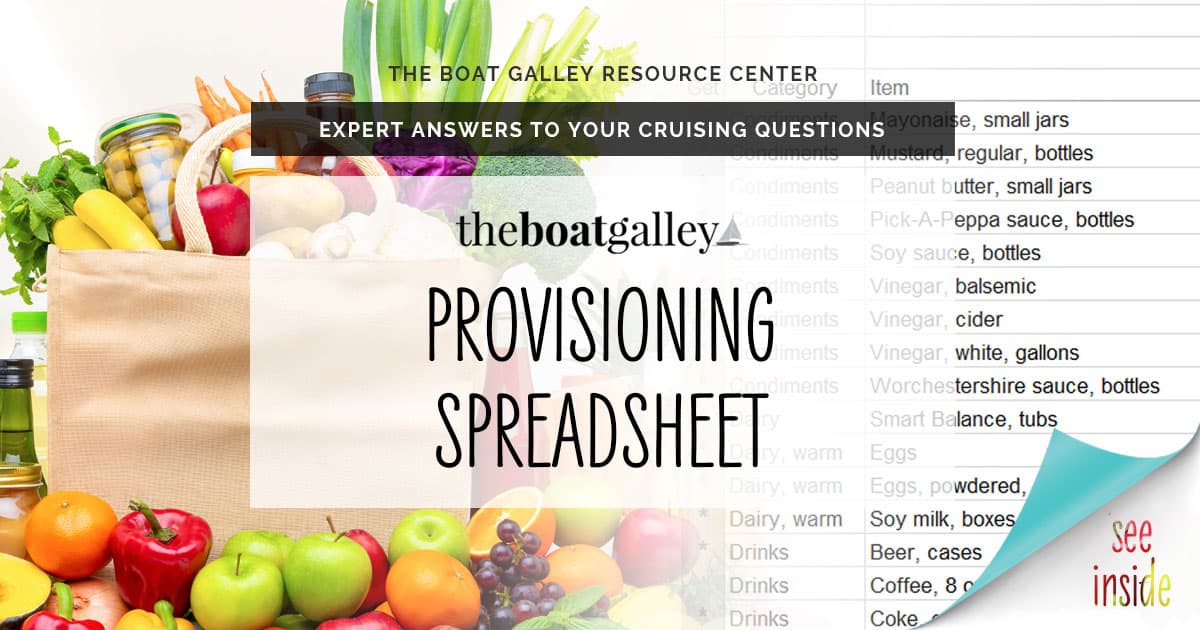 Some links above (including all Amazon links) are affiliate links, meaning that I earn from qualifying purchases. Learn more.