After a day of fun (or work) on the water, everyone loves "home-made" treats. Well, usually everyone except the one responsible for making them.
Here's three really easy and quick ways to satisfy everyone:
Commercial Pre-Mixed Cookie Dough, such as the tub of Toll House Chocolate Chip Cookie Dough in the photo above. I prefer the tubs or tubes to the flat break-apart packages, as the break-apart ones end up looking square unless I roll each one in my hands. These I can just spoon out and they bake into round cookies.
Make your own cookie dough ahead of time and either refrigerate it (good for a couple of days) or freeze it. Almost all cookie doughs can be made ahead. If you're a weekend or vacation sailor, you can make your own dough at home and then freeze it for the trip to the boat. If it starts out frozen, it will usually last several days in a cooler even if you don't have refrigeration aboard.
Chocolate-Oatmeal No-Bake Cookies. They only take about 10 minutes to make on the stove top, plus a few minutes to cool to the point that they can be eaten. (Okay, technically these aren't "home-baked." Oh well. They are home made.) Get the recipe here.
With the pre-made cookies dough (yours or commercial), it'll take less time for you to set out the cookies on a cookie sheet than for the oven to preheat, and then typically only 8 to 10 minutes for the cookies to bake. I like doing this instead of baking a huge batch ahead of time and putting them in a sealed container. This way, I can bake just a sheet at a time, so we always have "fresh-baked" cookies.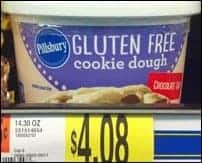 For those on a gluten-free diet, you can also get tubs of gluten-free cookie dough. They're in the refrigerated case next to the other cookie dough. Yes, it's somewhat more expensive but the convenience is also great.
If you don't have an oven aboard, the Chocolate-Oatmeal No-Bake Cookies are great, and you can also bake cookies in the Omnia Stove Top Oven – I find it easier to make one large cookie in the pan, baking it for about 20 minutes (exact time will depend on how thick you make it and the temperature) and then cutting it into bars. It also works to make individual cookies, but you only get 6 or 8 in the pan at once.
Obviously, not all of these ideas will work for everyone . . . but at least one should work for almost everyone who wants a quick treat aboard. Pre-made dough is especially good on a bareboat charter or for weekenders – particularly if you have guests!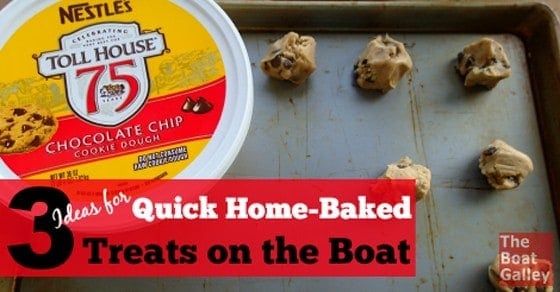 Some links above (including all Amazon links) are affiliate links, meaning that I earn from qualifying purchases. Learn more.