Almost any recipe that calls for something to be baked in the oven lists the first step as "Preheat the oven to ______."
But if you're trying to conserve propane or keep heat out of the boat, do you really need to preheat?  Just what good does it do?
Well, it obviously heats up the oven.  But not just the air in the oven — preheating also heats up the walls (and your baking stone, if you use one).  And heating up the walls and baking stone are what make the oven quickly return to temperature when you open up the door and let all that nice hot air out.
Okay, you're saying, but why should I care about the oven quickly returning to temperature?  Can't I just bake things a little longer?
That's a yes and no.  Many foods don't care if they are put into a hot oven while others do. Here are the general guidelines, but use your own judgment in applying these to a specific recipe:
Most vegetables, casseroles and meats such as roasts don't need a preheated oven.
In general, baked goods with yeast or baking powder DO need a preheated oven or they won't rise as expected.  This includes breads, biscuits, cakes and cookies.
Yeast breads won't be a total disaster if put into a cold oven and will rise somewhat as the oven comes up to temperature.  However, putting yeast dough into a hot oven gives it a little final "poof" of rising, called "oven spring."  All else being equal, this separates "good" bread from "great."
Pizza absolutely needs a hot oven.
In general, the lower the specified oven temperature, the less need for preheating.  Conversely, the higher the temperature, the  greater the need.  Recipes that require baking at 300 degrees F. or less usually don't need preheating; those requiring 400 degrees F. or more usually do.  In between, it depends.
Also, the longer the baking time, the less need in general for preheating; the shorter the time, the more need.  Unless covered by one of the other "rules" (say, a cake), things that will be baked an hour or more don't need a preheated oven, while things that are baked 20 minutes or less almost always do.
Souffles, egg dishes, meringues need a preheated oven or are likely to fail.
The broiler does need to be preheated for best results — but this usually only takes 2 to 3 minutes.  You don't need to have the whole oven preheated, just the broiler element needs to get up to its full temperature.  Even with a gas (propane) unit, I've found that it takes a couple of minutes to really have even heat.  I don't bother to turn it on until the food is ready to go under it.
If you are looking to conserve propane, you can generally turn the oven off 5 to 10 minutes before the end of the baking time with no adverse effect on your baking — the oven won't cool down that quickly!  But don't open the oven door until the end of the baking time.
And one more "semi-related" tip:  If you're frustrated that your cookies flatten out and get dry when you bake them, raise the oven temperature by 25 to 50 degrees F., be sure that the oven is fully preheated, put the cookies on a cool cookie sheet (if still hot from a previous batch, wait until it cools) and bake for 3 to 5 minutes less.  The cookies won't spread out nearly as much and the insides will still be soft while the outside is golden.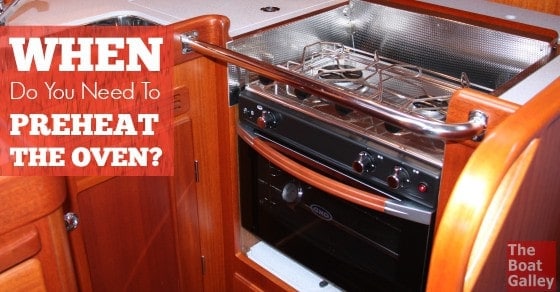 ---
Our FREE Provisioning Spreadsheet
Wondering how much of what foods to take on your next trip? Know just how much to buy of what — all arranged by grocery store aisle — with our handy Provisioning Spreadsheet. Includes detailed instructions to edit it for your favorite foods, how much your family eats, and how long you'll be gone. No spreadsheet skills needed!
It's FREE — get it here.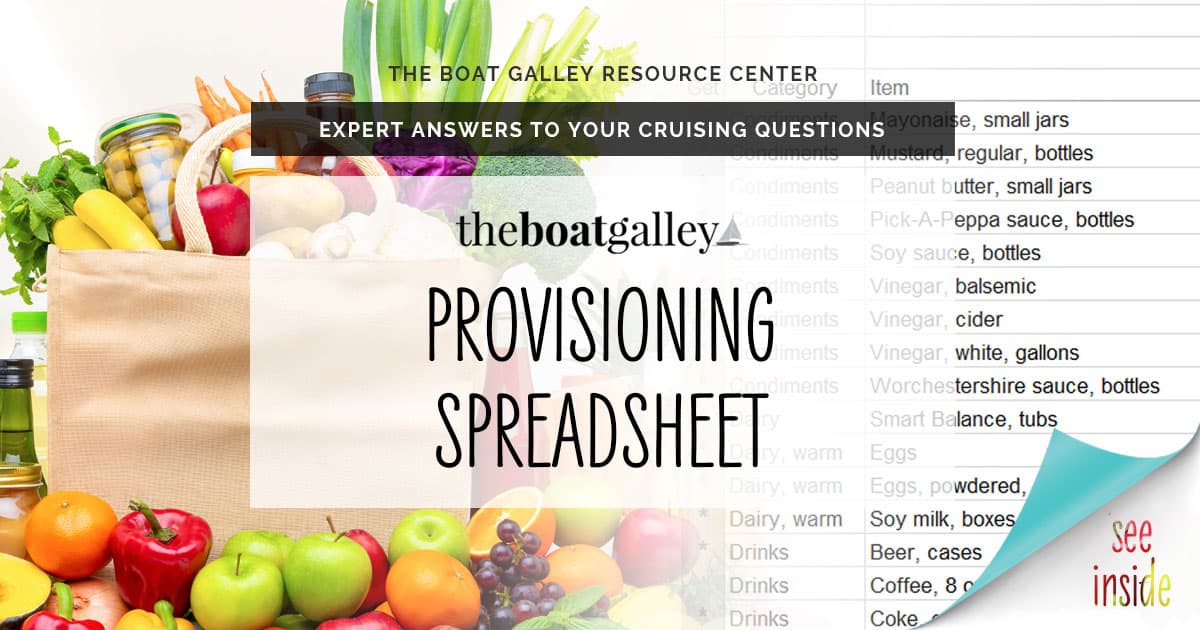 Some links above (including all Amazon links) are affiliate links, meaning that I earn from qualifying purchases. Learn more.