I've been experimenting lately to try to make a better pizza crust and finally discovered the trick for having a crisp, crunchy crust instead of a limp, doughy one.
Tuns out, it's not hard. I just came up with one "trick."
---
---
My past efforts weren't satisfactory because no matter what dough recipe I used, and no matter what temperature I set the oven at, I still had what I'll call "limp pizza." Basically, pizza that you can't pick up in your hand because the crust just droops. Pizza where the crust just seems underdone or soggy with the sauce. I tried partially baking the crust before I put the toppings on, I tried pre-baking and then flipping the crust over, everything. I couldn't get the type of crust I wanted.
Then I got an idea when I was making some No-Knead bread — what if I used a heavy pan and preheated the pan in the oven, as I did with the no-knead bread? This has turned out to be the real secret!
Note: Since you're working with a hot oven and hot pan, only do this in a calm anchorage or marina. And if your oven has any hot spots, you're likely to burn the crust — think about getting a baking stone, which will even out the heat for everything you bake!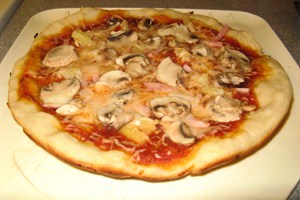 Pizza
You can make a pizza with a crispy crust. Start with a simple bread recipe and follow these tips to make a pizza you'll love.
Print Recipe
Pin Recipe
Ingredients
3

cups

flour

1/4

tsp

yeast

1-1/4

tsp

salt

1-1/2

cups

water

1-1/2

cups

prepared tomato sauce

8

ounces

grated mozzarella cheese
Instructions
In a large bowl combine flour, yeast and salt. Add water, and stir until blended; dough will be shaggy and sticky Don't be alarmed that it doesn't look like "typical" bread dough. Cover bowl with a plastic bag. Let dough rest at least 12 hours, preferably about 18, at warm room temperature, about 70° F.

Dough is ready when its surface is dotted with bubbles. Lightly flour a work surface and place dough on it; sprinkle it with a little more flour and fold it over on itself once or twice. Many recipes say to "Cover loosely with plastic wrap and

let rest about 15 minutes

" but I just let it sit, uncovered, while I rinse out the bowl.

Using just enough flour to keep dough from sticking to you work surface (I use a nonstick jelly roll pan) or to your fingers, use your fingertips and sort of roll the dough around until it becomes a ball (maybe 30 seconds?).

Coat the loaf with flour, corn meal, oatmeal or wheat bran, then put it back into the bowl, cover it with the plastic bag again, and let it rise until doubled–

typically, about 2 hours

. (Many recipes have you line the bowl with a towel or plastic bag and then put the dough in it and wrap the towel or bag over the top.  I've done it both ways with no difference in the final product, so I opt for just putting it in the bowl and putting the whole bowl in a bag as it's simpler.)

About 20 minutes before you want to bake the pizza, put the pan you intend to bake it on in the oven and preheat the oven. The heavier the pan, the better the results will be as it will hold heat better.

Preheat the oven to 450 degrees F. or as close as your oven will get – even if your oven will only get to 350 degrees F., this technique will produce much better results than what you'd otherwise get.

While the pan is preheating, get all the toppings out and ready to go. It's important to work quickly once the pan is hot, so having everything ready to toss on really helps.

On a cutting board, counter, pan or even a plate if it's large enough, pat the pizza dough out to the size and shape you want the finished pizza to be.

When the pan and oven are up to temperature, take the pan out of the oven. Very quickly (and carefully!) transfer the pizza dough to it – you don't need to oil the pan as there is a little oil on the dough from its rising. I find that it works best to just pick the dough up in my hands and lay it on the pan instead of trying to keep it flat. Just be careful not to burn your hands! The dough should sizzle a bit as it hits the hot pan – that's what will make the crust crispy.

Quickly spread the sauce over the crust, then add your toppings. In general, don't use more than 3 or 4 toppings in addition to sauce and cheese. It's important to work quickly, so that the pan doesn't lose too much heat.

Put the pan back in the oven and bake about 20 minutes. The exact time will vary, depending on the crust thickness, toppings and oven temperature. For a thin crust pizza with light toppings in a 450 degree oven, check it after 12 minutes. A thick crust pizza with numerous toppings in a 350 degree oven could take 30 minutes.

If you have cheese on your pizza, the pizza is done when the cheese is melted and starting to turn golden. If you're like us and not using cheese, look at the crust – when it's turning golden/brown, the pizza is done.

Enjoy!
Notes
Sauce and cheese always make a winning pizza. But consider a few extra toppings. It's a great way to get rid of leftovers. Try
meat (ground beef, ham, sausage, etc.)
chopped vegetables (peppers, onion, olives, artichoke hearts, etc.)
fresh herbs (basil, oregano)
You can even make it with pesto sauce.
Nutrition Facts
Pizza
Amount Per Serving
Calories 261
Calories from Fat 63
% Daily Value*
Fat 7g11%
Cholesterol 22mg7%
Sodium 333mg14%
Potassium 122mg3%
Carbohydrates 37g12%
Protein 11g22%
Vitamin A 258IU5%
Vitamin C 1mg1%
Calcium 152mg15%
Iron 2mg11%
* Percent Daily Values are based on a 2000 calorie diet.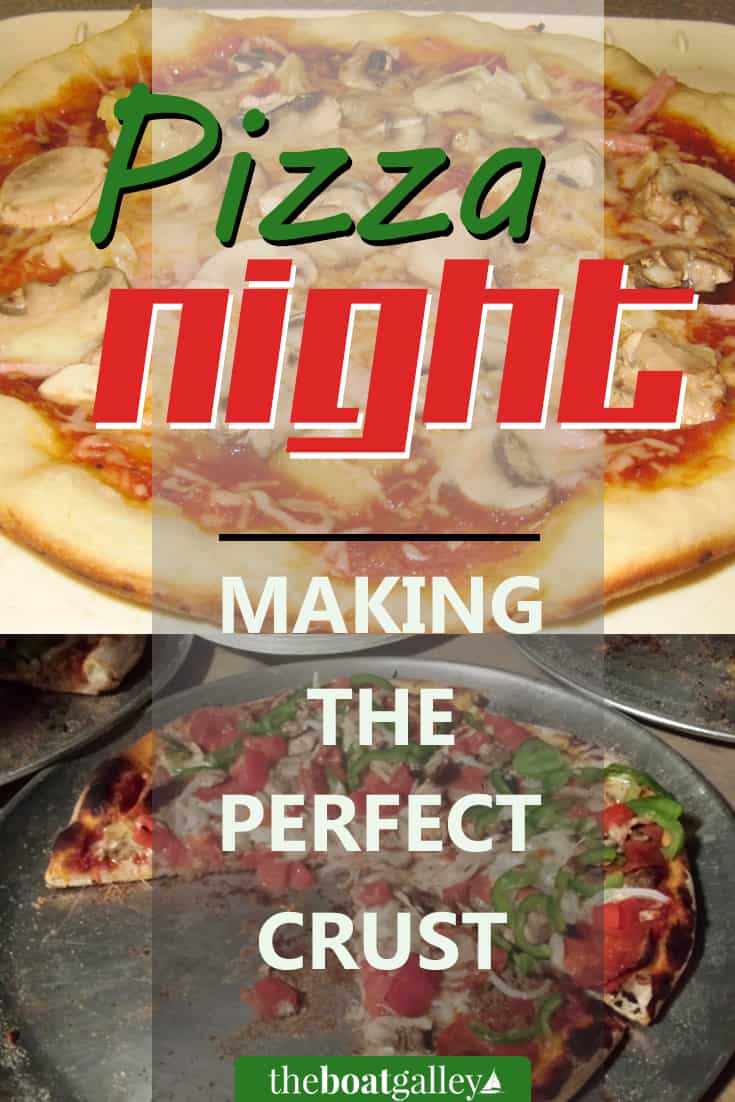 ---
Our FREE Provisioning Spreadsheet
Wondering how much of what foods to take on your next trip? Know just how much to buy of what — all arranged by grocery store aisle — with our handy Provisioning Spreadsheet. Includes detailed instructions to edit it for your favorite foods, how much your family eats, and how long you'll be gone. No spreadsheet skills needed!
It's FREE — get it here.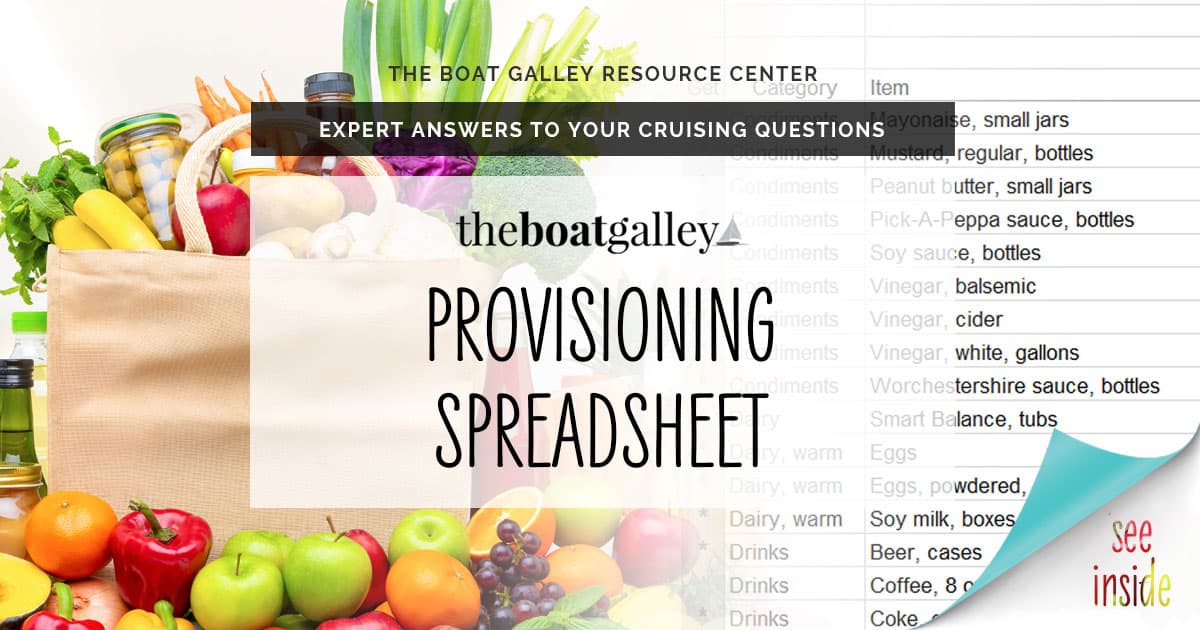 Some links above (including all Amazon links) are affiliate links, meaning that I earn from qualifying purchases. Learn more.