Canned tomatoes are sometimes hard to find when you're cruising — but fresh tomatoes are almost always available, often straight from a farmer.  And they substitute perfectly in recipes, with 2 cups of fresh tomatoes for every "can" called for in the recipe.
The only problem is that fresh tomatoes need to be peeled to be used in place of canned or you'll end up with little bits of peel throughout your dish. So how do you quickly peel a whole bunch of tomatoes?

Making lasagna for a big crowd, I needed to peel this bin of tomatoes.  I needed 4 cans worth of diced tomatoes, or 8 cups.
With the technique that my Aunt Martha had taught me as a child, which I modified to use a lot less water, I had them peeled and diced in 12 minutes flat (yes, I timed it just for this article).  I used this technique frequently while cruising.
Blanching Tomatoes

Begin with washed tomatoes.  Cut out the stem and make a shallow "X" in the skin on the bottom.  Although I usually have to blanch the tomatoes in batches, I prepare all of them to this stage before heating the water, so that I won't have water boiling any longer than I absolutely have to.

Put about 2″ of water into a saucepan.  Cover the pan and bring it to a full rolling boil over high heat.  Carefully place several of the tomatoes into the water using a spoon.  The tomatoes should have a bit of space around them and no more than one layer (you'll probably have to do several batches, just keep using the same water).  Cover the pan and let the water return to a full boil.  Once the water boils again, time 30 seconds.

Gently remove the tomatoes from the boiling water and place them stem side down on a plate or cutting board to cool. You'll notice the peel beginning to separate from the tomato.
Traditional blanching calls for plunging them into ice water, which just doesn't work on a boat. I've just let them cool in the air and it works just as well — without the extra water or the need for ice!
Putting them stem side down allows excess water to drain from the tomatoes, so they aren't "soupy" in the final dish.

One at a time, pull the peel from the tomatoes and discard it.  I've found that blemishes (such as on the tomato in the photo background) tend to just pop out along with the skin, but if one doesn't, just cut it out.

In just a couple of minutes, all the tomatoes will be peeled and ready for dicing or whatever else you want to do with them.

All diced and ready to add to the lasagna sauce.  If I'm making something where I want the sauce to be particularly thick, I place the diced tomatoes in a strainer or colander to get rid of some of the blanching water and tomato juice, but otherwise I don't bother.
And once you use fresh tomatoes in any dish calling for canned tomatoes, it'll be hard to go back.  The flavor is just that much better (assuming you've been able to get tomatoes that were picked ripe).  Even though we're now living ashore and I can get canned tomatoes, I prefer to use the ones straight from the garden.
And since I know how to blanch and peel them, it really isn't a bother!
---
Our FREE Provisioning Spreadsheet
Wondering how much of what foods to take on your next trip? Know just how much to buy of what — all arranged by grocery store aisle — with our handy Provisioning Spreadsheet. Includes detailed instructions to edit it for your favorite foods, how much your family eats, and how long you'll be gone. No spreadsheet skills needed!
It's FREE — get it here.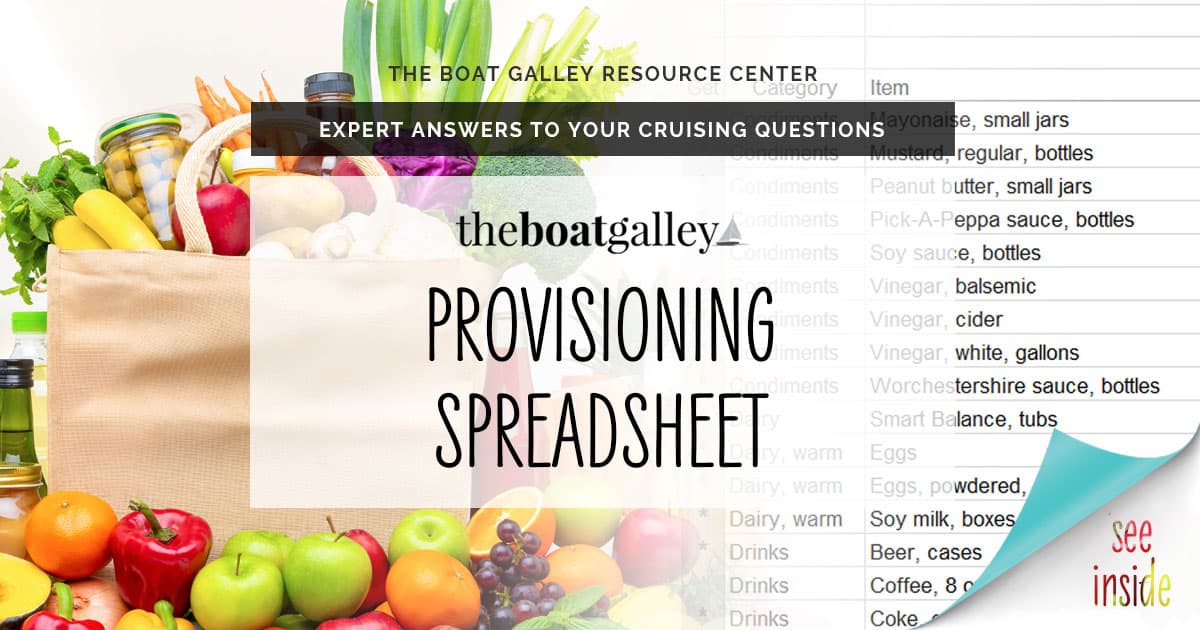 Some links above (including all Amazon links) are affiliate links, meaning that I earn from qualifying purchases. Learn more.