If you spend much time aboard your boat, you've probably realized how much space paper products can take up. Now, I use bar rags instead of paper towels when I can (read more here), but there are still times that I use paper (wiping up meat juice is a big one).
And I'm not about to run out of toilet paper. Dave considers me paranoid on this topic and swears that I keep more on hand than necessary. Sorry, but that's the last thing I want to run out of.
For years, I just sort of figured that a roll was a roll. Traveling first in Africa, then cruising in Mexico and now in the US, I learned that's not the case.
Some rolls have far more sheets than others. Here in the US, the mega-rolls of toilet paper have been available for several years, with double- and quad-rolls vastly outnumbering "regular" rolls. I've just recently started seeing "double" rolls of paper towels, too.
In Mexico, I could find toilet paper with literally anywhere from 100 sheets per roll to 1,000. When we accidentally bought some of those 100-sheet rolls, I was astounded at how quickly we used them up (and suddenly Dave was glad that I had "overstocked" as we were in a remote area).
The big rolls are fantastic for cruisers as they get more product into a given amount of space, generally in two ways: since there is only one cardboard spindle, there is less empty space; and the rolls are usually wound more tightly.
The one thing to be careful about, however, is that the manufacturer hasn't skimped on the paper thickness if that is important to you. I recently bought a package of toilet paper at a convenience store. They didn't have the mega-rolls of Charmin that I usually buy, and I chose the package with the 1,000 sheet rolls. Bad choice: it was absolutely the thinnest toilet paper I've ever seen and impossible to even take off the roll without it tearing.
So that brings up the first rule of provisioning: when confronted with a new brand or product, try one before stocking up.
How to store that TP and paper towels? Read my tips.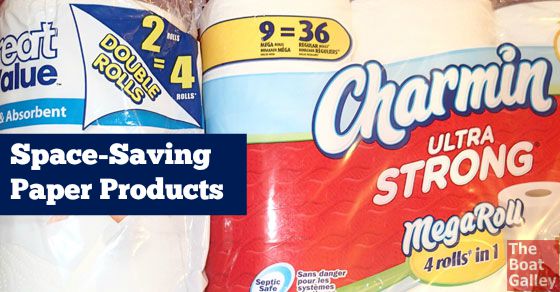 Some links above (including all Amazon links) are affiliate links, meaning that I earn from qualifying purchases. Learn more.