Traveling in other countries and then cruising Mexico and Central America, one of our favorite snacks was a little bag of olives.  But they can be hard to find in the US.
In many other countries, olives — particularly green olives — are most often sold in these little packages.  Since we'd eat a single packet at a sitting, I never had to worry about refrigerating leftovers, which is a huge benefit in my estimation.  I never really liked glass jars of olives as they can break (they seem to be thinner glass than pickle jars and some others) and I've had bad luck with the lids leaking . . . meaning that I had to store them in a differeent container and the glass jar was relatively large in the trash.
I almost always had some stashed in our snack bin (where anyone is welcome to take anything anytime without having to ask), and we'd frequently take a package along on a hike.  They were also a frequent treat at happy hour, with one package being just about right for two people.
A years ago, our local grocery store briefly had olive pouches, then after a few months switched to plastic "cups" of olives that took up a lot more space per serving. While these are good as "on the go" snacks, they simply take up too much space for me to keep very many on hand.
Then I discovered that I could buy olives in pouches on Amazon. These have the benefit of being even lighter weight as they are packed without juice. They come in several varieties, but alas no pimentos in the green olives!
They worked out really well as we cruised the Bahamas over the summer — for happy hour, a snack during or after hiking and for salads and cooking (particularly the Kalamatas in pasta and on pizza).
They are more expensive per ounce than buying cans of olives in the local grocery (but less than any olives we saw in the Bahamas) but they fall in the category of "affordable treat" for us.
See all varieties here (the 12-packs are the lowest cost per pouch):
Single serving packs are wonderful if you have no refrigerator or only a tiny one!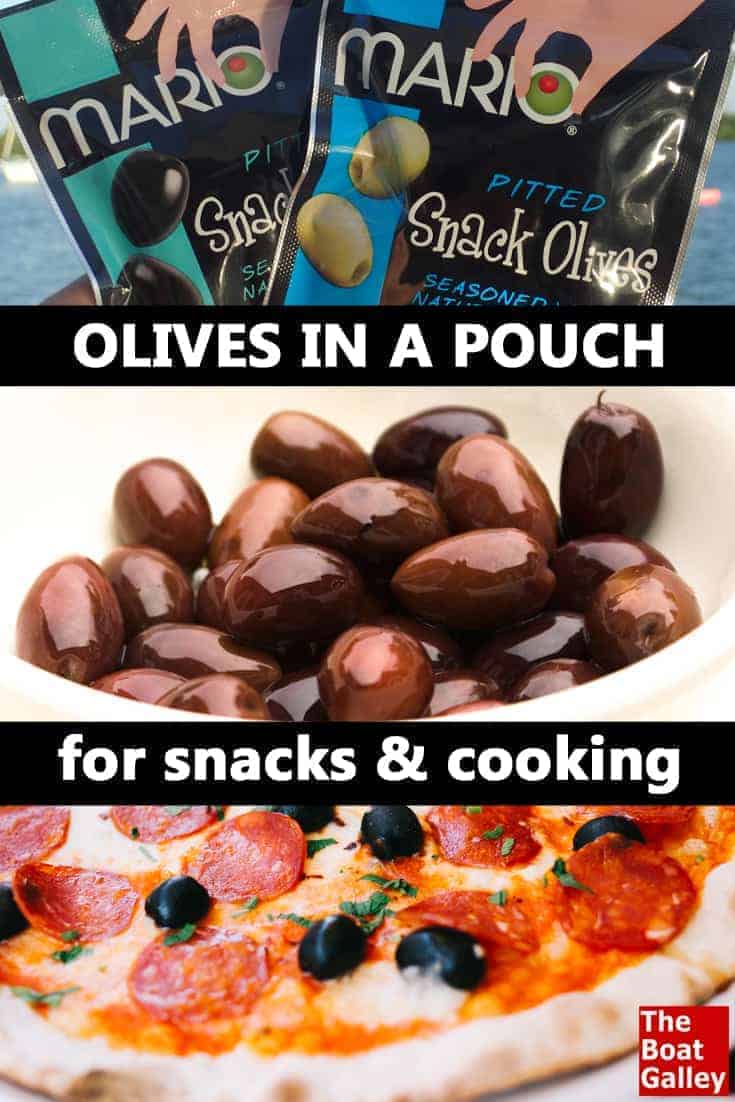 Some links above (including all Amazon links) are affiliate links, meaning that I earn from qualifying purchases. Learn more.