I think any boater can relate to this story.
Once you become a cruiser, however, missing parts become an even bigger deal. So laugh along with Mary Jo's mishap. And check out my tips at the end to keep it from happening to you.
Unity and The Rudder Plug
Before we get to the mystery of the missing rudder plug, let me tell you a little about who/what Unity is. Unity is our sailboat and she is the love of our lives.
She's a 1980 Hunter Cherubini-designed bluewater cruiser we've been restoring. We keep her at a marina on Lake Superior and the Apostle Islands National Lakeshore. She's 37' long with a teak and holly cabin sole. Unity displaces 17,000 pounds and has a fin keel and a skeg-mounted rudder.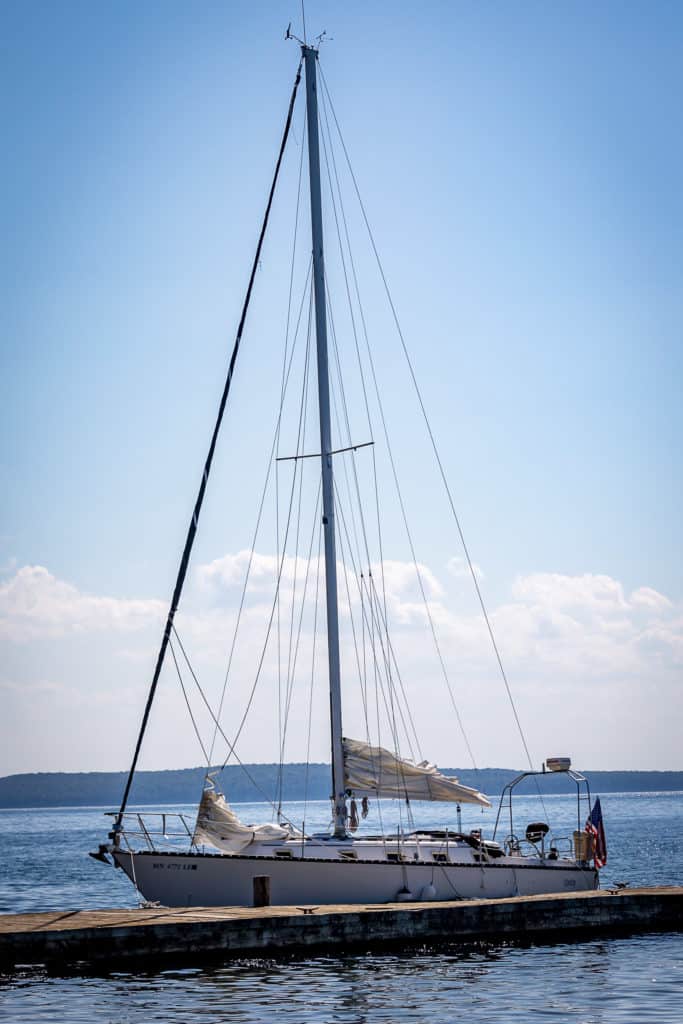 Most, but not all, sailboats have a small hole towards the bottom of the rudder through which water seeps in if not covered or plugged. It's referred to as, you guessed it, a rudder plug.
The plug itself is a threaded stainless steel knob about the size of your fingertip. And it is easy to lose track of unless you have a special place to store it. The rudder plug prevents water from seeping up into the rudder in season. Over time, water causes the fiberglass sheeting to become waterlogged and eventually separate and deteriorate. It's an inherent quality of these modern rudders.
When you pull the plug at the end of a sailing season, water that seeped in during the season escapes and the fiberglass lining dries out, which prolongs the health of the rudder.
Now that you have a clear understanding of what a rudder plug is and the role it plays, we can get on to the fun part of the story.
Keeping Track of the Rudder Plug
The couple we purchased Unity from left us a wonderfully detailed to-do list of tasks to do pre-launch at the beginning of the season and post-haul-out in preparation for winter storage.
The copy was getting a tad hard to read, so the meeting planner (and detail nut) in me decided to type the list. I put one copy in a file we keep at home and one on the boat for easy reference whenever we have a question about the process. (I can also say for certain that I reordered the tasks because, for a meeting planner, the sequence is as important as the task itself.)
The rudder plug sat in a baggie in a special place within the navigation desk on board Unity specifically marked in black magic marker with the words, "RUDDER PLUG". (This all drives Jim a little crazy, but ….) Knowing that the baggie with the rudder plug was in the navigation desk gave me great peace of mind in anticipation of the spring launch.
This all worked like a charm until last fall.
Hauling Out
Haul out is a busy time as well as an emotional time. It's the end of a season that you wish could go on forever. And, it's a lot of hard work. The sails all have to be taken down, folded just so and stored in their sail bags; all the linens and sailing clothes have to be removed and put in storage bags; cleaning and maintenance supplies that could freeze need to be removed and brought home; and the biggest task of all rests with the covering/tarping of the boat.
You get the idea, I'm sure. If you have a cabin, it's not all that much different except for the tarping. Lucky for us, my brother who crewed with us for a good part of the season was on hand to help.
As we're going through a launch or haul out, we use our handy to-do list to make sure we've got all our bases covered. We were all tired, not to mention hungry, and still looking at a four-hour drive back to White Bear Lake at the end of this particular haul-out day. The status of the rudder plug and the storage of which came into question as were wrapping things up.
We realized that after we'd just closed the companionway hatch, locked the lock, climbed down the swim ladder and the step ladder for the very last time before bidding Unity good-bye, that the rudder plug and baggie were NOT in the navigation desk because the plug was still in the rudder.
It was at this point, that someone who shall remain nameless said: "We'll put it here until next spring." However, none of could recall just where "here" was. This brings us to the mystery behind the lost rudder plug.
We would talk about the rudder plug occasionally throughout the winter trying to remember where it might be, to no avail. As launch fever came and we starting pulling containers and such out of storage, the quest to find the rudder plug began anew.
We'd actually started to resign ourselves to the fact that we just might have to purchase another plug—which when Jim started looking into this wasn't as easy a task as it should have been. Not every local marine store carries them; there are multiple kinds and sizes.
What's That
Two items are constants as we travel back and forth to the boat. One is a gray tub that we fill with things we need to take with us (cleaning supplies, etc.) The other is a black mesh laundry bag which, when on the boat, hangs on a hook in the shower into which goes our dirty laundry and other light-weight "stuff" we need to take back home.
As we were leaving home the other day for the marina to do some pre-launch maintenance work, I remembered putting the gray tub and laundry basket in the Jeep.
I noticed also in the basket were my rubber sailing boots, my sailing gloves that I must have put in the bag instead of leaving them on the boat last fall because they were keeping my hands warm as we were in the midst of haul out, and a 2019 calendar that we wanted on the boat so we'd always know what day it was. (It's easy to lose track of time when you're having so much fun.)
I left the mesh bag in the Jeep the whole time we were working on the boat. I didn't really need anything that was in the bag while I was cleaning and polishing. It just meant one more trip up and down the ladders. I actually thought about carrying each item up separately and got so far as pulling the items out when I realized the silliness of this move. It was at this point, however, that I spotted "the baggie."
My first thought was it's just a baggie that was left over from last season that I meant to take home and reuse (yes, I reuse baggies). But on second glance, I realized there was actually something in the baggie.
You guessed it. It was the infamous rudder plug. You have no idea how happy I was to see that small, rather insignificant little rudder plug, nor how happy I was to share the news with Jim.
All this time; all this worry and there it was – right "here" where we wouldn't forget it. It's now back in its rightful place in the navigation desk until just before launch so Jim can hear me ask: "Got the rudder plug in yet?"
Tip: If you want to avoid having this happen to you, snap a quick pic with your phone of the part you need to keep track of where you store it. I'm also a big fan of getting automatic reminders through the app IFTTT.
Or tape a note to yourself on the companionway. Just make sure you tape it somewhere it won't get bleached by the sun. You could end up with Mary Jo's same problem.
Mary Jo Wiseman is a certified meeting planner. She bought Unity as a newbie sailor with Jim in 2014 and married him the next year. They've been sailing happily ever after ever since.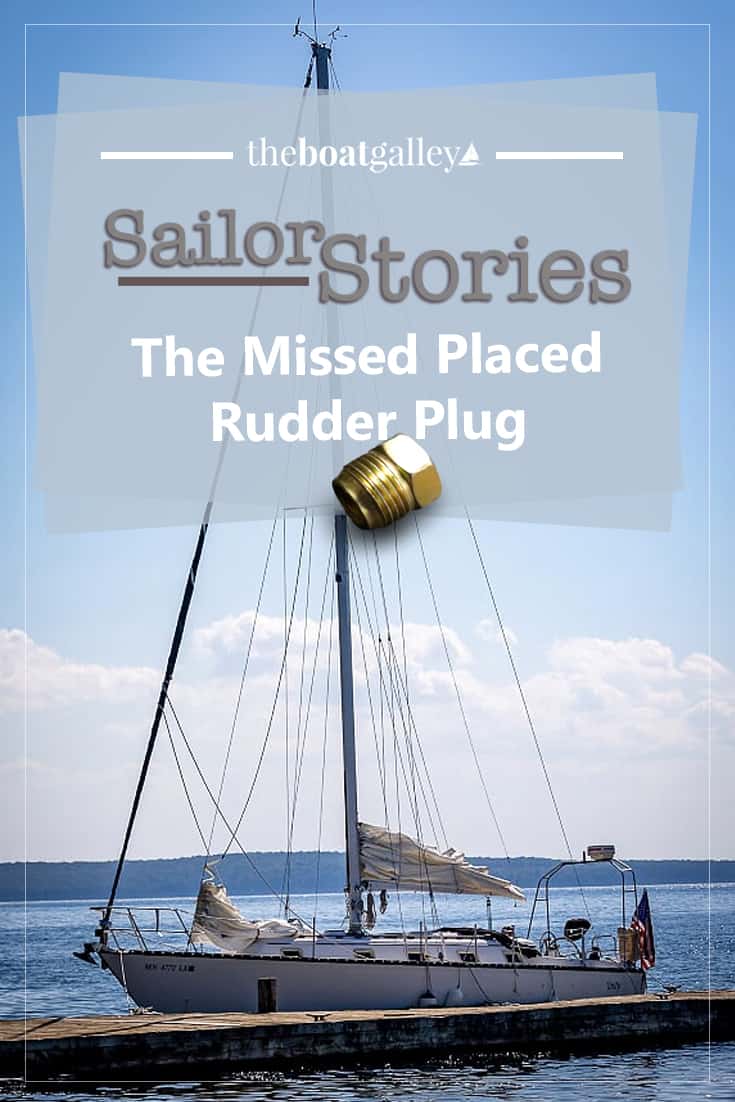 Some links above (including all Amazon links) are affiliate links, meaning that I earn from qualifying purchases. Learn more.