I am, perhaps, a little overly fearful of dropping my phone, wallet or car keys into the water. Electronics don't play nicely with salt water (and the car key contains an electronic chip) and the papers in my wallet wouldn't be happy either. Even just splashes and rain worry me.
For the last few years, I've been using a small dry bag as my "purse." It kept things dry and didn't look too obnoxious.
It had two problems, though: it didn't really look like a purse when I was doing something "nice" such as going out to dinner. Plus, the one I liked isn't even sold anymore so that pretty much eliminated me having a good answer when asked what I like.
Mantus to the rescue. Yeah, my favorite anchor company is also my favorite purse company — don't laugh! They understand what cruisers need and have the technical expertise to create great products (co-owner Deneen is a Senior Engineer at NASA).
The new Mantus Waterproof Purse is beautiful. A nice blue that goes with just about anything and an orca/sea turtle design that I think anyone on the water will love.
But pretty alone doesn't cut it when you're on a boat. I've been using my Mantus purse for almost a month now, and appreciate the practical features:
Waterproof for 30 minutes at a depth of 1 meter. I tested it by putting some shackles and boat bits in it for weight, stuffing paper towels in and then dropping it in the water. It actually floated (not sure how much weight it would take to sink it) so I then pushed it underwater with my hand and held it there over a minute. The paper towels were totally dry when I took them out.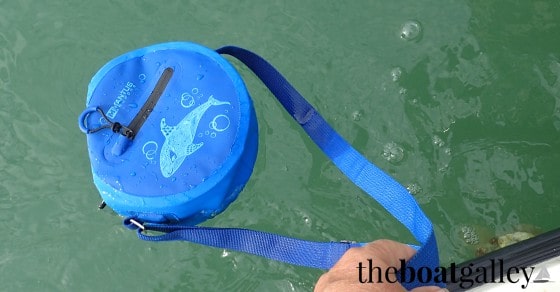 Zipper closure. I was really afraid it wouldn't be truly watertight, but it is. The zipper creates a seal. It just seems "nicer" than folding over the top and buckling it. While this isn't a truly dressy purse, it looks more casual lifestyle item than "this was designed for a camping trip."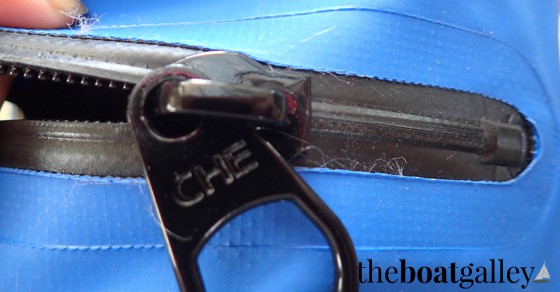 Large enough for my phone, wallet, lip balm and Epi-Pen case. It's tight with the Epi-pen case but do-able. It's more than large enough for a checkbook and some other personal items as well if I don't put the Epi-Pens in.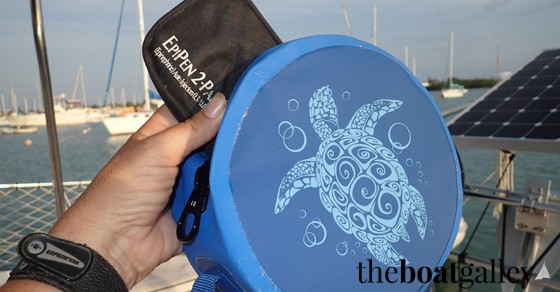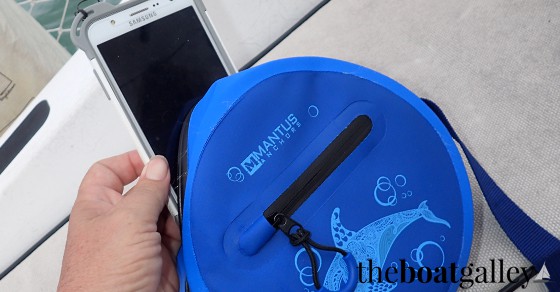 The strap is well attached and goes under the main compartment of the purse so that it helps support the weight of items inside and doesn't look as though it will pull a hole in the purse itself — important for keeping it waterproof!
The strap is adjustable and long enough to go cross-body, which frees my hands up if I'm trying to carry some other things. I love being able to carry it cross-body if I'm in a crowded place or anywhere that there's a higher risk of pickpocketing.
Hardware is 316 stainless.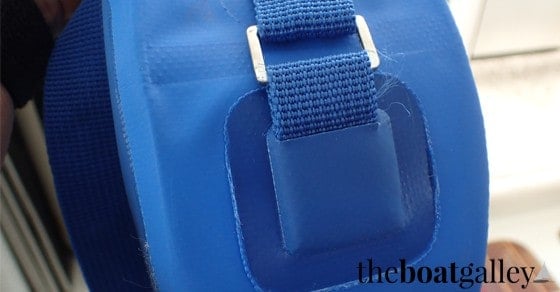 There's a little outside pocket that's perfect for a single key or gate card. It is rated as splash-proof . . . when I pushed the bag underwater in my tests, a few drops got in here.
Last night we dinghied to dinner with two other couples at an open air restaurant and, of course, I took my purse. Not only did the two other women ask me about it, but as I was showing it to them, women at the next table asked to see it!
Cost? While not super-cheap, I figure it's not bad compared to the cost of a new phone! You can buy the Mantus Waterproof Purse for $43 — click here to order from Mantus.
Some links above (including all Amazon links) are affiliate links, meaning that I earn from qualifying purchases. Learn more.