In general, "healthier" versions of recipes mean fewer calories, lower fat, less sugar, higher fiber.  And the connotation is "less flavor" or, worse, "YUCK!"
The funny thing is that when I've done side-by-side taste tests, people generally prefer the "healthy" versions of my recipes.  They actually have more flavor and more texture to them.  And quick breads — that is, those that use baking powder instead of yeast — are naturals for making more healthy.
The secret is not to go overboard on making a recipe healthy.  I've found that you need some fat, some sugar, and some salt or your bread won't have much flavor, won't rise properly, won't brown and won't be eaten.
Start by substituting unsweetened applesauce for some of the fat, and Splenda for some of the sugar.  I usually start by substituting less than half the total amount – generally, only about a quarter.  In subsequent batches, I may increase the amounts if I find the results satisfactory.  I've found that the results generally are not satisfactory if I try to swap the entire amount.  Also, in many foods, I have to add an extra egg (or egg white).
You can also increase the fiber by using a bran cereal or whole wheat flour instead of white flour. Generally, don't try to use cereal for more than one-third of the original amount of flour, although you can usually substitute whole wheat flour for white in its entirety, or use one-third cereal and two-thirds whole wheat flour.
About a year ago, I worked to make a healthier zucchini bread, following the guidelines above.  After several progressive changes to the original recipe (see the "final" version), it was a lot healthier — and tastier.  By the numbers (both are for the same size slice):
| | | |
| --- | --- | --- |
|   | Healthier | Regular |
| Calories | 115 | 315 |
| Total Fat | 4.2 g | 15.5 g |
| Saturated Fat | 0.5 g | 1.3 g |
| Cholesterol | 43 mg | 21 mg |
| Sodium | 124 mg | 124 mg |
| Total Carbohydrates | 19.6 g | 41.3 g |
| Dietary Fiber | 3.4 g | 1.3 g |
| Sugars | 9.7 g | 24.3 g |
| Protein | 3.2 g | 3.8 g |
I could make it even healthier by using 2 egg whites (or Eggbeaters) for every whole egg, which I hadn't done in the above analysis.  That would reduce the cholesterol to virtually zero, instead of increasing it as I added another egg.
When you make changes to a recipe, though, be sure to watch the bread closely as it bakes.  It may take considerably longer or shorter — that zucchini bread that I made healthier only took about one-third as long to bake!
My experience is that there are no hard-and-fast rules in trying to make a particular quick bread recipe healthier – and still have it taste good. 

---
Our FREE Provisioning Spreadsheet
Wondering how much of what foods to take on your next trip? Know just how much to buy of what — all arranged by grocery store aisle — with our handy Provisioning Spreadsheet. Includes detailed instructions to edit it for your favorite foods, how much your family eats, and how long you'll be gone. No spreadsheet skills needed!
It's FREE — get it here.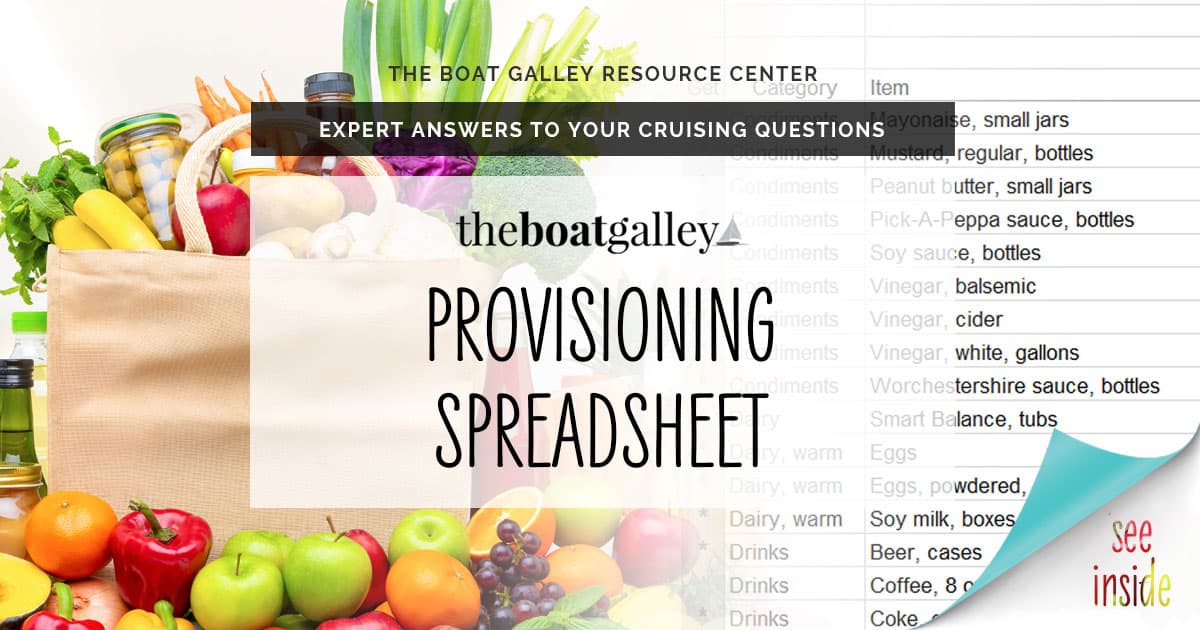 Some links above (including all Amazon links) are affiliate links, meaning that I earn from qualifying purchases. Learn more.