For Dave and I, iced tea is a hot-weather staple. Well, maybe I shouldn't call it "iced tea" but rather "cold tea" — we never made ice aboard.
And while you see all sorts of ads for "ice tea machines" that are similar to coffee machines, there's no need for one. I developed three simple ways to make iced tea — and two of them don't even require the stove!
Considering that most people like iced tea when the weather is the hottest, being able to make it without adding any heat to the boat (by using the stove) suits me perfectly. And add in the fact that it conserves propane and I'm doubly pleased!
Traditionally, making iced tea calls for boiling water equal to the amount of tea you want (let's say a half gallon), pouring it over the tea bags (or loose tea) and letting it steep, then putting the whole hot pitcher into the refrigerator to cool.
On a boat, this is horrible:
It adds a lot of heat to the boat from boiling the entire half gallon of water
Putting a half gallon or so of almost-boiling water into the refrigerator really increases the load on it . . . and eats power!
And it uses far more propane than necessary.
There are much better ways to make iced tea on a boat. Actually, these other ways are better anywhere!
Cold-Brewed Tea
Cold-brewed tea is the easiest method and puts the least burden on the refrigeration system. It does require about 25% more tea bags, however.
You'll need a plastic bottle with a wide enough mouth to put tea bags in — I like half gallon juice bottles, as in the photo at the top of the article, or one-gallon water bottles. Gatorade bottles, with their wide mouths, also work well. I find 2-liter soda bottles to have too small a mouth to use easily.
You also need tea bags — by far the easiest to work with are those with tags. Black tea is traditional, but I've used many other kinds as well — green tea, jamaica, lemon grass and various herb teas. I frequently mix several types together.
For a half gallon, I use 8 to 10 tea bags — it depends some on the type of tea used and your own preference. Fill the bottle with water and then put the bags in with the tags hanging out, as in the photo at the top of the page. Screw the cap on right over the strings.
Place the whole bottle in the refrigerator and let it sit 12 hours or more — I generally start it in the evening and it's ready to go in the morning. The tea will slowly steep as it chills. Once it's as strong as you'd like, remove the tea bags and discard them.
If desired, you can add sugar and lemon to the bottle, or to individual glasses of tea.
One big advantage of cold-brewed tea is that it won't turn cloudy in 2 to 3 days (it's still okay to drink, just isn't clear) like sun tea or hot-brewed tea will. It is also a smoother, less acidic tea.
Sun Tea
Sun tea puts a bit more of a load on the refrigeration system, since the tea has been heated by the sun. However, it's nowhere near as hot as an entire bottle of near-boiling water! Sun tea uses a little less tea than cold brewing, and has a bit more "tang" to it.
Prepare a bottle of water and tea bags as for cold-brewed tea, except that you'll only need 6 to 8 tea bags.
Place the bottle in a sunny location — if you're underway or in a rolly anchorage (or one with Jet Skis), tie a line from the neck of the bottle to a convenient pad eye or hand hold so that it doesn't suddenly go overboard.
The "brew time" will depend on both the outside temperature and the location of the bottle. For example, it won't get as hot on a white deck as on a teak one (trust me, I've had both — and my bare feet will testify to the difference). On a very hot day in a hot location, it might take only 1-1/2 hours to be done although 4 to 5 hours is more common.
When the tea is as strong as you like, put it in the refrigerator until cool. Again, you can add sugar and/or lemon if desired.
Concentrated Tea
If you are going to boil water and brew tea, a more boat-friendly way is to make a tea concentrate and then add water to dilute it. This is also a good way to make tea if you have bags without tags.
Boil 1 to 2 cups of water, but use enough tea bags for the full amount of tea you want. I put the tea bags in a 2 cup plastic tub with a tight lid and then poured the water over the bags. I'd put the lid on (to avoid spills if the boat moved) and let it steep about 5 minutes (your preferences and tea type may differ). If you like sweet tea, you may want to add sugar to the hot tea mix.
Then I'd remove the tea bags and discard them. I usually had a bottle of cold water in the refrigerator that wasn't quite full, and I'd add the tea concentrate to that and then fill it up. Otherwise, I'd start a new bottle and mix the concentrate with tap water.
Then I'd put the lid on the bottle and put it in the refrigerator.  Depending on whether I started with cold water, how big the bottle was, and exactly how cold I wanted the tea, it could be ready in as little as an hour.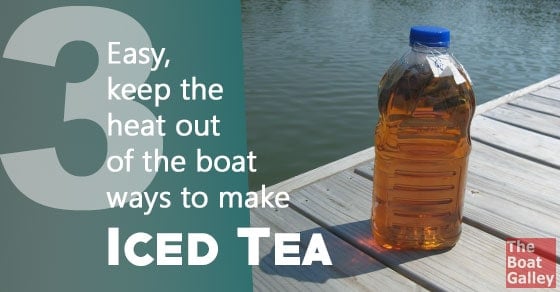 ---
Our FREE Provisioning Spreadsheet
Wondering how much of what foods to take on your next trip? Know just how much to buy of what — all arranged by grocery store aisle — with our handy Provisioning Spreadsheet. Includes detailed instructions to edit it for your favorite foods, how much your family eats, and how long you'll be gone. No spreadsheet skills needed!
It's FREE — get it here.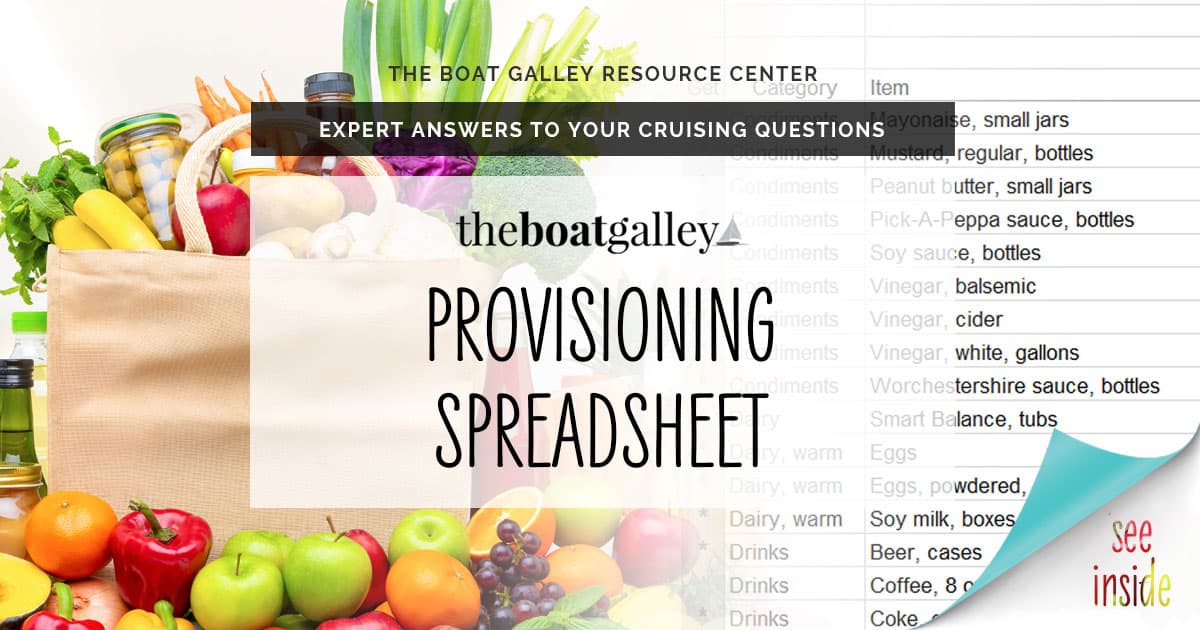 Some links above (including all Amazon links) are affiliate links, meaning that I earn from qualifying purchases. Learn more.