Another of our favorite recipes with notes and tips on how I make it. In cooler weather, this is one of my go-to recipes when we're having friends over, as I can do everything in advance, leaving me free to socialize when they arrive.
Chili is great with Beer Bread — read Making Beer Bread. This recipe is on page 169 of The Boat Galley Cookbook, location 5288 of the Kindle edition (note that all electronic editions have a clickable index in the back, so you can look up any recipe by name and click on the page number to go to the recipe, although because of the way the links work sometimes the recipe is actually on the next page from where the link takes you).
NOTE: The recipe below is doubled to serve four from the one in the cookbook, which serves 2.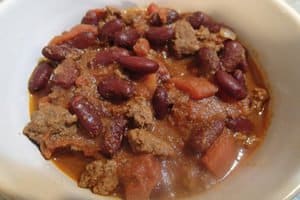 Chili
Chili is a great make-ahead meal for company, on passage (especially if it will be on the cool side on deck) or to make at home and take to the boat.  It freezes really well, too.
Print Recipe
Pin Recipe
Ingredients
1/2 to 1

pound

ground beef

OR 2 chicken breasts, shredded

1

medium onion

diced

1 to 2

cups

beef broth

or chicken broth (may be made from bouillon), stock or V-8 juice

2

tablespoons

chili powder

or to taste depending on "heat" of your chili powder

2

teaspoons

cumin powder

1/2

teaspoon

ground cinnamon

(optional)

1/2

chile pepper

or green bell pepper, seeded and diced, or to taste

2

cans

(16-ounce) diced tomatoes, not drained

OR 3 to 4 fresh tomatoes, diced

2

can

(16-ounce) kidney beans, drained and rinsed

OR red beans OR black beans OR Recipe-Ready Beans (see below)

grated cheese

(optional garnish)

chopped green onion

(optional garnish)
Instructions
Sprinkle salt over the bottom of pan and sauté ground beef in it (the salt draws the fat out of the meat, so you don't have to add oil unless the meat is very lean). If you use chicken, you will have to use a little oil or cooking spray. When meat is almost browned, add onion and continue to brown meat.

Add remaining ingredients and mix. The amount of broth needed will depend on the amount of liquid in the tomatoes and your preference.

Simmer for at least 30 minutes to allow flavors to mix.
Notes
Instead of ground beef, I often use ground turkey for a more heart-healthy version.  When I do, I use beef bouillon powder instead of salt to give a bit more beef flavor -- see No-Added-Fat Sauteing and Adding Flavor to Meats.  The meat browns just fine with no added fat.
Personal preferences and the strength of spices varies greatly.  When making a new recipe, I initially add only half the called-for amount of spices, particularly hot ones.  I let the recipe cook for 10 minutes or so, then do a taste test and decide whether to add the remaining amount.  I do the same thing whenever I've opened a new spice container, particularly in foreign countries or when buying from a farmer's market.  If you're having guests, be sure to ask their tolerance for spicy foods -- we have some friends who cannot eat spicy foods at all.  I always make dishes to suit the "mildest" preference and then place hot sauce on the table for those who want it spicier.
Chili powder can clump and it can lose its flavor from heat and moisture.  Put a few dried beans in the container to keep it from clumping (read more), store it in a cool and dry spot (NOT right above the stove -- read more) and never hold the open container above a hot, steamy pan (read more).
If using a chile pepper, again be careful with how hot it is, particularly if it's a variety that you haven't used before.  Again, I use half or less of the specified quantity and do a taste test after it's had a chance to cook for a bit.
Many people don't like chili and other foods with beans because of the gas they can produce.  Reduce the gas by draining and rinsing the beans.  I use my salad spinner to make this really easy.  Read more in No-Gas Beans and Salad Spinner.
You can use dried beans and pre-cook them to make Recipe-Ready Beans.  Thermos cooking is great for this -- read more about it here.
While dark red kidney beans are traditional for chili, it tastes good with most types of beans.  I've used black, pinto, navy, cannelini (white kidney beans) and red beans depending on what I could find and all turned out great.
Canned tomatoes are easy to use, but fresh tomatoes work just as well and often have even better flavor.  If you don't peel them, the peel will come off and you'll have little pieces of peel throughout the chili.  There's a quick way to peel them with boiling water, though -- read how to peel tomatoes the easy way here.  I also gently squeeze each tomato after peeling it but before dicing it to get rid of some of the excess water.
Once you're at the "simmer" stage, you can use a thermal cooker to complete the cooking with no fuel or heat in the boat.  Read more.
I use a measuring cup to scoop the chili into bowls instead of keeping a separate ladle.
Nutrition Facts
Chili
Amount Per Serving
Calories 244
Calories from Fat 117
% Daily Value*
Fat 13g20%
Cholesterol 40mg13%
Sodium 601mg25%
Potassium 942mg27%
Carbohydrates 21g7%
Protein 15g30%
Vitamin A 1694IU34%
Vitamin C 29mg35%
Calcium 113mg11%
Iron 5mg28%
* Percent Daily Values are based on a 2000 calorie diet.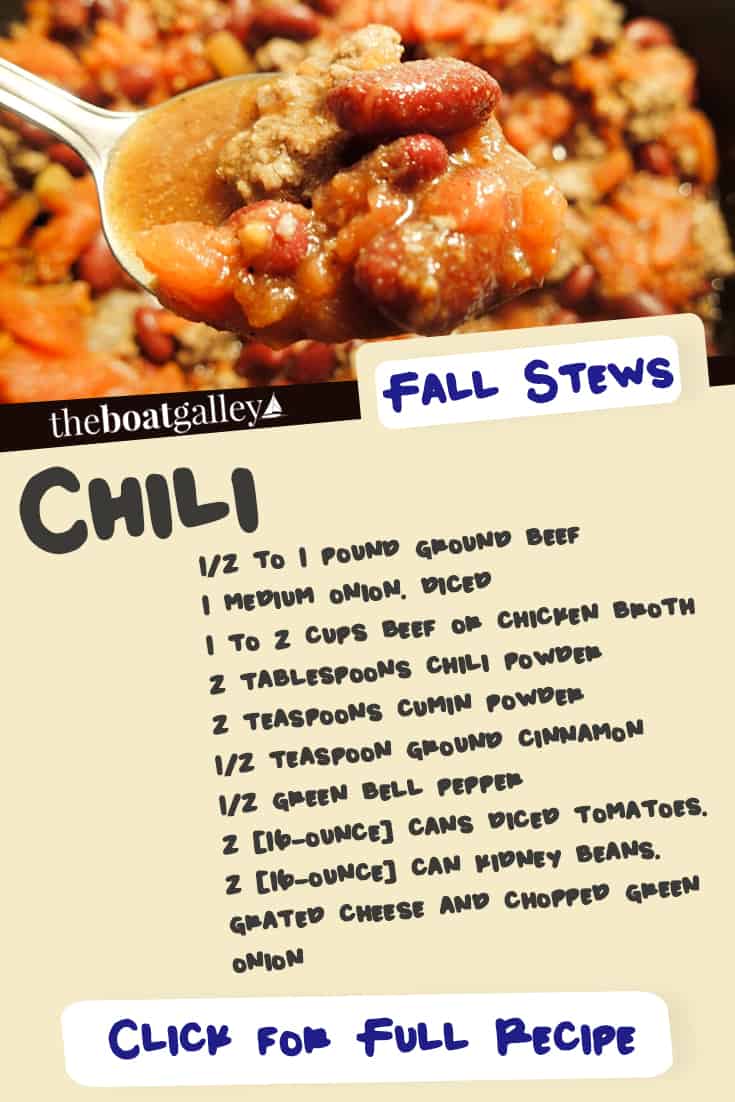 ---
Our FREE Provisioning Spreadsheet
Wondering how much of what foods to take on your next trip? Know just how much to buy of what — all arranged by grocery store aisle — with our handy Provisioning Spreadsheet. Includes detailed instructions to edit it for your favorite foods, how much your family eats, and how long you'll be gone. No spreadsheet skills needed!
It's FREE — get it here.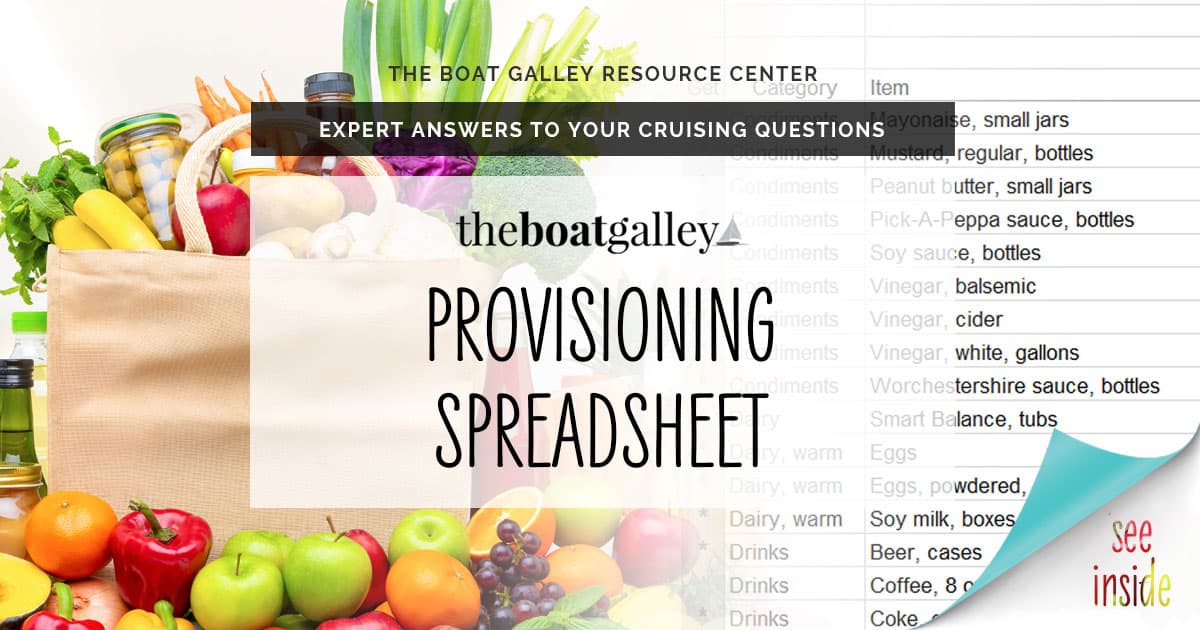 Some links above (including all Amazon links) are affiliate links, meaning that I earn from qualifying purchases. Learn more.