I enjoy eating dinner in the cockpit, but frankly we rarely ate before sunset — there were always just too many fun things going on during the daylight hours. And I'm a big fan of seeing what I'm eating. Consequently, we ate down below far more often than I'd have liked.
Monday, I saw a great solution . . . courtesy of Brittany on Windtraveler.net, who kindly gave me permission to "steal" her idea and also gave me copies of her photos to use! Now, if you don't already follow Brittany, Scott and their girls Isla, Haven and Mira, I urge you to take a look at their blog — it's filled with lots of great info.
Her solution? Clear (warm white) LED Christmas lights for a car! They're 12 volt, take only 2 watts for a string, and come with a cigarette lighter plug. They're easiest to find at automotive stores and at some big box stores such as Walmart (I saw a few recently at a Walmart in Florida; still haven't seen them at the one near my house in Illinois). I haven't found an online source for them, but you might!
With any of these, run the string where you want them using cable ties, then just plug in when you want light.
Admittedly, the light isn't bright enough to read a book by, but it's plenty for dinner or a glass of wine in the evening.
One of Windtraveler's readers mentioned finding a string of solar powered LED lights and using them in the cockpit. I found many of these online but none looked bright enough to actually illuminate an area, as opposed to providing a bit of decoration, and many purchasers complained that the lights appeared blue. If anyone knows of a brand that doesn't have these problems, please leave a note in the comments. (UPDATE: See my post on the Luci light — it's great!)
I also know of boats that use solar yard lights. Since they need to be in the sun all day, most mount them on lifeline stanchions with cable ties. We did this for a while, but had two problems: they were too far from the table to provide much usable light and they failed after just a few months — we were actively cruising and I'm sure they got their share of salt spray, so it's not surprising!
Anyone got other good ideas?? Leave a note!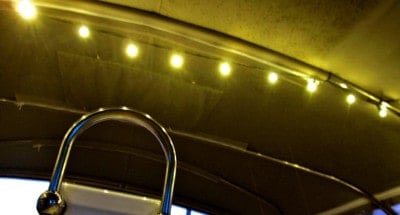 Some links above (including all Amazon links) are affiliate links, meaning that I earn from qualifying purchases. Learn more.