This storage solution from Annie Griffin, aboard M/V Rock Me Baby:
Have to share my solution to crushed bread on my Mainship 31. It was the solution to a pet peeve and I was really happy with how it worked out.
I had the perfect little out of the way space and finally figured out how to utilize it. I used a hanging compartment shoe rack designed for a closet. The compartments "cubbies" are 6 x 6 x 12, perfect size for a loaf of bread or sleeve of crackers.
I cut the bottom four cubbies off so I would have finished bottom surface, attached it to the fiberglass headliner with 3M extreme hold double sided tape and Voila! No smashed bread or crumbled crackers. Plus I hung the rest of the shortened rack in a locker and now use it for shoes and rolled up T-shirts.
If you've got the right little bit of space on your boat, this is a great solution! I can also see using one of the cubbies for towels and bar rags.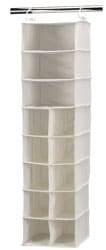 I haven't tried it, but I bet you could use Command Strips to hang it if you want something that's easy to remove with no marks.
You can get the hanging shoe racks at most big box stores (Walmart, Target, Kmart) and also at places like Home Depot. If you have a bit of a different size space, look online. Amazon has lots of different configurations and several colors:
There are lots of other colors and configurations available. If you want 12″ wide shelves, look for "hanging sweater shelves."
Some links above (including all Amazon links) are affiliate links, meaning that I earn from qualifying purchases. Learn more.